/ Why Life Sciences Companies Need Data Literacy Across the Entire Organization
Article
Why Life Sciences Companies Need Data Literacy Across the Entire Organization
Life sciences companies are in the perfect position to achieve massive gains by establishing a modern-BI-for-all approach to how they manage and work with data.
The three keys to modern BI success are data agility, data literacy, and intelligent action. While all three are critical, it is data literacy that allows everyone from executives to frontline workers to get the information they need quickly and independently, freeing them up to focus on higher value work.  
Once data is brought into a single view, key decision-makers are empowered to develop data literacy and maximize opportunities that have a direct impact on the speed of research, development, commercialization, and delivery.  
A data-literate life sciences organization also is better positioned to take advantage of advanced analytics, which according to leading global management consulting firm McKinsey & Company has the potential to drive a 45-75% improvement in earnings (before interest, taxes, depreciation, and amortization) for companies in the sector.  
So, how does your organization advance beyond traditional BI to better improve data literacy? 
Common barriers caused by traditional BI
Growth in data literacy across the life sciences value chain can be slow when the speed at which data is delivered is slow and there is a lack of reliable data.  
Many organizations fall victim to data being collected manually in spreadsheets. The aggregation process is often resource-heavy, time-consuming, and error-prone, resulting in data quickly becoming outdated before it can even be used.  
This creates a disconnect between segments in the value chain. A good example is when clinical trials are slow to inform manufacturing, which in turn holds up commercialization and delivery. In other words, a lack of visibility affects planning, which affects speed to value.
Domo's ethos is to help its customers turn their data challenges into opportunities by delivering modern BI for all, which enables users to draw upon insights from the entire life sciences supply chain to confidently drive operational value by reducing costs and increasing revenue—a process not possible when data such as stock levels and backorder rates is fragmented or siloed across different geographic locations.  
IDG research supports that statement. In a recent survey administered by the world's largest tech media company, 93% of respondents agreed that data silos make data exploration challenging at their organization, while a further 78% admitted that BI and analytics in their organizations are currently chaotic, with multiple solutions scattered across many different teams.
What modern BI for all means for data literacy
With an end-to-end BI solution in place, organizations experience an increase in data literacy, which empowers workers at all levels of the business to take intelligent action because they have full visibility into—and an understanding of—the data that factors into possibilities. 
A Fortune 500 life sciences company didn't have that kind of visibility until it began leveraging Domo to integrate all of its supply chain data across systems and sources into a single view.  
Now, that company is able to better track and understand its key metrics, which means it can fulfill orders more efficiently and effectively—and did so even when COVID-19 compromised the supply chain. 
Clear forecasting also allows for improvements in inventory planning. Real-time data aggregation creates a robust and scalable data pipeline capable of delivering high-quality information to frontline teams that need to make informed decisions and react quickly to changing circumstances. 
What's more, modern BI for all encourages people to ask more questions—from every department and segment of the life sciences value chain. That level of curiosity only comes from being data literate and highly participatory, which in turn changes the company culture and leads to new business opportunities and innovation. 
Take your first steps toward delivering 'Modern BI for All'
 
To learn more about how to integrate and manage data that has the potential to impact the life sciences value chain, click here. To see how Domo's modern-BI-for-all platform uncovers insights and drives better, faster decisions, watch a short product demo.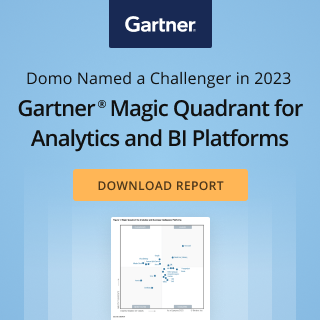 Check out some related resources:
How data leaders are making the move to Modern BI for All
Domo for Life Sciences
The Future of AI-Powered Data Experiences
Try Domo for yourself. Completely free.
Domo transforms the way these companies manage business.