/ Incorporating white label analytics into your business
Article
Incorporating white label analytics into your business
Analytical tools are essential for businesses, as they allow an objective overview of businesses' performance to be obtained, areas of improvement to be identified, predictions to be forecasted and data-driven decisions to be made.
Within the realm of analytics, 'white label analytics' have become increasingly popular, adding to the extent to which analytical tools can prove useful to businesses, though there's still a lot of confusion around what it actually is.
Indeed, many analytics providers profess to offering white label analytics, while not having many of the capabilities that make white label analytics so beneficial to businesses.
So, what are white-label analytics?
White-label analytics is a form of embedded analytics—analytics which are able to be embedded within another software and seamlessly integrated with the user's workflow, without the user having to leave to a third-party software or platform to access the analytical tools.
White label analytics allows for the customization of the analytics to reflect the branding of the business—some white label analytics even offer sub-branding capabilities, which enable analytics to be customized further according to who is viewing them, such as different clients.
White label analytics enables aesthetic unification to be achieved across your business and your analytics, seamlessly integrating with the user's workflow in a way that belies third-party involvement.
With white label analytics, the user can customize colors, fonts, buttons in addition to the style of charts, graphs and other dashboard elements, and even add logos to imbue the analytics tool with company branding.
How does white label analytics benefit businesses?
The ability to customize third-party-provided analytics—to make them look like your own—is advantageous to businesses for numerous reasons.
Here are just four ways white label analytics may benefit your business.
Increases brand trust
The key benefit of white label analytics is that it enables your analytics to be imbued with your branding, ensuring that the aesthetic and feel of your brand is replicated across your website, product and your analytics, providing a unified experience for the user.
White label analytics can help to inspire trust in your business, since your analytics will look like they were built in-house, giving the impression that you have advanced business intelligence capabilities and an expert suite of developers.
On the flip side, because your shareholders or clients know and have trust in your brand, a white label analytics tool replete with your branding helps them to have more trust in the analytics tool—and, by extension, the analytics and insights they reveal.
Provides an easy-to-use centralized location for analytics
Embedded analytics provide crucial insights into the performance of a business and are integrated seamlessly into the user's work experience.
The fact that these analytics can be accessed easily in this way improves efficiency as users don't need to hop between softwares and applications in order to engage with the analytics.
White label analytics further enhance this benefit as the UI can be customized to reflect the wider UX experience of the organization, making the analytics' tools easier to navigate for its users.
Allows more time to be spent on the core product
If a company wanted the perks of white label analytics—a.k.a. having analytics that perfectly assimilated with their brand—without engaging with a white label analytics provider, they would have to build and maintain their analytics tool in-house.
The creation of such a tool would dominate the time of developers and take away from high-value projects such as improving the core product.
Likewise, even after the creation of an analytics tool built in-house, the developers would need to take time to maintain it, potentially delaying timelines on more critical work.
On the other hand, purchasing specialized pre-built white label analytics allows businesses to reap all the customization benefits of an analytics tool built in-house while freeing up the time of its developers.
Aside from the initial implementation, all updates carried out and maintenance done is completed by the BI analytics provider, so your developers can get back to doing what they do best.
Enables quick scaling
If you build your analytics tool in-house, it's often difficult and time-consuming to scale up if your company is growing quickly, as you begin to obtain clients or shareholders that have higher expectations for your analytics capabilities.
On the other hand, white-label analytics services are built specifically with scaling in mind.
As such, white-label analytics providers take into account that their customers range from new start-ups to huge corporations—and allows providers needed flexibility as customers scale.
This ensures that the growth of your business—and the caliber of clients, customers or investors your business appeals to—isn't limited by being unable to scale your analytics quickly enough to meet the needs of the target user.
What should you consider when choosing a white label analytics vendor?
When choosing a white label analytics service provider there are four key things you should take into consideration.
Cost
Like every purchase made to further the success of your business, budget is going to play a role in deciding which white label analytics provider to go with.
You should look carefully at the pricing plans of each vendor—or request a customized quote—as there are often numerous add-ons, and limits on usage or the number of locations in which you can embed the tools.
So, make sure to check which white label analytics service provides the best deal for all the features you need, to ensure you don't end up with a surprising bill at the end of each month.
Customization possibilities
Not all white label providers offer the same level of customization. For some, the extent of customization available might be limited to colors and fonts, while others may allow complete transformations of the UI to agree with the rest of your branding.
So, you should take into account what your needs are in terms of the customization you require, and check that the white label analytics provider you're interested in can meet those needs.
Analytics features
Aside from taking into account what you're able to customize, it's also important that the white label embedded analytics tool comes with all the analytics features your company requires.
Make sure that, aside from aesthetics and customization considerations, the tool provided offers all the functionalities that your business needs.
Level of coding required
Some white label analytics providers offer customization that can be completed without extensive knowledge of code, providing a low-code experience and point-and-click functionality.
On the other hand, other white label analytics tools require coders experienced in CSS to carry out customization, which might be better if your business has experienced developers/coders available as this may allow for greater customization.
However, this may not be the best option if you want those with little to no coding experience to be able to customize your white label analytics.
Who should use white label analytics?
White label analytics are useful to most businesses. However, here are three cases in which white label analytics can offer the greatest benefits.
Start-ups
Start-ups often need to focus as much of their time and resources as possible on their core product to see the most success.
More than this, start-ups largely depend on the support of investors at the beginning, in order to obtain the funding they need to get their company off the ground.
White label analytics help start-ups to convince investors—using branded business intelligence tools—of their competency, inspiring trust that leads to critical investment.
Fast-growing businesses
One of the major restraints on a company's growth is the inability to scale quickly enough—this is a problem commonly encountered by organizations that build their analytics in-house.
White label analytics providers build their analytical tools with growth in mind. So, if your need for advanced analytics suddenly increases, this can be accommodated quickly—with all the benefits of having it look like the analytics tool is your own.
Your business is part of a highly competitive market
By being in possession of a stellar analytics tool that enables critical insight to be gained into the performance of your business, and that can be customized with your branding to impress shareholders, investors or clients, your business has one more feature to make it stand out among the crowd.
Conclusion
Companies that share and distribute their data are continuing to see massive benefits from their customers. By leveraging a white-label analytics solution, your business can quickly create a custom reporting solution tailored specifically to the needs of your customers. Analytics help improve the customer experience by providing a unified view for the customer.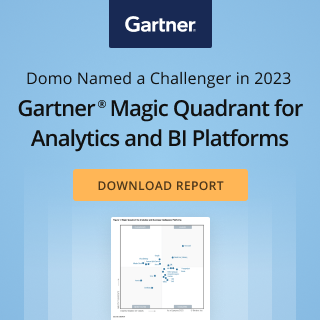 Check out some related resources:
Domo recognized by Forrester in new Generative AI report
Climate Impact Analysis for Flood Mitigation Planning & Action
Variables use case and feature walkthrough
Try Domo for yourself. Completely free.
Domo transforms the way these companies manage business.