/
GetApp names Domo the #1 business intelligence solution.
If you're a regular visitor to the Domo blog, you've no doubt heard about the many ways our software is helping customers make smarter business decisions. But if you're still unconvinced, you don't just have to take our word for it.
Earlier this month, the Gartner-owned B2B software review site GetApp named Domo the number one business intelligence solution on the market today. After considering a number of factors, including customer reviews and social media presence, GetApp determined that our product stood out from the crowd due to its airtight security features and its ability to integrate data from the many tools used by today's business leaders and BI professionals.
"For BI users, data security is paramount, and Domo has made that a priority for their products," said Suzie Blaszkiewicz, a GetApp market researcher and project manager whose area of focus is business intelligence. "On top of that, making sure that a BI tool syncs up with other software solutions that a business might already be using—such as marketing automation, social media marketing, or accounting products, for example—is critical when choosing which business intelligence tool to purchase.
"These are just a couple of factors that helped Domo edge out the competition in this ranking report."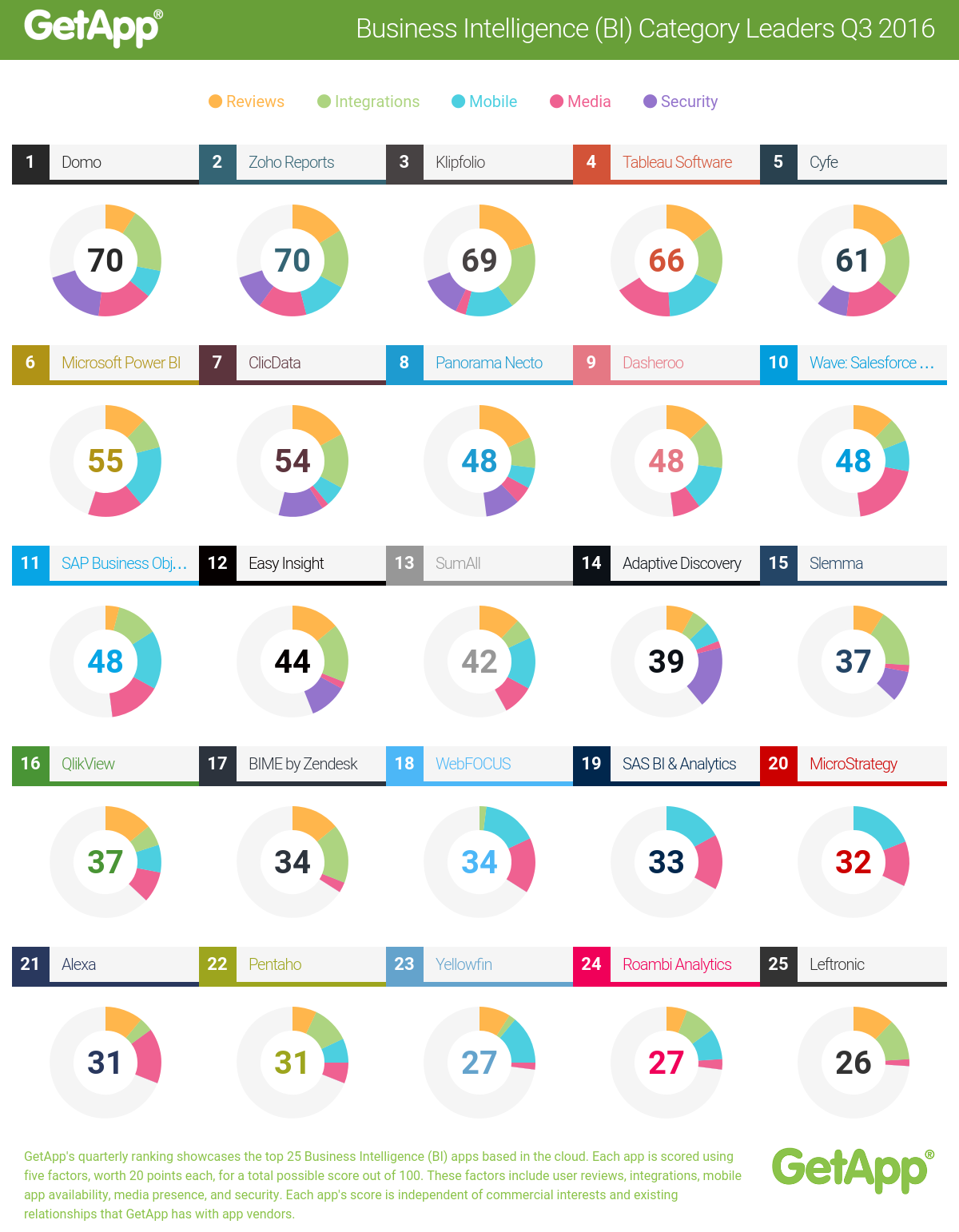 What Is GetApp?
GetApp is a business software marketplace that takes into consideration the hundreds of business apps and software options that exist, breaking them down in a way that makes it easier for business owners and professionals to find the solutions that work best for their company. GetApp is growing faster than any other business software marketplace, fueled in part by the reliability of the site in making good recommendations.
Here's how we won.
In GetApp's rankings, the leading cloud-based software providers were given a cumulative score based on points awarded in five different categories: User Reviews, Integrations, Mobile Platforms, Media Presence, and Security.
Domo finished with 70 points total, edging out second-ranked Zoho Reports based on a tie-breaker of having a higher score in the Security category. Our 18 points in this category came as a result of our responses to a survey GetApp issued that was modeled on the the Cloud Security Alliance's self-assessment form.
What GetApp has in common with LinkedIn, Fast Company, and Glassdoor.
The rankings make GetApp just the latest industry entity to acknowledge the quality of our product and our people. Over the past two years, we've won awards from some of the most respected organizations in the business and technology communities, including LinkedIn, Fast Company, Glassdoor, and The Cloud Awards.
Is Domo right for your business?
Whether you're tech savvy or not, or whether your field is retail, entertainment, healthcare, high tech, or something else, Domo can help you optimize your business.
Domo connects people with the data they need to find answers fast, take action, and improve business results—in real time. Click here to learn more about how Domo's Business Cloud can help you unleash the power of your data and take your business to the next level.