Musings, insights, and creative solutions from our very own Domosapiens.
App of the week: 3-Step Predictive Toolkit.
See how this revolutionary three-step predictive analytics tool from Big Squid can help you take proactive decision-making to the next level.
IT teams have no shortage of work to do. In fact, the role of IT …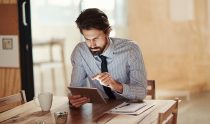 One of Domo's greatest strengths is its versatility. No matter what department of a company you …
If you've been following the Olympic Games in Rio, you know that this summer's games …
Thursday, August 18, 2016
If you're a regular visitor to the Domo blog, you've no doubt heard about the …
Domo was never meant to be one-size-fits-all. Every single customer uses Domo differently, because every …
Corporate collaboration in the digital age. Sure, your business data is important. But data alone …
Click-to-cash should be the goal of any marketer looking to map their impact. But when …
Like many energetic sales leaders, when Domo's VP of Corporate Sales Jeff Skousen starts his day, it's …
When I started Domo, there were two billion internet users globally, and another four billion …
x
Domo requests your consent to send you email communications. Please customize your Domo experience:
By selecting "YES" and clicking "Submit", you agree that Domo, Inc. and its representatives may contact you at the email address provided. You may
unsubscribe
, or view our
Privacy Policy
, at any time.