Wednesday, February 22, 2017
Express Locations Enhances Business Performance Through the Domo Business Cloud
T-Mobile Premium Retailer Communicates with Employees More Effectively through Buzz, Domo's Integrated Collaboration Tool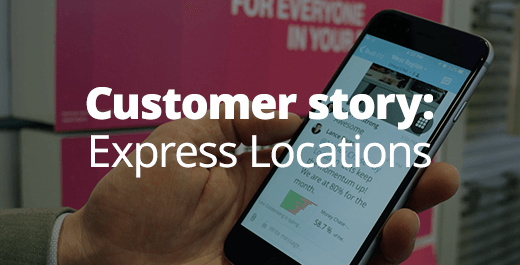 SILICON SLOPES, Utah – February 22, 2017 – Today Domo announced that Express Locations, a premium retailer for T-Mobile USA, is using the Domo Business Cloud and its integrated collaboration feature Buzz to improve sales performance across the company.
Express Locations operates 140 retail stores for T-Mobile across 10 states in the Western region, and has a remote workforce of more than 1,300 employees. As such, the company struggled sharing information to and among employees, proving it difficult to get critical business data to frontline workers.
"Before Domo, distributing reports and data to the frontline was extremely difficult," said Trevor Heiner, Director of Business Planning and Analysis at Express Locations. "We were passing information in Excel spreadsheets, in email, trying to disseminate it from the executive team down, and then pushing it four levels further into the organization. Inevitably, the messages got lost."
With Domo's Business Cloud, Express Locations brings together its disparate data sources to generate real-time data insights, while optimizing information sharing and communications across its distributed workforce. Business critical data such as sales targets, promotion performance and knowledge transfer are communicated to the company's 1,300 employees in secure, effective and instant communications through Buzz.
"The best way to drive our business through our sales people is through Buzz, which is on their mobile device," commented Shane Young, Director of Sales for Express Locations. "The great thing about Buzz is that even while they're on the sales floor or while they're in meetings, we can continually keep up with the pulse of the business and use it to motivate."
"Domo has enabled us to have consistent and real-time communication with our sales team, which has had a positive impact on our team's motivation," confirmed Josh Firestone, Executive Director of Sales for Express Locations. "I can clearly communicate sales goals, contests and challenges to specific groups of individuals, for them to act on ."
Concluded Heiner, "Domo works great for everybody in our organization, whether it's iPhone, Android, the mobile web, surface tablets, the desktop. Everybody has access. Domo enables us to put business-critical data directly into the hands of our salespeople to allow them to make smarter decisions that drive our business forward."
To learn more about how Express Locations and other cutting-edge organizations are using Domo to get more value from their business data, visit Domo.com/customers.
About Express Locations                                                                   
Headquartered in Wenatchee, WA., Express Locations is a Premium retailer for T-Mobile USA. Express Locations owns and operates 140 retail stores in Arizona, Utah, Washington, Nevada, California, Colorado, Idaho, New Mexico, Texas and Oregon. For more information, visit expresslocations.com and follow Express Locations on Twitter and Facebook.
About Domo
Domo helps all employees – from the CEO to the front line worker – optimize business performance by connecting them to the right data and people they need to improve business results. Domo's Business Cloud is the world's first customizable platform that enables decision makers to identify and act on strategic opportunities in real time. The company is backed with more than $500 million from the world's best investors and is led by a management team with tenure at the world's most well-known technology companies. For more information, visit www.domo.com. You can also follow Domo on Twitter, Facebook, LinkedIn, Google+, Instagram and Pinterest.
###
Domo, The Business Cloud, and Buzz are trademarks of Domo, Inc.