/ Webinar – What's new in Domo
Webinar
Webinar – What's new in Domo
Join us for a 20-minute web session to learn about the new features available to you in Domo. The session will focus on:
Mr. Roboto: Domo's intelligence platform that covers our AL and ML engines.

Data science
Python and R integration
Smart alerts

Dashboard Layout: 

Create compelling dashboards for end users. 

Custom Maps: 

Bring geo-specific data to life through mapping capabilities.
Find out how you can benefit from these exciting new features in your own use or evaluation of Domo. See live use case examples of customers who have used Domo's new features to help them in their roles.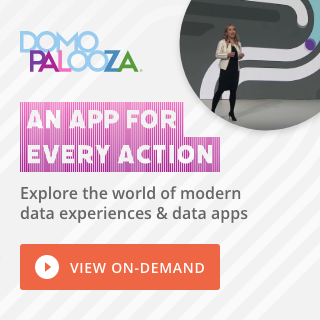 Check out some related resources:
How is cloud BI changing the way we use data?
How ESPN used Domo's intelligent apps to increase customer satisfaction
Ventana Research: Solve the Right Problem by Tying Analytics to Operational Processes
Try Domo for yourself. Completely free.
Domo transforms the way these companies manage business.