/ Learn how data apps go beyond the dashboard to make data more useful
Webinar
Learn how data apps go beyond the dashboard to make data more useful
As data volumes and investments continue to increase, data experiences can no longer be limited to executives, analysts, or IT. So, what can IT and data leaders do to enable the other 70%?
Join us as three of Domo's most esteemed data experts—Chief Data Officer Mohammed Aaser, VP of Data Curiosity Ben Schein, and VP of Engineering Services Beth Saenz—address that question while exploring the new and developing world of data apps, which are designed to put data to work for everyone and, in turn, deliver on the most important leg of the BI journey: the last mile.
You'll learn how:
Data apps go beyond charts and graphs to create actionable data experiences right where the work gets done
Organizations are using data apps to guide actions and optimize the millions of unique processes and business decisions that happen every day
Domo empowers businesses to build and distribute powerful data apps, in record time, with easy-to-use no-code and low-code app development capabilities
FEATURED SPEAKERS
Mohammed Aaser
Chief Data Officer
Domo
Mohammed Aaser is Domo's Chief Data Officer (CDO), where he helps customers create innovative data apps and modern data experiences that accelerate key business processes and optimize strategic outcomes. He also works closely with company's data and technology partners to extend the power of Domo's robust ecosystem of integrations.
Prior to Domo, Mohammed was CDO at McKinsey and Company, where he championed the strategic use of data across thousands of client initiatives in all industries. He led the firm's data innovation capabilities, accelerating development of data apps by combining deep industry knowledge with cutting-edge data sets, data management technology and data engineering. He also helped launch and build McKinsey's analytics practice – focused on helping companies scale their data and AI initiatives – and served as the practice's head of operations and strategy. Prior to McKinsey, Mohammed held leadership roles at Ameriprise Financial, where he led the organization's marketing strategy and analytics transformation. Mohammed received his bachelor's degree from the University of Minnesota and an MBA from Harvard University.
Ben Schein
VP of Data Curiosity
Domo
Ben Schein has 20 years of experience leading business intelligence (BI), analytics and finance teams. He is an expert in user adoption and implementing large-scale BI and analytics initiatives that deliver quantifiable business value. As Vice President of Data Curiosity, he works to spark the fire of data curiosity in enterprises large and small across the world. His regular focus includes exploring data curiosity and innovation with Domo's 1,500+ customers and bringing the insights back to Domo's product development teams. Ben also leads Domo's Strategic Architecture Group which looks at how to create data pipelines which are both resilient and efficient. Prior to Domo, Ben worked at Target Corporation where he led merchandising analytics and enterprise BI capabilities within the Enterprise Data Analytics and BI (EDABI) Center of Excellence. Ben also led a similar insights team supporting Target's digital business areas including site merchandising, guest fulfillment, digital merchandising, gift registry, subscriptions, item setup and digital media. Ben holds a bachelor's degree in Philosophy, Politics and Economics from the University of Pennsylvania and an MBA in Strategy and Finance from the Carlson School of Management at the University of Minnesota.
Beth Saenz
VP of Engineering Services
Domo
Beth Saenz is the Vice President of Engineering Services for Domo, Inc. Beth brings over 25 years experience with companies from mid-size privately held companies to those on the Fortune Global Top 20 where she has had the opportunity to hone her skills in a variety of development focused roles including managing multi-million dollar technology portfolios and leading globally distributed development teams. Beth seeks to truly understand the unique business challenges of her customers and apply that understanding as she leads her team to deliver feature rich, data centric software applications.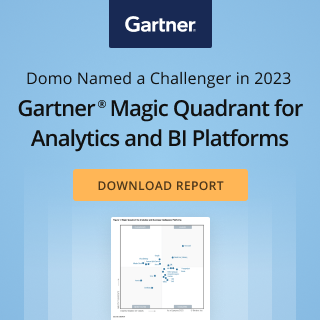 Check out some related resources:
Domo Ranked #1 Vendor in Dresner Advisory Services' 2023 Self-Service Business Intelligence Market Study
From Insight to Action: Empowering End Users with Self-Service BI
Domo and Regional One Health Named 2023 Nucleus ROI Award Winners
Try Domo for yourself. Completely free.
Domo transforms the way these companies manage business.