/ How NBCUniversal Local made data accessible across its entire network
Webinar
How NBCUniversal Local made data accessible across its entire network
How did one of the biggest media and entertainment companies in the world become a model for data accessibility among large organizations?
Find out as Anna Thomas, NBCUniversal Local's director of digital analytics, addresses that question and others from Ben Schein, Domo's Vice President of Data Curiosity, during a virtual event designed to serve as a guide to democratizing data.
Tune in as the two modern BI experts reveal and discuss the keys to overcoming one of the bigger challenges enterprises face as they try to scale up data access, including:
Buy-in from executives and other key stakeholders across the entire organization
Creation of an easy-to-understand interface that makes it simple for anyone within a big network to access, consume, and take intelligent action on data
Usage of a platform capable of aggregating data from all manner of sources—and providing accurate insights on that data
FEATURED SPEAKERS
Anna Thomas
Director, Digital Analytics
NBCUniversal Local
Anna Thomas is the Director of Digital Analytics for the NBCUniversal Local division. Anna manages the digital data for 41 stations across the country and the national multicast network NBCLX, providing insights into the division's content and product performance. Anna joined NBCUniversal in 2014 starting out at NBC News and moved to the local division in 2019 after effectively building a solid DOMO foundation for the group. At NBCU Local, she is leading data democratization efforts through reliable dashboard creation. Prior to that, she has worked at AOL, Patch, and GEICO. She graduated with a bachelor's degree in Business Administration from Carnegie Mellon University and currently lives in New Jersey.
Ben Schein
Vice President of Data Curiosity
Domo
Ben Schein has 20 years of experience leading business intelligence (BI), analytics and finance teams. He is an expert in user adoption and implementing large-scale BI and analytics initiatives that deliver quantifiable business value. As Vice President of Data Curiosity, he works to spark the fire of data curiosity in enterprises large and small across the world. His regular focus includes exploring data curiosity and innovation with Domo's 1,500+ customers and bringing the insights back to Domo's product development teams. Ben also leads Domo's Strategic Architecture Group which looks at how to create data pipelines which are both resilient and efficient. Prior to Domo, Ben worked at Target Corporation where he led merchandising analytics and enterprise BI capabilities within the Enterprise Data Analytics and BI (EDABI) Center of Excellence. Ben also led a similar insights team supporting Target's digital business areas including site merchandising, guest fulfillment, digital merchandising, gift registry, subscriptions, item setup and digital media. Ben holds a bachelor's degree in Philosophy, Politics and Economics from the University of Pennsylvania and an MBA in Strategy and Finance from the Carlson School of Management at the University of Minnesota.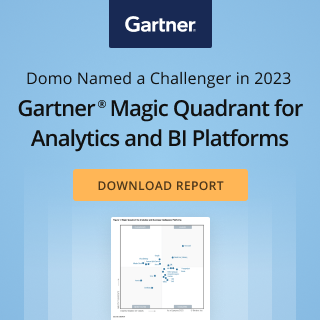 Check out some related resources:
Augmenting the Enterprise Data Warehouse: The Pros and Cons of OLAP Cubes
Why Eckerson says Domo is an ideal choice for anyone looking to get more value from its data
Data Never Sleeps 8.0
Try Domo for yourself. Completely free.
Domo transforms the way these companies manage business.