/ How ESPN used Domo's intelligent apps to increase customer satisfaction
Webinar
How ESPN used Domo's intelligent apps to increase customer satisfaction
Your customers give you valuable data every day. But it's messy and disjointed. Finding, organizing, and understanding all that feedback in a sustainable way for your organization can feel overwhelming.
In this session we'll explore how RXA and ESPN overcame that hurdle by working together to create a data science-based intelligent application. Using Domo's data science tools and Apps framework, they were able to gather, analyze, and visualize customer feedback—leading to an all-time high fan satisfaction rate. With Domo's intelligent apps, ESPN is able to craft compelling stories to share with executive leadership and stakeholders based on data provided by their customers.
In this session you'll learn:
How RXA and ESPN used Domo's tools and intelligent apps to begin leveraging data science and machine learning.
How you can define a business objective and use Domo to answer important business questions.
How ESPN uses Domo's Sentiment Analysis and Theme Detection tools to create fan loyalty and increase revenue.
FEATURED SPEAKERS
Patrick Negron
Vice President of Data Strategy
RXA
Jess Brown
Sr. Data Scientist
RXA
Jenn Lien
Manager, Fan Support
ESPN
Doug Kramon
Director of Customer Support
ESPN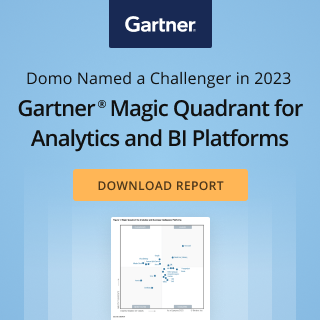 Check out some related resources:
Domo Named a Leader in Nucleus Research's 2023 Analytics Technology Value Matrix
Domo Showcases ESG Solution for Gartner BI Analytics Showdown
Creating modern data experiences that help your customers succeed
Try Domo for yourself. Completely free.
Domo transforms the way these companies manage business.