/ How Cozy Earth Leverages Data to Optimize Growth
Webinar
How Cozy Earth Leverages Data to Optimize Growth
Seventy eight percent of CFOs have labeled BI and analytics as their top tech initiative within their departments. Cozy Earth, a luxury lifestyle retail company, used Domo to as a major driver for 20x growth in three years.
Join us as Tanner Lamb, Chief Financial Officer at Cozy Earth, speaks alongside Domo's Bruce Felt, Chief Financial Officer, Catherine Wong, Chief Operating Officer, and Collin Mechler, Director of Practice Leads, to showcase how Cozy Earth accurately forecasts inventory to ensure valuable cash isn't tied up in products that won't sell.
You'll learn:
How Cozy Earth combined sales, marketing, and logistics data to improve forecasts and maximize revenue
Strategies they used to give business users immediate access to a more complete financial picture, saving time and manual effort and accelerating the pace of business
What they did to build these innovations into business processes, cementing their impact on the bottom line
FEATURED SPEAKERS
Tanner Lamb
Chief Financial Officer
Cozy Earth
Tanner has spent the past 3 years building and scaling Cozy Earth into a luxury bedding and loungewear company – who has happened to end up on Oprah's Favorite Things list for four years in a row. Tanner's responsibilities have him overseeing all aspects of the financial operations of the business, the accounting and forecasting as well as the supply chain optimizations for the company. Tanner has a wide range of finance experience with past companies like KPMG, Profire Energy, GradeCam, PEG Companies and now, Cozy Earth. When Tanner isn't solving finance and operations challenges with Cozy Earth, you might find him golfing or spending time with his family.
Catherine Wong
Chief Operating Officer, EVP of Engineering
Domo
Catherine Wong is Domo's chief operating officer and EVP of engineering, where she leads the company's global engineering, product and design teams responsible for Domo's award-winning cloud-based platform. With extensive technology and engineering management experience, Catherine has led the development of Domo at scale. Her customer-centric approach has ensured Domo's ability to grow at the speed and enterprise robustness needed by its customers. Prior to Domo, Catherine held a number of key global leadership roles at Adobe and Omniture across product, M&A and engineering.
Over the course of her career, Catherine has been awarded patents in data segmentation, data visualization, and SaaS data collection. She currently serves on the board of directors for Amplitude, Human Interest and the Women Tech Council. She has previously served on the advisory board for the College of Engineering at the University of Utah and the College of Engineering at Utah State University. In 2018, Catherine was recognized as the Women in Tech Champion from Utah Tech Council. She was also awarded Woman of the Year (2018) and CXO of the Year (2019) by Utah Business Magazine. In 2020, she was named a 50 Most Powerful Women in Technology.
Bruce Felt
Chief Financial Officer
Domo
Bruce brings more than 25 years of financial operations and management excellence to Domo. Previously, he was CFO of SuccessFactors for nearly six years, guiding the company through a public offering, six acquisitions, and its $3.4 billion sale to SAP. Bruce has served as CFO for LANDesk Software, Auction.com, and Qualix Group. While at Qualix Group, he led its public offering and merger into Legato Systems, a company that was later acquired by EMC. An entrepreneur in his own right, Bruce founded Renaissance Software, serving as its CFO and head of sales. He serves as the audit committee chair of various private and public companies. Being Domo's CFO gives him an added perk of getting to spend more time with his family at their Park City ski home.
Collin Mechler
Director, Practice Leads
Domo
A specialist in large-scale digital transformations, Collin runs Domo's Practice Areas, a groupof deep industry and technology experts charged with the goal of providing stronger impact and value to Domo's clientele. Collin is himself an expert in supply chain, retail and manufacturing, specializing in the productionization of advanced tech (AI/ML, loT, and data science).
Prior to working for Domo, Collin ran one of two major business units at Element AI (now the AI division of ServiceNow), an AI enterprise tech think tank specializing in novel applications of deep learning and machine learning. Collin's background also includes extended stints at Blue Yonder (nee JDA) and Accenture.
Collin has degrees in engineering, with a Masters in Materials Engineering from MIT.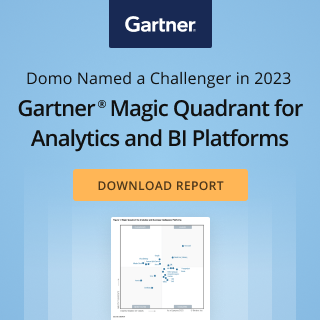 Check out some related resources:
AI-Powered Data Experiences: Product Keynote
Domo and Regional One Health Named 2023 Nucleus ROI Award Winners
Domo's AI Service Layer: Unlocking the Power of Generative AI
Try Domo for yourself. Completely free.
Domo transforms the way these companies manage business.