/ How a private equity firm uses data to expand and enhance its business portfolio
Webinar
How a private equity firm uses data to expand and enhance its business portfolio
As a private company buyout fund that has invested in more than a dozen companies, Equicapita understands the complexities of acquiring, merging, and managing businesses. But more than that, it is capable of making those transactions with confidence to ensure those companies' continued success.
Data is at the heart of it all — hear why from Equicapita partner Yannick Ferket, as he sits down with Domo's director of data insights, Jace McLean.
Tune into the conversation to learn how Equicapita uses Domo to bring disparate systems together so that everyone across the firm's entire portfolio can better tackle tough problems and make smarter decisions.
You'll also discover how the firm went about:
Building trust in data
Using real-time data to become more proactive
Standardizing reports and processes to save time and money
Moving at greater speed on everything from integrating datasets to onboarding users
FEATURED SPEAKERS
Yannick Ferket
Partner
Equicapita
Yannick has over 10 years of working experience with business leaders in diverse industries implementing and project managing technological solutions for business requirements. He holds a Master's degree of Science in Business Studies from Brussels University and a Bachelor in Human Resources from Ghent University. As Vice President of Operations and Analytics, Yannick leads the onboarding of companies to the portfolio and digital era. He identifies opportunities by providing transparency, while sharing common industry performance indicators through real-time reporting. Yannick builds bridges between computation and real world challenges through cognitive frameworks and strategic approaches.
Jace McLean
Director of Data Insights
Domo
Scott Hillman
Technical Product Marketing Manager
Domo
Scott Hillman leads product marketing for Domo's data apps platform. As such, he manages GTMs, content creation, sales enablement, and evangelism for technical users who build data solutions in Domo – analysts, developers, citizen analysts/developers, and IT leaders.
Scott brings nearly 10 years of experience in marketing, analytics, operations, and product development, for both new ventures and public companies in SaaS and streaming media. Scott began his marketing career as an account manager at a digital media agency focused on performance marketing for fin-serve clients. He moved to Pandora Music where he developed expertise in marketing analytics, the digital ad ecosystem, and big data. Across roles in sales strategy and sales analytics, he accelerated multi-million-dollar relationships with Fortune 50 advertisers. He completed a unique tech-focused MBA at Cornell University in 2021, which focused on management curriculum and product development, with an emphasis on building product prototypes. During his MBA, he worked as a PM at an early-stage venture called Thread, building a next-gen email client for the modern enterprise salesperson. Following his MBA, Scott began in Product Marketing at Domo.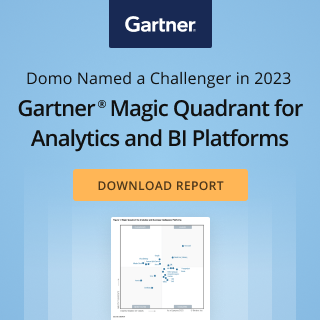 Check out some related resources:
Fight the 'Sleepworking' epidemic with better data and tech access
How to ignite insight-driven decision-making across your business
Variables use case and feature walkthrough
Try Domo for yourself. Completely free.
Domo transforms the way these companies manage business.