/ How a major manufacturer is turning data into insights—and powering action across its entire business
Webinar
How a major manufacturer is turning data into insights—and powering action across its entire business
What if everyone in your organization had data available at their fingertips, enabling them to make smarter decisions, on the fly? What would that look like? What would it take to get there?
The IT pros at Swagelok—a major developer of fluid system products and services for the oil, gas, chemical, and clean energy industries—know. And every team within the organization is benefiting from the data-driven culture they have created.
Hear from Swagelok's data and analytics experts, Chelsea Schaefer and Brittany Meiklejohn, who will join us to talk about how their company's self-service BI revolution began, and how it's enabling employees to save time and money and win more business.
Tune in as we explore how Domo has helped Swagelok:
Bring together all of its disparate systems to create a single source of secure, governed data
Free up resources to greatly reduce time spent building reports and answering ad-hoc questions
Give everyone the confidence and trust they need to use data in their day-to-day roles
Spot and fix issues proactively to seize opportunities and solve problems before they happen
FEATURED SPEAKERS
Chelsea Schaefer
Director of Analytics
Swagelok Texas Mid-Coast
Chelsea Schaefer is the Director of Analytics for Swagelok Texas Mid-Coast, an authorized Swagelok Sales and Service Center. Chelsea is responsible for providing insight of the company's health and performance by managing the data inputs and outputs for sales, marketing, finance, and quality. Chelsea joined Swagelok Texas Mid-Coast in 2008 starting out in Customer Service and Quality and moved into a full time Data Analytics role in 2021, where her first project was implementing Domo to create a single, easily accessible information point for all associates. She is looking forward to expanding the role Domo plays in Swagelok Texas Mid-Coast's day to day activities.
Brittany Meiklejohn
Sales and Service Specialist
Swagelok Albany
Brittany Meiklejohn is the Business and Sales Process Analyst for Swagelok Albany | Connecticut. Brittany manages all of the data across all internal and external systems providing insights into customers and products within their territory of Eastern New York, Western Massachusetts, Connecticut, and Vermont. Brittany joined Swagelok Albany | Connecticut in 2017, starting in sales engineering and moved to the data side of the business full time in January 2021. At Swagelok Albany, she is leading the data culture efforts and data driven thinking through full adoption and use of Domo in all departments. She graduated with a bachelor's degree in Chemical Engineering from Pennsylvania State University and currently lives in Connecticut.
Brad Smagala
Strategic Accounts Advisor
Domo
Strategic accounts advisor, specializing in manufacturing. 10 years of experience helping large enterprises leverage software platforms to drive business & digital transformation.
Scott Hillman
Technical Product Marketing Manager
Domo
Scott Hillman leads product marketing for Domo's data apps platform. As such, he manages GTMs, content creation, sales enablement, and evangelism for technical users who build data solutions in Domo – analysts, developers, citizen analysts/developers, and IT leaders.
Scott brings nearly 10 years of experience in marketing, analytics, operations, and product development, for both new ventures and public companies in SaaS and streaming media. Scott began his marketing career as an account manager at a digital media agency focused on performance marketing for fin-serve clients. He moved to Pandora Music where he developed expertise in marketing analytics, the digital ad ecosystem, and big data. Across roles in sales strategy and sales analytics, he accelerated multi-million-dollar relationships with Fortune 50 advertisers. He completed a unique tech-focused MBA at Cornell University in 2021, which focused on management curriculum and product development, with an emphasis on building product prototypes. During his MBA, he worked as a PM at an early-stage venture called Thread, building a next-gen email client for the modern enterprise salesperson. Following his MBA, Scott began in Product Marketing at Domo.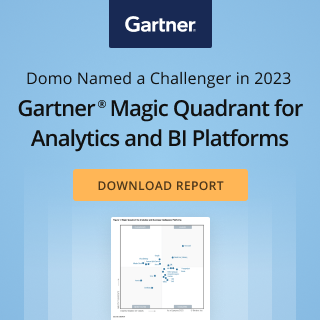 Check out some related resources:
AI-Powered Data Experiences: Product Keynote
The Future of AI-Powered Data Experiences
Full Event: Domo AI Innovation Summit 2023
Try Domo for yourself. Completely free.
Domo transforms the way these companies manage business.