/ How a leading fashion retailer is using data to drive growth
Webinar
How a leading fashion retailer is using data to drive growth
Intermix knows how to keep its customers happy. And it's only gotten easier for the boutique fashion brand to please its clientele. That's because Intermix has built personalized data experiences that enable everyone within the organization to do their jobs better, which in turn elevates the customer experience.
How did Intermix build these personalized data experiences? And exactly what kind of impact have they had on the company?
Find out as Intermix's director of analytics and strategy, Emily Peterson, joins two of Domo's retail industry experts, Rayann Anderson and John Spencer, for a webinar that promises to be a can't-miss for anyone with an interest in improving business outcomes in the face of fierce competition.
Tune in as the group discusses the importance of:
Empowering store teams with personalized customer recommendations
Understanding customer lifetime value and identifying the levers to impact it
Aligning programs and touchpoints to optimize customer acquisition cost
Targeting customer cohorts to penetrate new markets and grow existing ones
Pairing seasonal product and trend visuals to give data analysis additional context
FEATURED SPEAKERS
Emily Peterson
Director of Analytics and Strategy
Intermix
Emily Peterson is the Director of Analytics & Strategy at INTERMIX. Emily, along with her team of analysts, owns the democratization of all digital and customer data for the luxury fashion brand. She delivers key insights grounded in robust datasets to inform action plans for site testing and personalization, to improve customer retention through loyalty initiatives, and to optimize the logistics of the customer experience. Emily has been with INTERMIX since 2020. Prior to that, she has worked at Eileen Fisher and Walmart eCommerce. She graduated with a bachelor's degree in Mathematics from Georgetown University and currently lives in Manhattan.
Rayann Anderson
Sr. Retail Practice Consultant
Domo
Rayann Anderson has been working in the retail industry, contributing to business process and system transformations, for over 20 years. Currently, she is an Industry Practice Consultant at Domo, helping retailers drive growth and efficiency. Her interest lies in leveraging data and artificial intelligence to solve how retailers can profitably, and responsibly, serve their customers.

John Spencer
Sr. Practice Lead – Retail
Domo
John Spencer joined Domo in February of 2021 as the Sr. Practice Lead responsible to build and the run retail practice focused on driving the best measurable results for customers across all retail sub-verticals and global markets. Over the course of his 25-year career in enterprise software, he has worked with many Fortune 500 retail companies, including Walmart, CVS Health, Lowe's, Sterling Jewelers, and Nordstrom to name a few focused on solving problems across planning, store operations, customer experience, and the supply chain.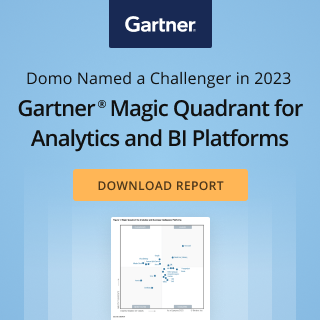 Check out some related resources:
POV: Next-Generation Banking
Domo Named a Leader in Nucleus Research's 2023 Analytics Technology Value Matrix
Creating modern data experiences that help your customers succeed
Try Domo for yourself. Completely free.
Domo transforms the way these companies manage business.