/ Guidance for delivering and measuring BI, analytics and data value
Webinar
Guidance for delivering and measuring BI, analytics and data value
In times of uncertainty, leadership tends to place a higher priority on delivering value. Given the fears of inflation and potential recession, what do data leaders and their teams need to be doing today, to build and enhance their position as a value driver for the organization? ​
Join us as, Mohammed Aaser, Chief Data Officer at Domo and guest speaker Howard Dresner, President, Founder and Chief Research Officer at Dresner Advisory Services share the new research and recommendations to better deliver impact and measure ROI to help you drive a more successful BI program. ​
Don't miss this chance to find new ways to represent the value you deliver to your organization. ​
You'll learn:​
What the characteristics of successful organizations are and what they do differently ​
Where to invest based on what is really going on in the marketplace and what is just hype ​
How to deliver success including how to measure it, what contributes to it, and what the obstacles are to achieving it ​
Why Domo is positioned as an Overall Experience Leader in the Customer Experience Model based upon all measures of BI Performance​
FEATURED SPEAKERS

Howard Dresner
President, Founder, and Chief Researcher
Dresner
Howard Dresner is one of the foremost thought leaders in business intelligence and performance management, having coined the term Business Intelligence in 1989. He has published two books on the subject, The Performance Management Revolution: Business Results through Insight and Action (John Wiley & Sons, Nov. 2007) and Profiles in Performance: Business Intelligence Journeys and the Roadmap for Change (John Wiley & Sons, Nov. 2009). He lectures at forums around the world and is often cited by the business and trade press. Prior to Dresner Advisory Services, Howard served as chief strategy officer at Hyperion Solutions and was a research fellow at Gartner, where he led its business intelligence research practice for 13 years.
Mohammed Aaser
Chief Data Officer
Domo
Mohammed Aaser is Domo's Chief Data Officer (CDO), where he helps customers create innovative data apps and modern data experiences that accelerate key business processes and optimize strategic outcomes. He also works closely with company's data and technology partners to extend the power of Domo's robust ecosystem of integrations.
Prior to Domo, Mohammed was CDO at McKinsey and Company, where he championed the strategic use of data across thousands of client initiatives in all industries. He led the firm's data innovation capabilities, accelerating development of data apps by combining deep industry knowledge with cutting-edge data sets, data management technology and data engineering. He also helped launch and build McKinsey's analytics practice – focused on helping companies scale their data and AI initiatives – and served as the practice's head of operations and strategy. Prior to McKinsey, Mohammed held leadership roles at Ameriprise Financial, where he led the organization's marketing strategy and analytics transformation. Mohammed received his bachelor's degree from the University of Minnesota and an MBA from Harvard University.
Scott Hillman
Product Marketing Manager
Domo
Scott Hillman leads product marketing for Domo's data apps platform. As such, he manages GTMs, content creation, sales enablement, and evangelism for technical users who build data solutions in Domo – analysts, developers, citizen analysts/developers, and IT leaders.
Scott brings nearly 10 years of experience in marketing, analytics, operations, and product development, for both new ventures and public companies in SaaS and streaming media. Scott began his marketing career as an account manager at a digital media agency focused on performance marketing for fin-serve clients. He moved to Pandora Music where he developed expertise in marketing analytics, the digital ad ecosystem, and big data. Across roles in sales strategy and sales analytics, he accelerated multi-million-dollar relationships with Fortune 50 advertisers. He completed a unique tech-focused MBA at Cornell University in 2021, which focused on management curriculum and product development, with an emphasis on building product prototypes. During his MBA, he worked as a PM at an early-stage venture called Thread, building a next-gen email client for the modern enterprise salesperson. Following his MBA, Scott began in Product Marketing at Domo.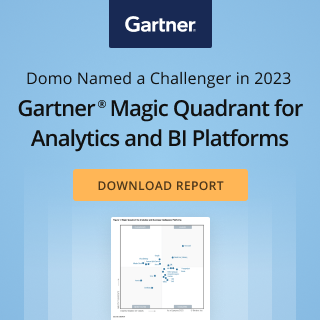 Check out some related resources:
Developing a Data Governance Model that Meets Your Modern Business Needs
Fight the 'Sleepworking' epidemic with better data and tech access
Variables use case and feature walkthrough
Try Domo for yourself. Completely free.
Domo transforms the way these companies manage business.