/ Bridge the Gap: How Domo Cloud Amplifier Harmonizes IT and Business Data Needs
Webinar
Bridge the Gap: How Domo Cloud Amplifier Harmonizes IT and Business Data Needs
In our fast-paced, always-changing digital landscape, IT is focused on adhering to architectural patterns to minimize data movement and duplication. The rest of the business is focused on other priorities, like granting users fast access to data. These contrasting needs create friction between IT and business leaders. What if there was a way to bring them together?
Domo Cloud Amplifier is the bridge between IT's focus on architectural rigor and the business need for data access. Cloud Amplifier supports both with a hybrid architecture that integrates and governs data outside the warehouse with company data within—in a scalable way.
Tune into this webinar to learn how Cloud Amplifier:
Increases speed-to-value: Democratize data access while ensuring architectural integrity.
Empowers users: Encourage self-serve data management.
Builds trust: Improve collaboration, trust, and alignment between IT and business leaders.
Governs data: Use existing data governance rules to ensure data consistency and security.
Ensures compliance: Stay ahead of global regulations with data sovereignty and GDPR compliance features.
FEATURED SPEAKERS
Jordan Jensen
Sr. Director Product Management
Domo
Jordan joined Domo in 2023 as Senior Director, Product focusing on Data Platform capabilities. He is an experienced product leader with success leading large initiatives and building teams. Prior to Domo, Jordan spent 19 years at Target, with roles in retail operations, strategy, and data sciences. He most recently pioneered Target's first Analytical Data Products, collaborating with engineering, governance & architecture to transform how analytical data is processed, stored, and served to analysts, engineers, scientists, and business decision makers.
His curiosity pushes him to examine, explore and understand data ecosystems and is humbled by the many challenges data professionals encounter in the data value chain from data creation to the last mile to make decisions. He joins Domo excited to work with the talented teams designing and building capabilities that enable better collaboration between data practitioners to create a breadth of data experiences meeting decision makers where they are at.
He is a student, practitioner, and coach of lean, agile and product thinking for 15 years and strives to model empathy and promoteproduct culture, methods, and mindset. His data expertise includes architecture, governance, web analytics, data engineering and all things multichannel merchandising and retail data. In his spare time, he is an avid tree planter, silviculturist and forest steward.
Josh Millheim
Sr. Product Manager
Domo
Josh Millheim is an experienced product manager who has been with Domo for more than 7 years. Naturally driven to be curious, and very comfortable not being the smartest person in the room, Josh's appetite to learn has allowed him to influence many parts of Domo's product. In his time with Domo, Josh has fulfilled product management responsibilities on Connectors, Stories/dashboards, navigation, Domo's mobile apps, and most recently across the foundational layers of data storage and data query. Josh pride's himself as a power user of Domo, and views using Domo on a daily basis as critical to getting his job done. If asked, Josh will be quick to tell you how lucky he feels to work with so many intelligent customers, partners, and employees of Domo every day.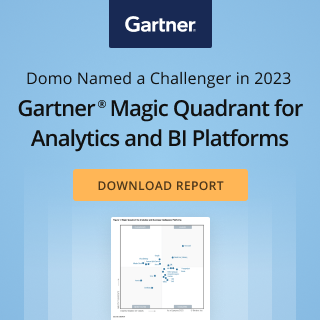 Check out some related resources:
Manage, Transform, and Visualize Your Data
Start With Data Governance for Better BI
Modern BI for All Field Guide: Data Agility
Try Domo for yourself. Completely free.
Domo transforms the way these companies manage business.