/ Defining the Data-Driven Marketer
Webinar
Defining the Data-Driven Marketer
New Survey Reveals Trends, Troubles and Successes
What is a data-driven marketer?
As a marketer, you need data—and lots of it. But in the past decade alone, marketers' trouble with data has shifted dramatically: instead of being too difficult to obtain, data is now too difficult to maintain and interpret. In fact, IBM reports that 71% of CMOs feel unprepared to handle today's "data explosion," saying that "most CMOs are struggling in one vital respect—providing the numbers that demonstrate a return on investment (ROI) for marketing."
As a marketer, you're busy. We get it.
You have a lot of priorities to juggle:
How many leads are you bringing in and which channels are providing the best opportunities?
How are prospects converting down the funnel?
How can you get the most accurate measure of ROI?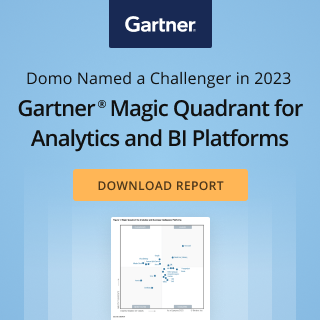 Check out some related resources:
Eckerson Webinar: The Rise of Unified Data and Analytics Platforms -- A Case for Convergence
Data Never Sleeps 8.0
Boosting customer engagement through self-service BI leverage
Try Domo for yourself. Completely free.
Domo transforms the way these companies manage business.