/ Creating modern data experiences that help your customers succeed
Webinar
Creating modern data experiences that help your customers succeed
Is your marketing working? Only data holds the answer. But enabling the data to drive decision-making and action—two key components of next-gen BI—is often easier said than done. Some companies have figured it out, though. And Stelter is one of them. How did this innovative integrated marketing agency do it?
Find out, when Kelly Tagtow, Stelter's analytics and digital strategy director, fields that question and others alongside Chris Haleua, Domo's product management director. Tune in as the two data experts talk specifically about the power of modern data experiences—and especially about the ones that have empowered Stelter to help more than 1,200 nonprofits better address an eternal fundraiser demand (leads) and build external data relationships at scale.
Domo's revolutionary embedded analytics solution, Domo Everywhere, is at the heart of those modern data experiences—which means you'll also learn about a profound piece of technology that allows Stelter to do so much, including:
Connect and combine disparate systems and data sources
Categorize leads by understanding who is engaged, how they interacted, and what interests them most
Discern campaign performance and trends over time
Automate external reporting to its robust client base
FEATURED SPEAKERS
Kelly Tagtow
Analytics and Digital Strategy Director
Stelter
Kelly Tagtow is the Analytics and Digital Strategy Director for The Stelter Company. His responsibilities include leadership of the analytics, email, and web teams, and is focused on integrating, centralizing, and analyzing data to provide easier access, faster insights, and improved results.
Kelly joined Stelter in 2017, working with data from several marketing platforms before establishing Domo as Stelter's analytics platform and deploying the Stelter Intelligence Center. Prior to that he worked in marketing and development at a nonprofit, and built predictive models for advanced email and direct mail targeting at a major publishing and media company. He graduated from the University of Northern Iowa with a master's degree in Mathematics and undergraduate degrees in Computer Science and Mathematics.
Chris Haleua
Product Management Director
Domo
Chris Haleua is Product Management Director for Domo Everywhere. He is responsible for leading all external distribution and branding options. The past fifteen years as a product manager, marketer, and analyst at Domo, Adobe, and Omniture have led to him to a love for data storytelling. He has a decade of experience integrating analytics and marketing systems for strategic enterprise accounts. Chris enjoys helping decision makers in all departments combine data, visuals, and narrative to drive change. That change becomes even more meaningful when it extends beyond company borders to help customers make smarter decisions as well.
Griffin Dassatti
Sr. Product Marketing Manager
Domo
Griffin Dassatti works on the product marketing team at Domo, focused on building and refining go-to-market strategies for some of Domo's premium products, including Domo Everywhere and various enterprise-focused features.
Griffin's career has run the gamut of marketing, including roles in brand management at a global CPG leader, digital demand gen at an independent marketing agency, and product marketing at various B2B SaaS companies, both public and pre-IPO. Through these experiences, he has used his passion for storytelling to help translate technical differentiators into messages and stories that help customers and prospects see the unique value of a given product or feature. Most of Griffin's time at Domo has been spent building and executing on marketing strategy for Domo Everywhere, translating innovations from the Product team into messaging and value propositions for Sales and Marketing partners.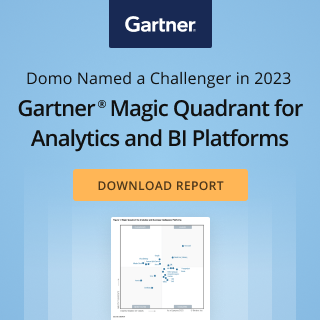 Check out some related resources:
Domo Named a Leader in Nucleus Research's 2023 Analytics Technology Value Matrix
Domo Ranked #1 Vendor in Dresner Advisory Services' 2023 Cloud Computing and Business Intelligence Market Study
Domo Recognized as an Overall Leader in the 2023 Dresner Wisdom of Crowds® Business Intelligence Market Study
Try Domo for yourself. Completely free.
Domo transforms the way these companies manage business.