/ See How Domo's CFO Hits His Key Targets
Video
See How Domo's CFO Hits His Key Targets
See how Domo's CFO, Bruce Felt, is always up to date on how the entire business is performing and how he tracks each of his most important KPIs – revenue, billings, costs, expenses, pipeline, etc. – all in one place. This used to take a team of analysts to prepare. With Domo, the data is always live, up to date, and in the cloud for instant access.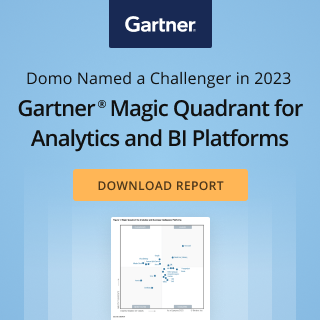 Check out some related resources:
Domo Ranked #1 Vendor in Dresner Advisory Services' 2023 Cloud Computing and Business Intelligence Market Study
Domo Showcases ESG Solution for Gartner BI Analytics Showdown
Nucleus Research: Domo's ROI as a Data Platform
Try Domo for yourself. Completely free.
Domo transforms the way these companies manage business.