/ Full Event: Revolutionizing Embedded Analytics
Video
Full Event: Revolutionizing Embedded Analytics
"Modern BI for All" doesn't end at the walls of your organization. With Domo, you can help your customers, partners, and vendors experience it too. Domo Everywhere is Domo's advanced embedded analytics solution that gives everyone within your business ecosystem access to data and insights, allowing you to save time and money, increase customer satisfaction, and create new revenue streams for your business.
​
In this one-hour virtual event, you'll learn about the power of embedded analytics through:
A presentation from Domo's Product and Technology leadership about the evolution of embedded analytics as a business imperative
A panel discussion where industry experts share how they've used Domo Everywhere to drive their external analytics initiatives
A demo showing how Domo Everywhere helps you go beyond basic embedded charts and graphs to a fully integrated analytics experience
FEATURED SPEAKERS
Catherine Wong
Chief Product Officer, EVP of Engineering
Domo
Catherine brings extensive technology and engineering management experience to Domo's seasoned leadership team. She joins Domo from Adobe and Omniture, where she started more than 15 years ago as a software engineer. During her tenure, she ascended through the ranks, taking on increased and varied responsibility with key roles in product management, M&A product integration, technical architecture and engineering management, leading global teams of more than 500 people.
Over the course of her career, Catherine has been awarded patents in data segmentation, data visualization, and SaaS data collection. She is an original member of the advisory board for the Women Tech Council and served on the advisory board for the College of Engineering at the University of Utah. She currently serves on the industry advisory board for the College of Engineering at Utah State University. In 2015, Catherine received the Technology Leadership Award from the Women Tech Council, and in 2018, she was recognized as the Women in Tech Champion from Utah Tech Council.
She holds a bachelor's degree in computer science from Brigham Young University.
Daren Thayne
Chief Technology Officer
Domo
Daren draws from more than 20 years of product and technology leadership to oversee all of Domo's product development, technology and infrastructure — in addition to serving as the company's chief apologist for the New York Yankees. Prior to Domo, Daren held the position of chief technology officer and senior vice president of development at the world's largest online family history resource, Ancestry.com, where he built the site's SaaS platform from the ground up. Daren has also served as chief information officer at Interbank FX; has managed virtually all engineering resources for WordPerfect during its heyday; and has overseen teams at Open Market, Corel, and Novell.
Adam Landefeld
Senior Vice President of Product
Domo
Promoting a culture of innovation and execution is the norm for Adam. As Domo's vice president of product, Adam leverages eleven years of focused BI software experience combined with a creative background in computer graphics and 3D modeling to drive Domo's industry-defining products. Adam joined Domo from Corda Technologies where he started as a software engineer and was ultimately responsible for building and growing the company's services organization. As VP of Product, Adam's leadership has been critical to Domo's elegant combination of five core products into one solution, the world's first business management platform.Adam not only knows how to build a successful product, he knows his way around a body shop. In his free time he restores classic muscle cars and is also a nationally recognized, sponsored RC helicopter pilot.
Chandana Gopal
Research Director, Business Analytics
IDC
Chandana Gopal is Research Director for IDC Business Analytics Solutions market research and advisory practice. Ms. Gopal's core research coverage includes demand and supply trends in business intelligence advanced and predictive analytics, and enterprise performance management markets. Based on her background in integration and analytics, Ms. Gopal's research includes a particular emphasis on how analytics is being embedded into software applications, how artificial intelligence is being embedded into business analytics software, and how end users requirements are driving technology design.
Genevieve LeBlanc
SVP, Strategy & Planning
Swire Coca-Cola​
Genevieve LeBlanc is Senior Vice President Strategy & Planning of Swire Coca-Cola, USA. Genevieve is responsible for overseeing data strategy and communication; long-term business planning and revenue growth; shopper analytics; category and market insights; pricing strategy and execution; and project portfolio management, in support of the Swire Coca-Cola, USA strategic vision.​
Genevieve joined Swire Coca-Cola, USA in March 2016 after serving as Group Director, Finance on the Global Walmart Team for Coca-Cola North America (CCNA). She has been in the Coca-Cola system, both on the bottling side as well as with CCNA, for over 17 years starting in New Orleans where she held various finance roles. She then moved to Atlanta where she worked on project portfolio management as well as supply chain strategy and analytics for the North America Business Unit, and then to Bentonville, Arkansas for her Walmart role.
Genevieve graduated from Loyola University New Orleans with an MBA and a Bachelor of Science degree in Finance.
Rakesh Hegde
Chief Customer Officer
EdCast
Rakesh Hegde is Head of Global Customer Success at EdCast. Rakesh is responsible for helping EdCast continue to deliver the highest quality customer experience for all phases of the EdCast customer lifecycle. Over his 20+ years of professional work, Rakesh has delivered enterprise solutions to companies that include Virgin Atlantic, VMware and Blue Shield of California. Previously, Rakesh founded Rezopia, an award-winning enterprise SaaS ERP platform that was acquired by Sonata Software. He also served in key roles at Saba and most recently at Sonata Software, where he was Head of Travel Vertical Practice, one of their largest vertical practice areas.
Ruben Visser
Head of Data & Analytics
Virtuagym
As one of the pioneers of embedded analytics with Domo, Ruben Visser and the data teams at Virtuagym (Fitness Tech scale-up) have been hugely successful in delivering embedded analytics to thousands of customers worldwide. Ruben is building and leading the data teams, and oversees global data product management, BI & AI/ML.
Dan Hendriksen
Domo Everywhere Expert
Domo
Dan has nearly 20 years of professional experience using data to help both himself and his teams throughout sales and marketing organizations make smart and informed decisions. As GM of Domo Everywhere he heads up Domo's effort to help organizations of all sizes, all around the globe, with their data distribution and data monetization strategies. His regular focus includes exploring data democratization and data monetization strategies and bringing the insights back to Domo's product development teams. Prior to Domo, Dan worked leading sales organizations in the broadcast and digital media space, as well as the automotive industry. Dan has also founded and exited 2 different companies that were focused on using technology to innovate stagnant market segments. When not working, Dan enjoys spending time with his wife and 4 sons, traveling the world and riding any type of bicycle he can find all over the country.
Try Domo for yourself. Completely free.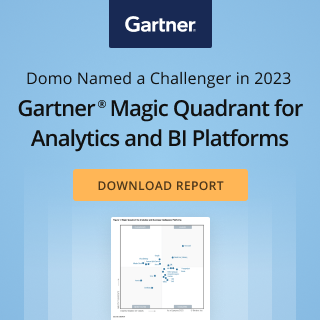 Domo transforms the way these companies manage business.