/ Domo Apps – Sales Scorecard
Video
Domo Apps – Sales Scorecard
Domo's Sales Scorecard App allows sales executive and managers to view the performance of their entire team across a customizable set of KPIs. Easily choose the metrics that matter to you to gain the insights you need to run a high performing and accountable Sales team. All at your fingertips with the Sales Scorecard data app from Domo.
View your entire team's performance in a single pane of glass with an easy-to-use data app
Build transparency and accountability across your Sales team
Easily customize to view any KPI that's important to your team
Click here to learn more, and download the Sales Scorecard from the Domo Appstore.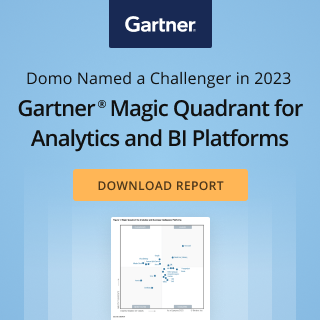 Check out some related resources:
Domo Ranked #1 Vendor in Dresner Advisory Services' 2022 Analytical Platforms Market Study
Developing a Data Governance Model that Meets Your Modern Business Needs
Fight the 'Sleepworking' epidemic with better data and tech access
Try Domo for yourself. Completely free.
Domo transforms the way these companies manage business.