/ Domo Apps — Campaign Scorecard
Video
Domo Apps — Campaign Scorecard
Domo's Campaign Scorecard App enables marketers to track the performance of any channel or tactic across a customizable set of KPIs. Download the app from the Domo Appstore, connect your data, and customize your view by selecting the campaigns and metrics that matter. And you can access your app anytime, anywhere, from any device. Run a data-driven marketing organization with the Campaign Scorecard data app from Domo.
View the performance of every marketing tactic in a single pane of glass with an easy-to-use data app
Build transparency and accountability across your Marketing team and stakeholders
Easily customize to view any KPI that's important to your team
Click here to learn more, and download the Campaign Scorecard App from the Domo App Store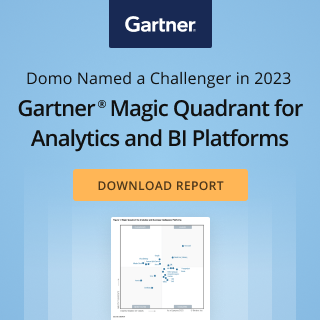 Check out some related resources:
The Future of AI-Powered Data Experiences
2024 Planning: Budget Cuts? Reducing Spend? Consolidating Systems? Hard Decisions!
Foundations in Applied AI
Try Domo for yourself. Completely free.
Domo transforms the way these companies manage business.