/ Using Data Apps to Overcome the Challenges of Modern Business
Report
Using Data Apps to Overcome the Challenges of Modern Business
While businesses think they use their data wisely, they frequently encounter challenges—including the inability for users to access, govern, and be proactive in operationalizing data at scale.
To enable growth, data apps can help your business become a more self-serve analytics organization. Learn about how data apps remove friction from the data lifecycle, how to implement data governance across the enterprise, and how to unlock data value to drive action, control, and outcomes.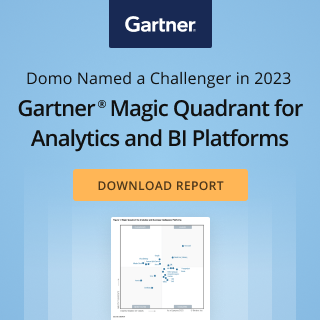 Check out some related resources:
From Insight to Action: Empowering End Users with Self-Service BI
Navigating AI Challenges and Opportunities: Thought Leader Roundtable
Domo and Regional One Health Named 2023 Nucleus ROI Award Winners
Try Domo for yourself. Completely free.
Domo transforms the way these companies manage business.