/ Digital Transformation, Demystified
Report
Digital Transformation, Demystified
Part 1 of 5: To Become Digital, Think Digital
Digital transformation is happening at a rapidly increasing pace, and companies are working hard to evolve in order to remain competitive.
Recently, Mumford Sole Partners, a New York-based firm that specializes in digital transformation, investigated the interrelated barriers to enterprise transformation and detailed how a partnership-driven innovation strategy can start to "shake loose" seemingly intractable obstacles.
In this whitepaper—the first of five whitepapers to come from the study—Mumford Sole explains how/why:
Digital companies have a different concept of what it means to be a company.
Cutting edge technology is secondary to the ability to execute flexibly on a mission.
A leader in digitizing the food sector has adopted thought processes that underlie digital operating models.
Download the whitepaper to learn how to lead digital transformation by thinking about digital in a new way.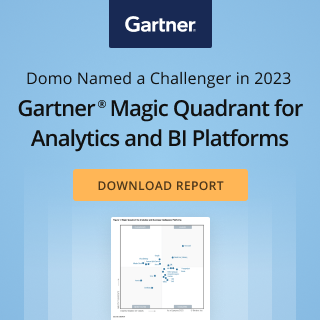 Check out some related resources:
Creating modern data experiences that help your customers succeed
Harnessing the Power of Data to become a better Credit Union
Domo Tops Dresner's List of Cloud BI Vendors in 2022
Try Domo for yourself. Completely free.
Domo transforms the way these companies manage business.