/ Big Data-Fueled Marketing Intelligence
Guide
Big Data-Fueled Marketing Intelligence
Six Ingredients to Smarter Marketing. Brought to you by: MarketingProfs
Corporate marketing is undergoing a sea of change in the way it operates, thanks in large part to the role data is now playing. To be able to understand and process marketing data, and then be able to extract value from that data is becoming increasingly important.
How do you accomplish that? Consider these six concepts:
The Cloud: Freeing data for those who need it

Dashboards: Making data accessible, intuitive, and user-friendly
Visualize: Letting the eyes have it
Interactivity: Putting Big Data to work for marketing
Context: Identifying the relationships behind the intelligence
Collaborate: Tapping into an organization's collective IQ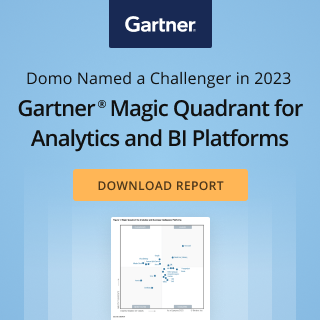 Check out some related resources:
Get Leverage | Webinar: The Evolution of BI with Howard Dresner
How dark data is hurting your business
Opportunities and Obstacles to Democratizing Data
Try Domo for yourself. Completely free.
Domo transforms the way these companies manage business.