/ Why white label business intelligence is essential for fast-growing companies
Article
Why white label business intelligence is essential for fast-growing companies
It was the American writer William S. Burroughs who said, "When you stop growing, you start dying."
While Burroughs wasn't necessarily talking about the world of business, this expression has been adopted by business experts and entrepreneurs as gospel, and has become especially relevant in the SaaS sphere.
As such, harnessing every advantage to propel the growth of your start-up or SMB is essential to ensure its success.
For SaaS and tech start-ups with a software product or application, white-label business intelligence is a vital tool to help facilitate and enhance business growth.
What is business intelligence (BI)?
Defined by Gartner, business intelligence comprises the "applications, infrastructure and tools, and best practices that enable access to and analysis of information to improve and optimize decisions and performance".
In practice, business intelligence involves collecting, analyzing, and deriving insight from company data, collected from an array of sources including sensors, databases, software, CRMs, and more.
This insight allows businesses to get a better picture of company performance, in everything from marketing to the performance of individual employees or departments. These insights are displayed in data visualizations using easy-to-understand graphics that enable the bigger picture presented by the data to be understood.
What is white-label business intelligence?
One problem with using a business intelligence feature from an external provider is that the BI feature can't be embedded within a business's systems or products, with users having to navigate away to a third-party platform or software to use the feature.
Moreover, the tool is imbued with the business intelligence provider's branding, making it aesthetically and functionally very different to the rest of a business's products.
White-label business intelligence providers solve this problem by allowing their business intelligence tools to be embedded within a system or product. They also enable the feature to be customized to reflect the feel and function of the rest of a business's products and to embody the branding of that company.
White-label business intelligence tools are particularly useful to SaaS companies that want to include a business intelligence feature as part of their core offering, for their own customers to use alongside the product they've built in-house.
Of course, some businesses choose to build a business intelligence feature in-house to fulfill their needs. However, white-label business intelligence tools provide an alternative to enable businesses to harness many of the benefits of a home-grown tool while facilitating quick growth.
How does white-label business intelligence maximize growth?
White-label business intelligence has been used to solve a number of the pain points experienced by businesses wanting to offer a business intelligence feature as part of their product.
In the past, there were two options available to businesses that required a business intelligence tool. They could either choose to build a business intelligence feature in-house, or outsource their business intelligence needs to a third-party platform or tool.
White-label business intelligence erupted as a third option, without many of the disadvantages associated with these options and helping to facilitate faster business growth.
Massive branding advantages.
Part of facilitating your business's growth is ensuring that your target market knows and remembers your brand—and great branding plays a huge role in accomplishing this.
When you outsource your business intelligence needs to a third-party provider—one that doesn't have white-label capabilities—you weaken your branding.
This is because a large part of your offering—the business intelligence feature—won't be imbued with your business's product and branding, will probably look and feel different to the rest of the product, and will most likely make users navigate away from the tool to a third-party software or platform when using the BI feature.
As a result of this, your business's brand identity won't pervade the product as strongly—and customers won't necessarily associate your brand with having strong business intelligence and tech capabilities.
Alternatively, if the BI feature was integrated into your product and permeated with your branding, customers are more likely to associate these plus points with the brand.
Branding is essential for facilitating the growth of your business, as it helps customers refer back to your brand with a clear image of your brand identity, what it does, and the kind of products it offers.
This is critical not only so that customers can come back to your company again and again, but so that they can tell other people about your company.
Effective branding enables your customers to more easily recall and pass on the word about your brand, making recommendations if your business is 'top of mind' when they come to think of a particular product or service.
Word of mouth marketing is widely believed to be the most effective form of marketing, enabling businesses to acquire more customers and grow rapidly—and it's free. So, ensuring your branding is as thorough as possible is a worthwhile investment—and something that white-label business intelligence can help you to achieve.
Quicker time to market.
For a SaaS business or start-up, building a quality product and getting it to market as soon as possible is the top priority.
After all, until a product is on the market—able to be purchased by customers—there's no cash flow coming from that product.
If that product is a company's first or only product, this essentially equates to no cash flow at all, in spite of having continuous costs for things such as marketing and paying employees.
This is why getting a product to market as quickly as possible is vital—otherwise, the business may well drown in its expenses before it can even get off the ground.
To seamlessly integrate a business intelligence feature into a product and have this feature look and function like the rest of the product, many SaaS businesses decide to build a BI tool in house.
However, this can add many months to the product development time.
White-label business intelligence, on the other hand, allows businesses to garner these advantages with a ready-made tool that can be instantly integrated with the rest of the product, so that the product can be purchased and used by customers as soon as possible.
And the sooner a business launches their first product, the more time that business has to grow.
Built for scaling.
White-label business intelligence providers' primary customers are those with start-ups or businesses looking to integrate a business intelligence feature into their product or system.
The SaaS market is one of the fastest growing markets, and businesses in this sector can grow exponentially each year, meaning their needs evolve and increase drastically in a short period of time as they take on new, larger customers and release more products.
With this in mind, white-label business intelligence providers design their products to facilitate rapid growth and easy scaling.
Most often, white-label business intelligence is provided on a subscription basis, with businesses paying for a subscription that best suits the needs of their business. Then, as their needs change, this subscription can be easily upgraded so that businesses can continue to meet the needs of their customers.
Relieves BI maintenance responsibility.
In a fast-growing business, it's difficult for employees to adjust to quick scaling and their evolving—and oftentimes increasing—responsibilities while continuing to fulfill the needs of customers.
In this environment, one thing that your software engineers don't need to be dealing with is fixing issues with the business intelligence tool they decided to build in house—for essentially the same benefits provided by a white-label business intelligence provider.
When you use white-label business intelligence, any problems with the BI tool will be sorted quickly since business intelligence is usually the only focus of the provider. This is compared to your business, in which there are countless things to focus on, especially as it grows and evolves.
As well as ensuring customers remain satisfied with your product, this frees up the time of your team to focus on other growth-boosting tasks rather than being interrupted by tedious—but necessary—fixes that need to be made to the business intelligence feature. White-label business intelligence removes this extra responsibility and the corresponding demand on time and resources.
Attracts investors and new customers.
With white-label business intelligence, businesses get the best of both worlds: the impressive BI functionality offered by specialist business intelligence providers, with the branding and benefits of seamless integration that an in-house tool would typically afford.
This serves to produce a product that's efficient and easy to use, as well as being aesthetically harmonious. While labeling shows off your tech capabilities and overall business competency.
All in all, employing white-label business intelligence allows you to build a better product with which to impress both customers and investors, both of whom are integral to the growth of your business.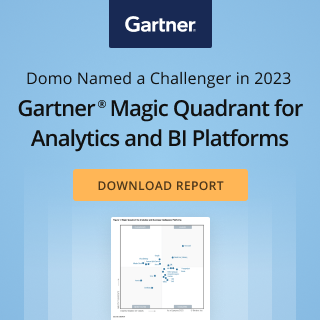 Check out some related resources:
Domo Recognized as an Overall Leader in the 2023 Dresner Wisdom of Crowds® Business Intelligence Market Study
Creating modern data experiences that help your customers succeed
Domo Showcases ESG Solution for Gartner BI Analytics Showdown
Try Domo for yourself. Completely free.
Domo transforms the way these companies manage business.