/ Why data collaboration is essential for success in business
Article
Why data collaboration is essential for success in business
It's 2022, and many companies have access to more data than they could ever imagine or even use. It's limitless. However, there is one thorny aspect to it all. Data in its raw form, whether in the form of numbers or simple statistics, is similar to a raw material — valuable but useless.
Insights alone will not transform a company. Bringing together the right people and providing them with the proper tools and giving access to the appropriate data, on the other hand, will enable organizations to achieve incredible results. The goal is to "collaborate" on data.
What is the definition of data collaboration?
The sharing of data from internal or external sources between companies, clients, or staff is known as data collaboration. This not only keeps businesses informed about market trends but also helps them communicate more effectively with one another. Businesses can collaborate to develop innovative services for customers, allowing them to grow and succeed.
Businesses can share data with the help of BI-assisted data collaboration, which helps them achieve their desired business results.
How can data collaboration help businesses gain a competitive advantage?
To stay competitive, businesses must keep up with the latest technological trends. Data collaboration is one of the most effective ways to accomplish this. Companies and teams that interact are better equipped to react to market developments more quickly, giving them a competitive edge over those that do not.
This is the reason data collaboration is becoming so popular: by collaborating, organizations can ensure that they are always on the leading edge of innovation, allowing them to stay ahead of the competition.
What has changed in data collaboration?
Because technology is always changing, it is critical for businesses to evolve as well. The way modern businesses obtain information has changed dramatically in recent years, and it is expected to continue to change at a rapid pace.
Companies must evolve with their technology in order to remain competitive, as staying static can quickly render a company obsolete. This is why, in recent years, the volume of data collaboration agreements between firms has risen. Corporations from the private and public sectors, as well as universities and government agencies, are all involved in these deals.
Companies that do not gain knowledge from and benefit from data collaboration will lose income and growth opportunities, whereas those that work collaboratively will be more likely to succeed. Companies that are able to easily share data insights within their firm and, in some situations, with external entities have a competitive edge in the industry.
How business intelligence dashboards enable data collaboration
Business intelligence (BI) dashboards are a great tool for companies looking to start using data collaboration as a strategy for growth. A business intelligence (BI) dashboard is a visually appealing way to arrange data from a variety of sources and assist firms in achieving their objectives. When data transparency exists within an organization, BI dashboards enable teams to align their perspectives, gain new insights regarding their operations, and cooperate to achieve the company's goals.
Businesses all across the world have been utilizing developments in business intelligence technologies for several years. Companies frequently share data with their clients through embedded or even white-labeled programs, which assist them to understand the benefits of their relationship. In exchange, these consumers frequently contribute data that is necessary when using business intelligence tools to gain key business insights.
The modern workplace's increasing requirement for data collaboration
Data collaboration is becoming increasingly vital for organizations throughout the world as more companies strive to build customer-centric experiences. Businesses can better satisfy their consumers' needs by gathering information about them and providing products that are personalized to their preferences.
For instance, if a corporation wants to sell new vehicles, it can utilize business intelligence and data collaboration by gathering data from disparate sources to better understand its audience and target certain sectors of the market in its advertising campaigns. Companies and customers are more likely to create long-term connections and grow together when they share information and use BI and data collaboration technologies.
The advantages of data collaboration in an enterprise
Data collaboration has changed the way businesses operate in the last decade. Using cutting-edge technology and partnering with other organizations that utilize comparable technologies have numerous advantages. This helps businesses stay competitive in their particular marketplaces and benefits all parties involved.
Here are some of the benefits that organizations gain from data collaboration technology:
Improved data collection
Data is vital in business, whether it's for calculating the impact of a choice on stock prices or developing targeted advertising strategies. Businesses that wish to stay competitive must use current BI technology.
Businesses can utilize data collection technologies to add value to their customers and obtain a deeper understanding of their demographics, allowing them to meet their objectives.
Customer service enhancement
Customer service is one of the key reasons why individuals pick one program or service over another. It is critical for businesses to comprehend their CSAT (customer satisfaction score) and the precise areas in which they may enhance their customer realtionships. Your most useful product feedback channel is your existing customer base's collective voice.
Companies collaborating on data that is shared between departments allows them to acquire and use information, making it easier for them to build customized products and services that appeal to customers who use a variety of products. This assists businesses in forging deeper client relationships, increasing user adoption, and ensuring that they remain competitive in their particular markets.
Productivity gains
Rather than wasting time and money manually collecting data from clients, organizations can use data collaboration tools to share information they require more quickly. This allows businesses to devote more time, attention, and resources to activities that keep them relevant.
Data collaboration is particularly useful for teams whose choices have a direct impact on the company's bottom line. Top BI systems make it possible for teams to interact successfully and understand how their decisions affect different departments across the organization.
Improved data accuracy
Many firms, especially those that rely significantly on data-driven initiatives to create sales and income, benefit from data collaboration technology since it helps them to acquire accurate and timely data and then convey key insights throughout the organization. There has usually been a latency in the exchange of business information, but cloud-based BI solutions have made it incredibly simple to share data via open APIs in order to collect real-time data and act on it swiftly.
The capacity to act rapidly on relevant, current, and accurate data aids businesses in developing better goods and services that give them a competitive advantage in their particular markets.
Will your organization be able to keep up with the latest trends in business intelligence?
Businesses that utilize data collaboration tools have a higher chance of succeeding than those that do not. Businesses can boost revenue by aligning decision-makers around corporate objectives.
Companies trying to modernize will discover that implementing a data collaboration plan is one of the most effective ways to ensure data transparency and evolve as their business demands change.
Maintaining market competitiveness necessitates the use of a business intelligence system to aid your data collaboration requirements.
Conclusion
For your firm, data collaboration could be a tremendous force multiplier. You can make better decisions, learn from others' failures and successes, and build a constant pipeline of fresh growth prospects by combining your insights and data with those of consultants, partners, investors, or simply those within the organization.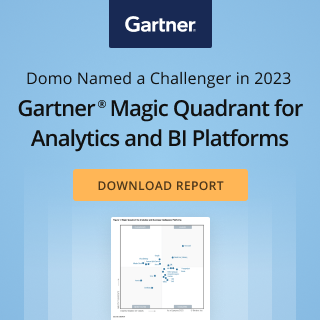 Check out some related resources:
Domo Showcases ESG Solution for Gartner BI Analytics Showdown
Harnessing the Power of Data to become a better Credit Union
There's an App for that—Tips for Crafting Apps, Dashboards, and other Engaging Data Experiences
Try Domo for yourself. Completely free.
Domo transforms the way these companies manage business.