/ What is the value of embedded business analytics?
Article
What is the value of embedded business analytics?
In recent years, the business analytics market has experienced a revolution. While once upon a time, enterprise-level data reporting and analytics were reserved for large companies with the resources to invest in powerful business intelligence (BI) tools, that's no longer the case. Today, companies of all sizes rely on BI software to make decisions about the future.
As the field of business intelligence has evolved, so too have its tools. Formerly, businesses seeking to leverage analytics could only opt for expensive enterprise solutions that required a team dedicated solely to data maintenance. Businesses today have access to a range of options, from embedded business analytics designed for use by individual departments to full-scale enterprise suites that provide end-to-end support and customization.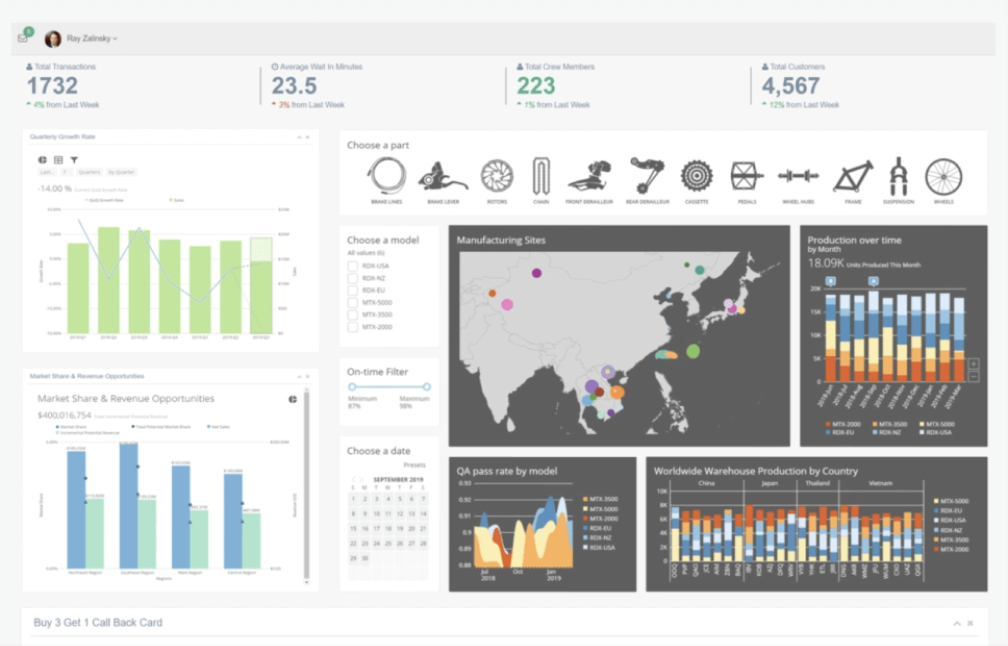 What is embedded analytics
Embedded business analytics is a subset of business intelligence that is built directly into the applications, interfaces, and products that users interact with every day. It provides them with the ability to access the data and insights they need to make better decisions.
These tools have become increasingly important as organizations have relied on their digital assets for revenue generation, customer engagement, and brand awareness. The only downsides have been the struggle to balance priorities and advancements with a renewed commitment to privacy.
In fact, according to Gartner's 2017 Trends in Embedded Analytics report, only 40% of organizations are using embedded business analytics because many do not know how or where it fits into their existing operations.

Embedded business analytics vs. business intelligence
Business intelligence is a broad term encompassing many tools and techniques used to support data-driven business decision-making. BI provides a comprehensive view of the data, allowing users to see the bigger picture and make informed decisions.
Embedded business analytics differs from traditional BI in that it is embedded within the applications that use it, rather than being accessed through specialized tools outside of those applications.
Embedded analytics provides real-time insights into what's happening, so you and your customers can make better decisions immediately instead of waiting until later when the data is aggregated together into reports.

How are embedded business analytics used?
Embedded business analytics are used to make decisions and take action in real-time. For example, let's say you are a retailer who sells items online. You can embed business analytics into your website so that it collects data about the behavior of each customer who visits your site.
When someone searches for a specific item on your website, embedded business analytics will automatically collect information about that visitor. This could be something like how long they stay on each page and what links they click on. This data is then used to display ads based on customer interactions and preferences.
Here are other applications of embedded analytics:
Embedding analytics into the workflow of internal processes
Using CRMs with automatically generated visualizations for sales team actions
Data map your websites to see what is attracting new leads and has the highest engagement
Craft customer loyalty programs based on previous enhanced in-product analytics studying purchase behaviors
And plenty more!
What are the benefits of embedded business analytics?
The entire goal is to get maximum value by extracting insights from every point of data. This increases sales, improves customer relationships, and offers many other promising benefits, including the following:
Gain a competitive advantage
Embedded business analytics is the process of using data to improve your organization's strategic decision-making and performance. It helps you gain insights into your competitors.
This information allows you to make informed decisions regarding future strategies and projects, which can help give rise to new opportunities or improvements within an organization while keeping up with the competition.
Enhance decision making processes
The ability to make data-driven decisions is something that every organization strives for. However, even with the best intentions, businesses often fall short of this goal due to a lack of information or tools that can help them make better decisions.
Embedded analytics provides the solution by enabling organizations to access and analyze data from multiple sources in real time. With embedded analytics, you can transform your business into a data-driven organization that can react more quickly and anticipate customer needs without needing continual oversight.
Boost your sales
The ability to quickly and easily access customer data can have a profound impact on sales teams. As a result, teams can make better decisions, communicate better with customers, and further understand their products and markets.
Sales teams are often tasked with getting new business from existing customers or acquiring new ones by leveraging past relationships. Embedded analytics allows sales teams to take advantage of all this information by providing insights into what has worked for previous customers so that they can tailor pitches accordingly. This means no longer having to guess what works best for each individual prospect.


Uncover flaws and reduce errors
As you start to evaluate the pros and cons of embedded business analytics, it's essential to understand the value that this approach can add to your organization. By uncovering flaws or reducing errors in critical processes, you'll be able to reduce costs and increase efficiency while also improving customer satisfaction.
Real-time analytics offers insight into the different mechanisms of your business. It reduces the likelihood of user errors because everything is easier to view and digest. Any new insights that are uncovered can be used as training tools for future workers who may not be familiar with your systems.
Monetize analytics
This is the main benefit of embedded analytics and means you can apply your business intelligence to the real world of business. You will be able to use it to improve your customer journeys, streamline your work processes, and provide valuable insights that enable more intelligent decision-making.
You may be able to flip the narrative and place some of your embedded business analytics into a customer-facing orientation. This can be sold or leveraged for improved future sales by expanding the usability of your service or products.
Increase communication
Embedded business analytics is a great way to make data accessible to everyone across teams and departments. It enables you to share insights and data within your organization, improving communication between teams and other departments. This, in turn, increases collaboration between teams, vendors, end-users, and customers and improves innovation.
Along with the wide variety of benefits, there are also a few things you should take into account when deciding whether to incorporate embedded business analytics into your organization:
Identify business goals first before selecting a new system to implement or integrate
Ensure the scalability of your new system — so it grows when you grow
Evaluate your current team's skill sets so you are not using a tool that has no value or is too hard to utilize
Double-check your current technology models and API systems so your data can be smoothly integrated into new embedded business analytics
Consider the applications and dashboards you will be using for this integration
Plan ahead for any security concerns as some of these new tools will be product or customer-facing, exposing you to more threats
Improve your business with embedded business analytics
Embedded business analytics is an invaluable resource for companies of every size and industry. It offers insights that can help you make better decisions, improve your customer experience, and increase your profitability while simultaneously lowering operational costs. These tools are not just the future — they are the present. The only way to stay competitive in today's fast-paced, ever-changing marketplace is to embrace these new technologies capable of managing data at breakneck speeds.
Once you've completed this process and started your implementation, be sure to keep evaluating your progress as a company. As you work, you may realize that there are additional insights your company could gain from embedded business analytics. You may even find new ways to apply what you've learned across other departments or business areas.
Check out some related resources:
Data Never Sleeps 10.0
Embracing the future of data with augmented BI
Harnessing the Power of Data to become a better Credit Union
Try Domo for yourself. Completely free.
Domo transforms the way these companies manage business.