/ What is the value of BI data warehousing?
Article
What is the value of BI data warehousing?
Over the past twenty years, business intelligence has become an integral part of how businesses work. Increasingly, that intelligence is built on a foundation of data warehousing, which ensures that the right data is organized in the right way to meet business needs.
Access to up-to-date information about their operations is key to making good decisions quickly. Without this insight, they run the risk of wasting time and resources on things that may not even be profitable.
However, as the amount of data that businesses need to track continues to grow, the importance of data warehousing has only become greater.
In order to make sure that they are getting the most value from their BI investments, businesses need to ensure that their data warehouses are well-designed and tuned to meet their specific needs.


What is a data warehouse?
A data warehouse is a collection of data that has been organized in a specific way so that it can be easily accessed and analyzed. This data may come from different sources, such as on-premise systems, cloud-based platforms, and local databases.
In order to be useful for business purposes, this information must be comprehensive and accessible. This means that it should be organized and stored in the most granular form possible. This ensures that the data is flexible and can be used in whatever way the business needs it.
When data is stored in a central location, different departments can access it to support their specific needs — a critical factor for businesses that want to get the most value from their BI investments.
How data is stored in a data warehouse
There are many established best practices when it comes to storing and organizing data in a data warehouse. Let's explore one of the most common techniques that include storing data in multiple levels:
At the lowest level, individual pieces of data — such as specific transactions that have been recorded within a customer account — are stored. Each piece of this "atomic" data is assigned its own unique identifier, which is used to track it throughout the warehouse.
At the next level, data is grouped into "fact" tables based on specific criteria, such as all the transactions for a particular customer in a given time period.
At the highest level, data warehouses are organized into "dimensional" structures, which mimic the way that users think about their data.
For example, a business that sells to customers throughout the U.S. may want to track its sales by state and region rather than by specific city or street address — since some of those streets may only exist within certain regions.
This is just one example of how data can be stored in a data warehouse. Good data organization is crucial to ensure accurate data can be provided to the business in a timely manner.


Why you should implement a data warehouse
Making sound business decisions can be challenging when you don't have access to accurate data. Without up-to-date information, it's hard for companies to know which paths will lead them toward success and which ones will cause them to fail.
With a data warehouse in place, managers gain access to the information they need quickly and easily. This data can be used to support strategic decision-making, marketing efforts, and even employee productivity.
The benefits of data warehousing are clear. There are many options when it comes to implementing a data warehouse. Many businesses have already invested in a solution that is up and running. The benefit of using a modern BI platform like Domo is that you can connect directly into an existing data warehouse without moving your data.
Benefits of a data warehouse
A well-executed data warehousing strategy can provide a number of benefits for businesses, including:
The ability to cleanse and merge data from different sources creates a single truth record.
Improved decision-making, as managers have access to timely, accurate information about their operations.
Increased efficiency, as employees can easily find the information they need to do their jobs.
Reduced risk, as data can be analyzed to reveal underlying trends and relationships more quickly than would otherwise be possible.
Better customer service by gathering all relevant information in one place for more efficient access by front-line employees.
New insights into the behavior of customers and other market segments through detailed analysis of data.
The ability to respond more quickly and effectively to changes in the marketplace by having the right information at their fingertips.
Enhanced competitiveness, as businesses can make better decisions faster than their rivals.
As valuable as data warehouses are for business intelligence, only a small percentage of companies have one in place. According to a recent study by Deloitte, a shocking 39% of surveyed team members said their company had a confident data strategy for decision-making.
Clearly, there's still some work to be done to educate businesses about the value of data warehousing. With more and more companies turning to BI for a competitive edge, that number is sure to grow in the years ahead.
Preparing for a digital future with data warehousing
If you're trying to stay ahead of the curve, enterprise companies should be embracing data warehousing as a key part of their BI strategy. This approach has proven itself valuable within organizations ahead of the curve.
To get started, you'll need to identify the business needs that a data warehouse can address. Once you've done that, you can start to map out your organization's data requirements and find the right solution to help you get started.
It's important to remember that data warehousing is an ongoing process—one that should be revisited on a regular basis. The needs of your business will change over time, so it's important to have a data warehousing strategy that can adapt with you.
In the years ahead, we can expect even more businesses to turn to data warehousing as they seek to stay competitive in a digital world. By embracing this technology now, you're putting your business in a position to enjoy all of the benefits that data warehousing has to offer.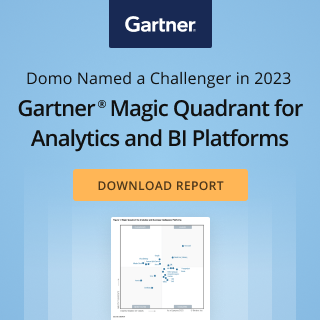 Check out some related resources:
Why is no one visiting my lakehouse? Unlock the power of your lakehouse for low-code and no-code users
Building Data Integrations on a Modern BI Platform
Product Overview: Domo Integration Cloud
Try Domo for yourself. Completely free.
Domo transforms the way these companies manage business.