/ Welcome to the age of digital dashboards
Article
Welcome to the age of digital dashboards
We live in a digital age. Regardless of industry or niche, extracting every drop of value from data can help an organization become more effective, innovative, and productive. Data provides a wealth of information that will dramatically accelerate the evolution and growth of the company. If you don't take advantage of this, you risk falling behind your competition.
But where do you start with so much data and so little time? Digital dashboards not only allow you to look deeper into specific data that matters most to your company, but they also provide an interactive visual depiction that aids in faster, more intelligent decision-making and the identification of valuable new information.
A data-driven company dashboard is your portal to advanced business intelligence (BI), the kind that can help you succeed in an immensely competitive business world. Furthermore, if used correctly, a dashboard builder can be a significant commercial tool.
What does a digital dashboard entail?
A digital dashboard is a real-time data monitoring and analysis tool for business users. Digital dashboards enable better decision-making and growth through interactive data representations that permit users to look at data at multiple levels of granularity. If you want to communicate your findings in a relevant way, data-driven dashboards are a great way to do it.
Digital dashboard types
Analytical dashboards, operational dashboards, and executive or strategic dashboards are the three kinds of digital dashboards. The information below will assist you in selecting the best type of dashboard for your organization.
Analytical dashboards
Analytical dashboards have been used to extract insights from complex information over the course of a month, quarter, or another period. You utilize these revelations to assess prior events and the circumstances which led to them. You'll also see what measures you should focus on in the future to achieve great improvements.
Operational dashboards
Operational dashboards are designed to assist you in managing your day-to-day business processes. These dashboards give you a real-time picture of your performance. To put it another way, on an operational dashboard, you can see all of the KPIs (key performance indicators) in one location. This type of dashboard is mainly utilized in departments such as supply chain management, marketing, sales, or customer service, where immediate adjustments are often required.
Executive/Strategic dashboards
These dashboards display the KPIs that executives of a business monitor on a daily, weekly, or even monthly basis. They offer high-level overviews of the most pertinent facts about the company's overall growth.
The most important advantages of using digital dashboards
1. Decision-making: The easily-accessible visual form of digital dashboards enables users to easily examine and drill down into essential metrics and insights, facilitating quicker data-driven decision making in all areas of the organization.
2. Accessibility: Building on the preceding point, the fact that these dashboards provide intuitive data presentation eliminates the need for extensive training. Modern dashboards are designed to be easily accessible and simple to use.
3. Mobility: Digital dashboards are customizable and provide all relevant information in a single location. These dashboards are also made available to view via mobile devices, enabling you to access critical information from anywhere on the globe.
4. Business intelligence: Enhance the team's business intelligence skills by using real-time data to incorporate predictive analytics to inform future decisions.
5. Benchmarking: Regardless of industry or sector, trying to clearly set benchmarks that coincide with your most critical objectives is an effective way to achieve your goals. Digital dashboards include dynamic visual KPIs, which not only provide an awareness of where your business's performance is at but also assist you in gaining a thorough grasp of what you need to accomplish to meet critical milestones.
6. Transparency: The customizable yet thorough nature of BI dashboards allows for quick, easy, and effective sharing and discussion of data-driven findings. As a result, such technologies promote cross-departmental contact while also removing communication hurdles, both of which are critical for success.
Features of the best digital dashboard software
Data connectors
Data connectors are one of the nicest aspects of modern analytics management platforms. These dynamic connectors can connect a variety of popular platforms and condense data into a single area.
You can then easily access every relevant metric as well as insight across platforms, bringing your data to life with interactive visualizations, conserving time, increasing analytical efficiency, and reducing fragmentation.
Interactive features
Today's digital dashboard tools include a number of interactive features that enable drilling down into individual metrics, filtering data, and zooming into charts.
A wide range of chart formats and visualization possibilities
Modern BI dashboard software gives you access to a variety of dynamic graphs, charts, and visualization tools that let you extract useful insights you didn't know you had while formulating strong strategies based on a mix of historical, real-time, and forecasted data.
Multi-device compatibility
The creation tools for digital dashboards are suited for practically every device imaginable, especially tablets and smartphones.
This level of consistent cross-device accessibility will enable everyone in your company to gain access to critical data-driven insights at all times. As a result, you'll see more internal innovation and better collaboration.
Improved user control and security management
Advanced user-control administration and security are also important features of modern analytical tools. It's simple to assign user roles to provide the correct people with the proper level of access while maintaining the security of your data. Most digital dashboard tools give you the ability to assign roles of admin, editor, or viewer to users. Some tools permit you to create custom roles.
This ensures that employees are able to interact with data in ways that are appropriate for their function, necessity, or level of seniority.
Automated functions
Digital dashboard abilities are so robust that it's easy to build automated reports depending on a number of functions and attributes. Digital dashboard software's ability to automate some reporting and information management procedures makes it a significant asset to any firm, as these capabilities increase production while letting employees concentrate on other important tasks. These advanced tools can also send automatic warnings when a condition is met, like when a metric surpasses a certain threshold.
Embedding capabilities
Any good digital dashboard has the ability to be embedded into your existing frameworks, such as a company website, which saves money on development and provides access to a variety of interactive features.
Another benefit of an embedded dashboard is the increased security offered by restricting access when appropriate, which is especially important if you're sharing reports through other portals.
A variety of design possibilities
A digital business dashboard tool usually offers a variety of design choices that are not just useful but also simple to adopt with no technical expertise.
Some software also provides the ability to ''white label.'' When presenting your findings to customers or external stakeholders, white labeling enables you to tailor your reports with your firm's color scheme, branding, logo, and general visual identity, which is an excellent method to create awareness of your company.
Conclusion
Regardless of your industry or niche, using digital dashboards to track variables over time will assist you in identifying potential inefficiencies and developing a worthwhile endeavor to reduce any unnecessary expenditure while making better operational decisions. This is a necessary tool for any modern company.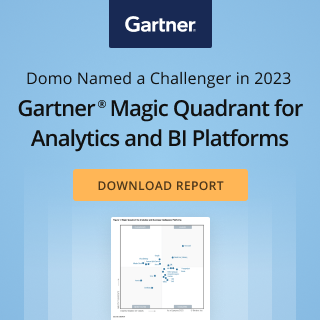 Check out some related resources:
Domo Named a Leader in Nucleus Research's 2023 Analytics Technology Value Matrix
Elevate Your Organization's Data-Driven Culture with Strong Governance Practices
Fight the 'Sleepworking' epidemic with better data and tech access
Try Domo for yourself. Completely free.
Domo transforms the way these companies manage business.