/ Utilize KPIs to enhanced your organization's performance
Article
Utilize KPIs to enhanced your organization's performance
It can be challenging to find a clear place to start when seeking to improve or expand your business. Every organization in the world operates with particular objectives in mind. Companies require quantifiable indicators, also called key performance indicators (KPIs), to assess the actions taken to achieve these goals. Choosing and tracking KPIs is a wise method to determine what is or is not functioning for your firm. The types of KPIs vary depending on the objectives of the company, the demands, and other elements. Be intentional about the KPIs your organization chooses, as they only work well when carefully selected.


What is a KPI?
A key performance indicator (KPI) is a business metric that assesses how well a company is doing concerning its primary goals. KPIs aid in target definition and progress evaluation. At the department level, different KPIs are used depending on the area of the business. For example, the metrics used to measure the marketing campaign's performance may not be the same metrics used to measure the sales department's progress.
Organizations utilize KPIs at different levels to evaluate their success in accomplishing objectives. Low-level KPIs might concentrate on procedures in divisions like HR, support, sales, and marketing, whereas high-level KPIs might concentrate on the success of the company as a whole.

Why are KPIs important?
Having KPIs in place is beneficial because they help to emphasize learning and goal-driven behavior. They can aid in creating a learning environment at work where employees are continually advancing their knowledge to achieve their objectives. If a department falls short of a KPI, managers have the chance to train teams in the areas where they are showing weakness.
Additionally, KPIs assist businesses in deciding what adjustments are necessary to increase success.
KPIs aid in offering a crucial and quick glimpse of the general state of your company. It demonstrates the standards you are meeting, and you can use this data to convince investors that investing in your business is a wise decision. You may continuously improve your work operations using the data collected via KPIs. This can be very important in a field where you always have to keep one step ahead of the competition.
Adopting the "proper" KPIs is crucial since it inspires employees to work toward a single objective. Adjust the objective to a more suitable standard if the KPI is unreachable; otherwise, staff members will quickly lose interest and become dissatisfied if they believe it is impossible to achieve.

How are KPIs applied in businesses?
Organizations use key performance indicators as a communication tool. They update business executives on how well their organization is doing in terms of achieving critical corporate goals. The primary business objectives of a company should directly affect the organization's performance as a whole, making this information channel very important. Therefore, KPIs will indicate whether your efforts are effective in accomplishing, for instance, business expansion at the rate anticipated.
KPIs also aid in spotting problems with organizational procedures. Business leaders will be informed of progress on a target lag by the key performance metric linked to it as soon as a pattern becomes apparent (assuming you have lagging and leading KPIs). The company will know that something went wrong and that an investigation is necessary. Before the problem significantly impacts the company's productivity, a strategy to minimize it can be developed and put into place.
Common things that KPIs may monitor include:
Revenue: average earnings, overall sales, and new clients
Employment data: openings, employee performance, and employee turnover
Customer service: typical call duration, effectiveness, and client satisfaction
Marketing: overall effectiveness and sales generation
Overall efficiency: encompassing general effectiveness and departmental efficiency
What to include in an executive dashboard?
A personalized dashboard featuring departmental KPIs will be helpful to department heads in your organization. However, a dashboard that provides KPIs from each department is best suited for the CEO and other executives. An executive dashboard should include company-level KPIs that enable a quick performance assessment.
Here is an illustration of what departmental metrics you may want to include in an executive dashboard to track the performance of a software company.
Finance
Gross Profit Margin
EBITDA
Accounts Receivable
Accounts Payable
Sales
Revenue
Opportunity Pipeline
Marketing
Support Department
Ticket Volume
Average Resolution Time
Development Department
Characteristics of a good KPI
KPI metrics should be intentionally chosen. The following are characteristics of a quality KPI:
Relevant
A vital measure has a significant impact and is pertinent to your business.
Simple and essential
Every staff member working for your company must be able to comprehend the KPI and why it is necessary.
Balanced
The KPI must be balanced in that it must guide long-term as well as short-term endeavors of your organization.
Timely
The KPI needs to be measured regularly.

How to use KPIs to increase business success
Using KPI metrics is a smart approach to improve the results for your company. KPIs are quantifiable measures that give you a clear picture of how your business is doing.
By emphasizing areas for change as well as areas where you are succeeding, KPIs can, when used effectively, assist you in boosting business outcomes. For instance, KPIs can help you identify the sources of rising client acquisition costs and suggest ways to cut them.
It's essential to first determine your company's main objectives before coordinating your KPIs and metrics with those objectives. You should start creating precise measures to track and enhance your success once you fully grasp your organization's vision.
What actions should one undertake to achieve this? Let's look at a few pointers for KPIs and measurements to enhance performance on the most crucial goals and objectives.

How can KPIs and other metrics boost the results of my business?
KPIs offer a high-level overview of your progress, and additional metrics are used to assess how well processes, programs, or other actions assist in the accomplishment of the KPI.
Understanding the idea of attribution is crucial for making successful use of KPIs and metrics. Attribution is the process by which you give someone or something credit for a specific outcome.
Ensure that the measures you employ align with your goals and KPIs to prevent errors in attribution. Tracking data that isn't related to your goals or doesn't help you improve your company's performance is a waste of time and resources.

Conclusion
You must utilize KPIs to manage your company's performance and produce better outcomes if you want your organization to succeed.
You can use these guidelines and incorporate a business intelligence tool to track your performance and assess your progress, allowing you to adjust as necessary to achieve the most important goals.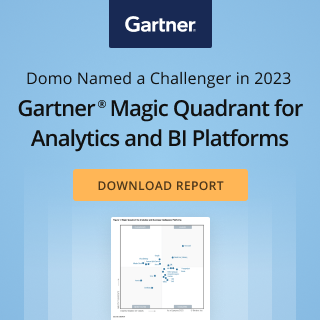 Check out some related resources:
Domo Ranked #1 Vendor in Dresner Advisory Services' 2023 Cloud Computing and Business Intelligence Market Study
Domo Named a Leader in Nucleus Research's 2023 Analytics Technology Value Matrix
There's an App for that—Tips for Crafting Apps, Dashboards, and other Engaging Data Experiences
Try Domo for yourself. Completely free.
Domo transforms the way these companies manage business.