/ Unlock financial benefits by integrating accounting dashboards
Article
Unlock financial benefits by integrating accounting dashboards
Financial dashboards are a great way to improve business performance and make better decisions. When you can integrate these solutions into your current accounting system, you add value to the overall financial reporting process. The common challenge in budgeting and forecasting is that it often requires time-consuming processes, repetitive data gathering, and multiple data platforms. To overcome this challenge, businesses have started to integrate advanced dashboard software that can help companies achieve various financial goals.
Selecting the right dashboard for accounting has everything to do with supported integrations and data transformation functionality. Your accounting dashboard needs to seamlessly integrate with your financial systems while also allowing you to perform custom analyses as your business evolves over time.
A financial dashboard is a single tool that allows you to gain an understanding of your business's performance. You can get an overall idea of how well the business is doing by looking at its revenue and expenditure reports, but in a visual manner for quick reference.
The best part about using a financial dashboard is that all this information is available in one place, which means there's no need to switch between multiple apps or websites when looking for specific data points.
Why does my business need a dashboard for accounting?
Accounting is an environment where mistakes are unacceptable. A simple misplaced digit on one account can lead to disastrous effects that ripple through the entire organization. Assembling all of that critical information into a single, easy-to-understand, organized location requires advanced technology. Otherwise, you will be spending extremely high payroll costs on a large accounting department.
While spreadsheets may have worked in the past for smaller businesses, today's modern accounting requires a far more customizable solution. Accounting dashboards help with the following:
Gathering disparate data for reporting
If you are a manager, executive, or CFO and you want to view your financial information in one place that includes key metrics for each quarter, dashboards for accounting can help. If your company is operating globally and has multiple locations, then dashboards allow you to access real-time data without having to log into different systems.
As a business owner or director, you may be familiar with the requirement for monthly or quarterly reports. The problem is that these reports often snowball into even more reporting requirements, which can quickly become an overwhelming task. If your company is like most others, you don't have the time to manually gather all of this data from various sources and put it together into a report. That's why there is a need for solutions such as dashboards. They allow you to consolidate all of this information into one place so you can focus on what matters most—growing your business.
Cutting down on unnecessary or lengthy reports
Lengthy reports can introduce errors and risks. For example, a report might be challenging to understand due to the complexity of its content or structure.
Reports may also be hard to interpret because of the amount of data contained therein, making it difficult for people who aren't familiar with your business to get valuable meaning from the information presented.
In addition, reports often take time to implement once they are created and implemented—this can increase costs if you need help from an outside source such as an accountant or bookkeeper.
Finally, some reports require constant maintenance in order to keep them up-to-date with changes in legislation or accounting standards that may affect how they should be used going forward. This kind of upkeep is often costly, not only in terms of money but also resources like time.
Benefits of accounting dashboards
The overall goal is to make your business easier to run by gaining those high-value financial insights needed for decision-making. That can be a serious challenge when your data systems do not have an integrated solution or are so spread out that compiling and collecting that data feels next to impossible. A quality dashboard for accounting solves these issues with benefits like the following:
Visualized financial data, trends, and insights
Dashboards make it easy to see the big picture. They can help you understand the current state of your business, and they can also predict future trends. With a dashboard, you'll be able to spot trends in your accounting data that were previously hidden from view—and that's important for making intelligent decisions about how to run your business.
Dashboards enable you to examine how different factors affect each other, which enables you to make more informed decisions about how best to proceed with business operations. You need to have a measurement of sales in comparison to marketing efforts, expenses, and current tax obligations from a macro perspective, especially for those in leadership positions.
Uncover latent data points
One of the most significant benefits of using dashboards for accounting is that you can make better business decisions. Integrated data from various sources can be accessed and analyzed in real-time, which helps you make informed decisions about your business operations so that you can improve profitability and productivity.
Business owners often overlook or underutilize their company's data due to a lack of time or expertise in using it effectively. But by integrating dashboards for accounting, businesses have access to powerful analytics they otherwise wouldn't have been able to create themselves—making them more competitive with larger corporations who have dedicated teams managing this kind of information technology infrastructure.
Greater financial agility
Dashboards are a great way to adapt and customize your business, as well as gain access to the data and metrics that you need. This is due in part because dashboards can be customized to suit your workflow and work style, as well as include additional data from other sources. A quality dashboard can be changed to include new metrics or KPIs, making them even more helpful for adapting to your changing business needs.
Automating previous accounting reports and practices
Automation is the use of software to handle repetitive tasks, both simple and complex. It can reduce manual errors and make processes more efficient. For example, if you have a repetitive task like calculating the number of hours worked by each employee within a certain time period, automation would be used to do this for you instead of having to enter data manually into an Excel spreadsheet every week (which could result in human error).
How to transition to an accounting dashboard
If you're thinking about transitioning to a dashboard for accounting, there are a few things to keep in mind.
First, make sure that the dashboard is easy to use and navigate. You need to be able to easily find what you're looking for, whether it's an invoice or an expense report.
You also want something that is compatible with your accounting software. If your accounting software doesn't integrate with the dashboard tool you choose, then there will be no point in adding it as another layer of complexity on top of your current process.
Finally, make sure that the analytics support team is responsive and helpful when questions arise. Accounting may follow the same basic rules, but every company is going to be unique in its approach to financial decision-making. That requires software or digital solutions that can be modified to the needs and goals of an organization.
Be sure your dashboard for accounting uses automatic refreshing or syncing services. Data for accounting is often collected from a wide range of sources. You need that data to be updated, validated, and provided in real-time so that the reports you generate always showcase the latest interactions and insights.
Other considerations for your transition:
Evaluate the unique requirements of your current data management systems
Consider the time resources of your team before choosing a dashboard for accounting
Try to automate processes as much as possible to cut down on reporting times
Integrate the dashboard into your financial team's processes first so they can work out any bugs before reporting to upper management or stakeholders
Wrapping it up
Accounting dashboards help to provide the tools that managers need to improve the quality of their business decisions. Data-driven analysis and reporting of financial information is a critical component of managing a successful business and strategic planning. The application of these methods leads to better forecasting abilities, which allows companies to create more accurate budgets and allocate resources effectively.
Integrated financial management delivers a clear picture of your business performance across time. Dashboards for accounting keep you on top of the trends, so you can spot potential issues early and make informed decisions for the organization's growth. This almost guarantees rapid improvement in KPIs and other metrics based on clear and concise accounting and reporting.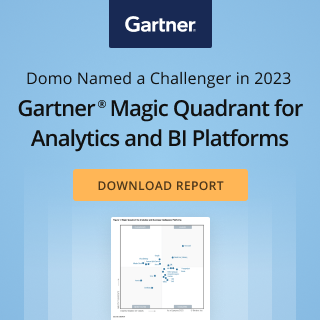 Check out some related resources:
Domo Showcases ESG Solution for Gartner BI Analytics Showdown
There's an App for that—Tips for Crafting Apps, Dashboards, and other Engaging Data Experiences
Domo Recognized as an Overall Leader in the 2023 Dresner Wisdom of Crowds® Business Intelligence Market Study
Try Domo for yourself. Completely free.
Domo transforms the way these companies manage business.