/ Understanding the power of analytics applications
Article
Understanding the power of analytics applications
Analytics applications are one of the most powerful tools that businesses can use to improve performance. By quickly developing analytics applications using business intelligence (BI) tools, businesses of all sizes can streamline operations, promote better decision-making, and better understand how their business is performing. In this article, we will discuss the benefits of analytics applications and how you can get started building your own today!
What analytics applications are and what do they do?
Analytics refers to the process of collecting and analyzing data to produce actionable insights. Analytics applications help facilitate this process by creating a platform with which users can quickly access and explore the different data sources their business uses.
Modern BI tools provide this analytics platform for the business. When data is analyzed and presented to end-users through the use of dashboard or custom applications, it can create actionable insights for the business. This is the entire purpose of analytics applications: using business data to drive deeper insights about the business. As a company adopts analytics applications, it will begin to see several benefits.
The benefits of using analytics applications
Applications that analyze data can be used in every aspect of the business to improve performance. For example, analytics applications can help businesses track and understand customer behavior, optimize marketing campaigns, and predict future trends. Additionally, analytics applications can help businesses save time and money by automating tasks such as data entry and report generation.
Improve performance
Analytics applications can improve employee performance. As employees are given access to the application, they will be able to derive key insights from their business data. End-users are always the best at understanding their business data. Because they work with it on a daily basis, they understand key considerations when it comes to analyzing it. By using a customized analytics application, users are able to extract better and faster insights from their data, which can help them improve performance of their everyday job responsibilities.
Optimize business processes
Data analytics can also help optimize business processes by identifying potential friction or bottlenecks. With modern business being run on software, business systems are able to collect data on the everyday processes your employees engage in. That data can then be extracted using a BI tool to create an analytics application that can analyze the process over time. As more data is imported, the BI tool can gain a better understanding of the process and how it can be optimized.
A great example of optimizing business processes is using a BI tool to analyze potential prospects in a sales pipeline. Tools such as Salesforce store data about prospects. That data can then be ingested into an analytics application for further analysis. Bottlenecks in the sales process can be identified and remediated by the analytics application, increasing the productivity and performance of your sales teams.
Automate routine work
Analytics applications can also automate the routine work of data entry, ad-hoc analysis, and data presentation. These responsibilities primarily fall on the shoulders of IT technical teams, who are usually overloaded with requests from all across the organization. Modern BI allows for the automation of these tasks through tools such as data connectors, automated data pipelines, and dashboard visualizations that update in real-time. Analytics applications can harness these capabilities to create an end-to-end solution for data analysis, saving your company hundreds of hours and headaches.
How to choose the right analytics application for your business
There are many different types of analytics applications available on the market today. To find the right analytics application for your business, you should first identify your specific needs. Once you know what you need your analytics application to do, you can start evaluating different options to find the best fit for your company.
With many different solutions and providers on the market today, it's important to find the easiest yet most effective solution for your business. A great option for businesses of all sizes is a business intelligence tool.
Leveraging BI to create analytics applications
Building a modern analytics application is not nearly as complicated as you might think. By partnering with a BI vendor that specializes in custom applications, you can quickly create a customized solution that is perfectly tailored to your business.
BI acts as a platform on which the analytics application can be easily built. Since the BI vendor handles the data infrastructure through cloud computing, much of the work that used to be performed by internal IT teams is not required. This gives you more time to work on generating the front-end piece of the analytics application, such as data visualization and dashboard design.
Time to value is an important aspect of any project. With any analytics application, you want to ensure that your business users can derive value from it as fast as possible. By partnering with a BI vendor who specializes in custom applications, you can ensure a speedy implementation.
How to get started with analytics applications
Analytics applications are an emerging technology. If you don't know where to start, there is no need to worry! BI tools are specifically designed for the end-user in mind, meaning they are very intuitive and easy to get started with. BI is also meant for businesses of all sizes, meaning you don't need to be a large enterprise in order to create a custom analytics application.
When getting started with BI, it's important to research the different options that are available on the market. Many vendors do not offer end-to-end solutions to create analytics apps. If your business's main priority is to create a custom analytics solution, make sure to work with a modern BI vendor who has expertise in all aspects of data analytics. This should include automated data import, data transformation, data visualization, and custom front-end application development.
Conclusion
By quickly developing analytics applications using business intelligence (BI) tools, businesses of all sizes can streamline operations, promote better decision-making, and better understand how their business is performing. BI platforms offer a wide range of features that allow you to easily create custom analytics applications specific to your needs. If you're looking for a way to take your business to the next level, consider adopting a BI platform to create your own analytics applications.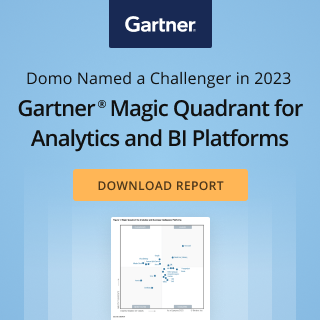 Check out some related resources:
Domo Ranked #1 Vendor in Dresner Advisory Services' 2023 Cloud Computing and Business Intelligence Market Study
Domo Named a Leader in Nucleus Research's 2023 Analytics Technology Value Matrix
Data Never Sleeps 10.0
Try Domo for yourself. Completely free.
Domo transforms the way these companies manage business.