/ The key elements of custom BI applications
Article
The key elements of custom BI applications
One of the most enticing features of cloud-based business intelligence (BI) solutions is that users can build custom applications on top of their data.
Having the ability to customize your own applications allows users to do what other tools may not be able to. Business owners can add their own custom reports and perform data analysis that they need for their specific business goals.
Custom applications bridge the gap between what you need and what is available in most BI tools. When building your applications, it's important to understand the primary components of data analysis that are key for most business owners.
Knowing which questions you're trying to answer will help guide your application development. It's also going to be easier if you have a deep understanding of what capabilities each of the components provide.
The need for custom applications
Custom applications are desirable because businesses typically have some element of their analytics strategy that they want to track more closely. Oftentimes the out of the box functionality available in most BI platforms doesn't quite cover the exact needs of the business. When you aren't able to get access to the specific data or intelligence you need for your business, it's time to build a custom application.
Custom applications offer a unique advantage over standard BI tools because they give the user the ability to create exactly what they want. There is no need for business owners to worry about questions such as:
How much time and money will it take to build a custom application from scratch?
What technology requirements do I have available?
What do I need to include in my custom application?
How can I make sure my custom application is secure?
These questions require business owners to do more research than necessary. They can be frustrating and time-consuming, leaving many business owners less interested in custom applications.
The result is that business owners may not be able to create the custom application that's right for them.
Reducing frictions with custom applications
There is no need for business owners to worry about any of these questions when using cloud-based BI solutions like Domo. This is because the Domo platform comes with all the tools you need right out of the box, making it easy for you to create your own custom application.
The benefits of custom applications include:
No need to spend time researching technology
Getting started in minutes
Simple and documented process
Useful for tasks that aren't covered by standard BI tools
Easily customized for specific business needs
Built-in security measures make it safe to share results online with your team and customers
These solutions are designed without any extra frictions, making it easy for business owners to build the custom applications that work best for their analytics needs. You can get started with a cloud-based BI solution in less time, and you're able to build apps that deliver the specific insights you need to make data-driven decisions.
There's no need for business owners to spend hours and hours trying to figure out the right technology stack or what type of questions they need answered. They can get started with building a custom application in minutes, getting results that are easy to understand and share with users across your organization.
Custom applications offer business owners the ability to get results that are customized for their specific needs. You can create programs that provide insights into your data, no matter how complicated it is, and you don't need any programming knowledge to do it.
Use case examples of custom applications
The capabilities of custom applications can vary depending on what you're trying to do. However, there are some common use cases that will likely apply regardless of your analytics needs.
Here are some examples of custom applications you can build with cloud-based BI solutions:
1. Employee engagement tracking
Build a program that tracks the engagement levels of your employees. This will help you decide if more training is needed or if certain departments need more attention. You can then use this data to figure out what types of incentives work best for your employees.
2. Churn rate tracking
Feed your cloud-based BI solution with data about your customers so that you can track the number of individuals who are canceling their service or decreasing their purchases. You'll be able to better determine how to retain loyal customers and decrease the amount of money lost due to churn rates.
3. Customer segmentation
Build a program that uses your customer data to segment customers into groups according to their geographic location, product use or length of service. This will help you see the potential of different segments and know where you may be able to increase sales.
4. Employee productivity tracking
Track the number of key processes your employees complete and how quickly they're completing them. This will help you determine if your employees are meeting expectations and if compensation adjustments need to be made.
5. Sales fraud detection
Monitor your sales data to look for unusual behavior. You can use this insight to find potential cases of fraud, saving money and time that could be wasted on these types of transactions.
Custom applications are an important resource for businesses looking to make the most out of their cloud data. With the right tools, you'll be able to create custom applications that meet your analytics needs, allowing you to gather the data you need to make informed decisions.


What data can I use?
When you build a custom application, the data your program uses is up to you. Some cloud-based BI solutions can work with any type of data, giving business owners total control over what they want to track and analyze.
When you use a cloud-based BI solution, you can build an application that's focused on your exact needs and something that scales up as your business grows. This solution ensures there are no surprises associated with building custom applications because it takes care of all the heavy lifting for you.
Conclusion
Custom applications are highly beneficial for businesses because they save time and money and allow you to gather the insights you need to make the best-informed decisions. Business owners are able to concentrate on their end goals rather than become IT experts, creating something that can grow along with businesses as they expand.
With the Domo platform, have many options when investigating custom apps. You can browse through hundreds of custom apps built by the Domo engineering team or one of their trusted partners, create simple no code apps, and develop custom apps using common web developer tools and languages.
Custom applications are an easy way for business owners to build custom BI solutions that meet your analytics needs without spending too much time on the details.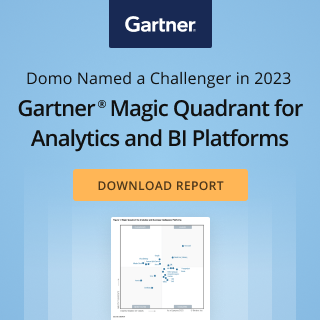 Check out some related resources:
Using Data Apps to Overcome the Challenges of Modern Business
How Cozy Earth Leverages Data to Optimize Growth
Discover the Power of Domo's Mobile Capabilities
Try Domo for yourself. Completely free.
Domo transforms the way these companies manage business.