/ The benefits of white-label business intelligence
Article
The benefits of white-label business intelligence
As defined by Gartner, business intelligence (BI) comprises "the applications, infrastructure and tools, and best practices that enable access to and analysis of information to improve and optimize decisions and performance."
Some of the key components of business intelligence are data mining, process analysis, performance benchmarking, and descriptive analytics.
In essence, business intelligence is concerned with the collection and analysis of data, including big data (data gathered continuously by devices such as sensors and softwares, where the data sets are too large to be collected and analyzed with traditional analytical methods).
That data is sorted and displayed in easy-to-understand visualizations that reveal actionable insights, paving the way for data-driven decisions to be made.
All in all, business intelligence tools illustrate a comprehensive picture of business performance utilizing all the available data.
Business intelligence has enabled businesses to eliminate guesswork when it comes to making the best decisions for their company, whether in marketing, sales, operations, or other aspects of business. Instead, business intelligence tools enable businesses to make decisions based on data, indicating what's working, what isn't, and highlighting the best course of action.
However, in recent years, businesses have wanted more from their business intelligence software than strong analytical capabilities: they want to be able to make the BI tool their own, producing visualizations with an interface that reflects the brand of the company.
As a result, white-label business intelligence was born.
What is white-label business intelligence?
White label business intelligence is a type of BI solution that can be customized with a business's branding and integrated with their system or product.
As a branch of embedded analytics, white-label business intelligence solutions can be integrated into a business's product or platform seamlessly, so that the end user would never suspect that a third party had been employed to provide the business intelligence features offered.
A white-label business intelligence solution appears as though it has been built by the business itself rather than provided by a third-party business intelligence vendor.
A white-label BI solution—in addition to being able to be embedded into a business' product or platform—can be customized with the branding of a business. This includes their logo, colors, and other branding elements, though the extent of this customizability depends on which white-label business intelligence provider you choose.
Benefits of white label business intelligence for businesses
There are countless reasons why you might decide to adopt a white-label business intelligence solution for your business, from offering a great product to your clients to facilitating the quick growth of your business.
With that being said, here are the top 7 benefits a white-label business intelligence solution can provide to your business:
Easier for end-users to navigate
Since comprehensive white label intelligence solutions facilitate the total integration of the software into your business's system or product, it's easier for the end-user to navigate to the business intelligence tool without interrupting their workflow.
This makes working with the white-label business intelligence software more efficient and productive, when compared to working with a regular BI tool, which requires navigating away into an external software or platform to make use of business intelligence insights.
White label business intelligence solutions make scaling easy
To enjoy the benefits of a white-label business intelligence tool without actually using one, your company would have to build its own BI software from the ground up.
While some businesses do this successfully, business intelligence solutions built in-house can be expensive to make and difficult to scale. After all, as your organization grows, there's more data to handle, analyze, and sort into visualizations. There are also more clients and investors to satisfy, and it can be hard to adapt your self-built BI tool quickly enough to accommodate this.
So, if your business is growing quickly, then you may unintentionally slow the rate at which you can scale up as a result of the limited capacity of your self-built business intelligence solution.
In contrast, a white-label business intelligence solution purchased from a reputable vendor will provide you with the benefits you'd expect from building your own BI tool, but can facilitate quick scaling and can easily and rapidly be upgraded to accommodate your business' growth.
Less time consuming than building your own BI tool
If you want your business intelligence solutions—such as data visualizations and reports—to be replete with your company's branding, then you're probably trying to decide between building your own BI solution or adopting a white-label business intelligence tool.
However, building your own business intelligence solution is incredibly time-consuming, occupying your software engineers and depleting your resources, which could be better directed towards other aspects of your business.
White label business intelligence provides businesses with a quicker, usually lower cost, alternative to building their own business intelligence software, while still retaining most, if not all, of the benefits of building their own BI solution.
If there's a problem, you don't need to fix it yourself
One of the biggest problems with building your own business intelligence solution is that, if something goes wrong, your team is going to have to be the one to figure it out and get it working again ASAP.
Depending on what else is going on at the time, this might make it necessary for your employees to work overtime and may even result in missing client deadlines, reducing their satisfaction with your company and damaging your business' credibility.
On the other hand, when you purchase and integrate an external white-label business intelligence software, any faults with the software itself are the responsibility of the BI tool provider.
What's more, because their business intelligence software is the entire focus of their company, the issues should be resolved fairly quickly.
However, before choosing a white-label business intelligence solution, you should check the provider's customer service reviews relating to bugs and fixes to make sure they handle issues in a timely manner.
Generates trust in your business' capabilities
Adopting a comprehensive white-label business intelligence tool enables your company to take credit for the solution's advanced BI features since it's able to be fully customized with your company's colors and branding instead of the vendor's logo.
To investors, stakeholders, and customers, this makes your business appear as though it has developed a business intelligence tool from the ground up—despite using a ready-made white-label business intelligence software—portraying your business's tech capabilities and competency.
Helps to establish your brand
In addition to the one-off occasions when white label business intelligence will convince a client or investor to work with your company, these fully customizable business intelligence solutions will help you to establish long-term brand recognition.
Since whichever white-label business intelligence tool you choose should be a stellar BI solution, you'll be able to reap the benefits of this for your branding long-term, generating the perception that your company is smart, professional, and has vast technological capabilities.
Thanks to your white label business intelligence solution, clients, investors, and stakeholders will continue to remember your business (and spread the word to others).
White label business intelligence gives you a competitive edge
In the intensely competitive world of business, anything that can help to differentiate you from your competitors is going to have a significant impact on the success of your business. White-label business intelligence can help to give you this competitive edge.
Business intelligence tools in general allow you to make the best possible decisions for your business. However, white-label business intelligence solutions offer the additional advantages of increasing perception of your business' technological capabilities and overall competency, filling investors, clients, and stakeholders with confidence in your ability to complete projects to a high standard.
And, with white label business intelligence, you can do this without having to dedicate the time or resources to building your own BI solution, so you can instead direct these resources towards improving your core product.
Likewise, by being able to seamlessly integrate your white-label business intelligence tool, you streamline the process for employees to use the tool, improving efficiency and boosting productivity. This way, they can stay focused on important tasks at hand without having to launch a separate software platform.
Conclusion
So, if you want to stay competitive and reap many benefits for your business, consider adopting one of the remarkable white-label business intelligence tools on the market to secure your business' success.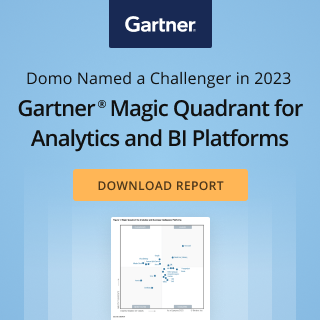 Check out some related resources:
There's an App for that—Tips for Crafting Apps, Dashboards, and other Engaging Data Experiences
Domo for Marketers: Tips and tools to seamlessly manage marketing data
Data Never Sleeps 10.0
Try Domo for yourself. Completely free.
Domo transforms the way these companies manage business.