/ The benefits of using white-labeled software
Article
The benefits of using white-labeled software
White-labeling means that an organization that purchases a certain software can customize it so as to create a consistent look and feel in the products that they offer to their customers. By having another developer spend the time making and licensing the white-labeled software, all you need to do is include your logo and name and you can start earning revenue as if you had created the software yourself. This saves you massive amounts of time and resources and improves operations by opening a new revenue stream.
White-labeling is a very common software service that many companies use to provide an opportunity for their customers to promote their own brand on the software application. In this way, the customer can reap all the benefits of having a software application without having to worry about the design or any other technical details related to it. It's simply like purchasing a ready-made item from a store and then getting your logo printed on it before selling it off in your own stores.
Customers want a brand partnership
Customers are looking for more than a solution to problems. They want a partnership with a company that will help them execute their strategies and achieve their goals. Having a bespoke team create a solution is great when you need something customized, but building a strong brand partnership allows you to benefit from the white-labeled software while getting the support of a long-standing team that understands how you operate.
Companies that provide white-label software services can provide this value by assisting their customers in all aspects of the business process, from strategy development to implementation and ongoing support. White-labeling allows you to do just that, giving you an opportunity to build relationships with your customers by providing them with the expertise they need to succeed.
How does white labeling help companies?
By using a white-labeled product you may have less control over the ins and outs of the software service you are providing, but that does not mean there are no benefits to white-labeling. Some of the benefits of using white-labeled software are:
Differentiate your branding
If you are active in a highly saturated market, an excellent way to differentiate your brand is to provide a service that is complementary or uncommon to your competitors. Instead of having to hire a development team to conduct the research and craft something brand new, you can get a quick solution that integrates with your branding already and can be brought to market quickly.
By doing this, you can immediately differentiate yourself from the rest.
Reduce costs and resource allocation
When purchasing software from a vendor, you can reduce costs, development time, and expertise power. You also reduce maintenance costs as well as the need for new developers, infrastructure, and security. In addition, your company will be able to focus more on its core business competencies by using off-the-shelf white-labeled solutions rather than building custom software.
Building custom software can take months to years, even with a professional and experienced team of developers. That is because you are going to conduct testing and revisions frequently to meet your bespoke needs.
White labeling saves you all of that time and money with a quick-to-market solution.
Grow business revenue
If a company has its own brand, it can grow its revenue by selling more products to its existing customers. But white-labeling helps you make money with other people's products too. If your product is a great fit for any of these companies, white-labeling can help them grow their customer base and revenue as well–so everyone wins.
Grow user base and customer engagement
You can increase the number of users by adding new features, improving UX/UI, and bringing innovative ideas to the table. For instance, if you have an app that is used widely in one industry, you can white-label it for other industries as well. For example: if your software is used by restaurant owners, you can white-label this product for beauty parlors and salons too.
There are many applications of software that often go unnoticed because there is little to no cross-industry research conducted by software development teams. During the creation process, things become highly tunnel-visioned, and missed opportunities are bound to happen. You never know when a new software service for analyzing sports statistics in an embedded format can be applied to theme park demographics to better judge attendance.
White labeling opens up these opportunities and grows your user base. Consumers will come to your platform because they hear about the capabilities of the software and want to apply them to their own needs. This improves customer engagement and helps you build longer-lasting relationships with more potentially loyal customers.
Take advantage of expertise
The business intelligence world requires a lot of experience in data, statistical analysis, and creating visualizations. These skills are often lost on those who do not have direct previous experience or education in this field, yet they are still eager to leverage BI tools and dashboards for their own business needs.
When you engage with white-label solutions, especially for BI applications, you create more opportunities for businesses to take advantage of data analytics. This is highly relevant to current trends when data analysis is a must for staying competitive in today's consumer-driven world. Having data-driven insights improves decision-making, and if you can purchase the capability of achieving these insights without the added cost of custom development, all the better.
Constant support
Probably the best advantage to white-labeling software or BI tools is that someone else manages the support side of the equation. Customer support can take a lot of resources, and most businesses would rather focus the time and capabilities of team members on more critical business decisions like customer engagement, new product development, and efficiency of processes. Having this support outsourced to the original white label company saves you many headaches.
Conclusion
One of the main reasons companies are white-labeling services is because it gives their customers more freedom and flexibility. If a company needs software to do something specific for a client, they can find an existing solution and rebrand it as their own instead of building a completely new product.
White-labeling is an easy way to expand your brand offerings without sinking too much of your current resources into a single endeavor.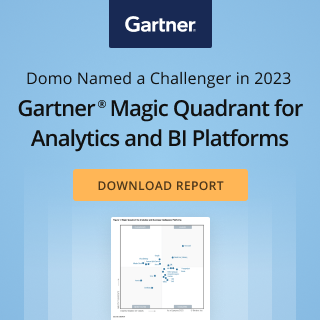 Check out some related resources:
Variables use case and feature walkthrough
Domo Named a Leader in Nucleus Research's 2023 Analytics Technology Value Matrix
Fight the 'Sleepworking' epidemic with better data and tech access
Try Domo for yourself. Completely free.
Domo transforms the way these companies manage business.