/ The benefits of business intelligence dashboards
Article
The benefits of business intelligence dashboards
A business intelligence dashboard's function is to manage information by monitoring key data points for your company. On customized dashboards that deliver meaningful data about the entire firm, the dashboard gives you a consolidated picture of all the data from across the enterprise.
You can track and evaluate business performance and metrics with the help of an effective BI dashboard. You can view and analyze data, display the key performance indicators for the company, evaluate performance metrics, and produce insights that can be put to use.
BI dashboards are crucial tools for helping firms extract useful business insights from their growing data repositories, particularly big data sets that blend structured data from other applications.
To provide business users with a comprehensive view of pertinent KPIs and trends for both organizational decisions and long-term planning, BI dashboards combine multiple data visualizations. These visualizations include charts and graphics that can be accessed by users for additional analysis.
Users have consolidated, real-time access to dashboard tools for business intelligence, allowing them to engage with and evaluate data and improve their information choices. The status of critical factors and other significant business metrics for an entire organization can be displayed on one screen.
Businesses now have a single application for connecting to, conversing with, analyzing, and visualizing any data from various sources on any device. Installing and maintaining a BI dashboard is simple, and more importantly, it is mobile, allowing you to take your business intelligence with you wherever you go.
Benefits of a BI dashboard
Organizations use BI dashboards as visual information tools to effectively represent data and communicate information. This helps to streamline business processes and makes your data much more effective.
Increased effectiveness
A dashboard hosted on a cloud-based platform is accessible from anywhere, as long as the user has the correct credentials. This functionality allows team members to access dashboards anytime and wherever they choose.
This lets managers and other leaders monitor their KPIs around the clock. They can learn about issues when they happen, instead of when they come in on Monday morning.
Dashboards and visualizations also boost data curiosity. For example, employees can quickly drill down into the data to get answers to any issues they might have that aren't obvious at first glance.
It saves time
The BI team spends less time creating and maintaining the dashboard when automatic updates are enabled. They can then use the time saved on other tasks or devote more time to data analysis.
Now, whenever a user needs to check the current status of a KPI, they can just take a quick glance at their dashboard instead of manually generating a report in some tool somewhere.
In addition, if a user needs to frequently compare data from two different sources, they can just build a dashboard to do it instead of having to tab back and forth between the two tools.
Revealing patterns
A BI dashboard provides insight into the health of a business. Businesses can focus and optimize their operations by recognizing trends in their data. They can then aim to either keep improving their results, or prevent issues from growing worse so that they can later on improve the outcomes.
BI tools can also reveal relationships between data sets that might have been invisible or hard to find in static reports. With a good dashboard, you can see all your data in context together, and see how things relate and trend together.
Brings data together
Businesses use many different software solutions to manage their business operations. All of these different pieces of software store different types of data, and businesses want to be able to access all of this data for insight.
However, there isn't really a good way to combine and compare data from one tool with data from another without a BI system. BI tools allow businesses to store all their business data in one place and then combine it as needed.
This is one situation where dashboards are especially valuable. Instead of having to compare data manually, users can build those comparisons right into their dashboards and see the results automatically. They can even combine data streams for novel analyses.
Improved judgment
A BI dashboard enables businesses to quickly and thoroughly analyze critical data, whether you're providing reporting and analysis for the entire organization or specific functional areas of the business.
Better business-relevant decisions can be made when it is simple to understand what the data means. With dashboards, business leaders and decision makers can react to changes quickly and make choices in a more agile way.
Allows for rapid adjustments
With dashboards, users can review the data any time and act right away to make changes, so that they can meet the goals they've set. Instead of waiting until they receive their reports, your team will be able to identify trends right away and make changes as needed.
A data dashboard not only makes the data more easily accessible to you but also enables transparency on a much larger scale, giving your entire team a clear understanding of how their efforts are influencing outcomes.
Improves performance
BI dashboards display information as simple visuals in real-time using data from various sources. Managers can use this overview of current KPIs to evaluate various performance areas and generate insights that can be put into action.
Dashboards with good design are clear and concise. They focus on key performance indicators so that viewers can get a clear view of their performance at a glance. This way, users can monitor and adjust their performance at an hour-by-hour or even minute-by-minute level.
Challenges of BI dashboards.
Thousands of data points may be acquired and collected for today's data-driven businesses to gain insights into business performance. At that scale, it becomes difficult to track these parameters and make wise judgments on time as relevant data points increase dramatically. BI teams and business users alike face difficulties when using BI dashboards. The following are some of the most important limitations of BI dashboards:
No guidelines for using dashboard metrics
Often, users don't have any formal training in dashboard or visualization design when they're asked to implement new visualization solutions. This can lead to users fumbling, using metrics that don't represent data effectively, and creating dashboards that aren't easily understandable.
To prevent this, ensure that your team receives at least some training on how to use dashboards and visualizations and what best practices are. With enough training, any employee can become a dashboard master.
Crowded design
Novice dashboard builders often try to include as many visualizations as possible in their dashboards, because they don't have a clear idea of what their most important metrics are. This 'kitchen sink' approach isn't very effective at making dashboards that are quickly and easily understandable.
Focused dashboards are generally much more effective than unfocused, broadly applicable dashboards. It's much easier for a user to understand a dashboard that tracks five metrics, not 50.
Conclusion
Businesses can gain from BI dashboards if they are set up and designed properly. Because of this, when creating one, take the time to prepare it thoroughly and comprehend its purpose and requirements to choose appropriate KPIs.
The advantages of implementing BI dashboards in your company outweigh the drawbacks, and you can maximize your investment in any new technology by giving users efficient training.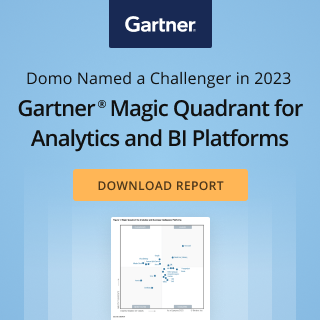 Check out some related resources:
Domo Showcases ESG Solution for Gartner BI Analytics Showdown
Domo Recognized as an Overall Leader in the 2023 Dresner Wisdom of Crowds® Business Intelligence Market Study
Creating modern data experiences that help your customers succeed
Try Domo for yourself. Completely free.
Domo transforms the way these companies manage business.