/ The benefits of a quality business intelligence dashboard
Article
The benefits of a quality business intelligence dashboard
We are moving towards a more digital-based business environment all over the world. Between the recent trend in mass digital transformation to the movement and redistribution of workers from the pandemic, we are seeing the need for visual data to be clearly represented in almost every business decision. This is especially true for companies that have transitioned to a hybrid or remote work model.
That is where powerful business intelligence dashboards can play a significant role in your daily operations. These are systems that make information easy to understand with comprehensive reporting for users to digest data and extract insights. As with most philosophies of business, anything that can streamline your operations and improve the overall capabilities of your team is going to be a positive integration. That is precisely what BI dashboards offer to users.
What is a business intelligence dashboard?
At its core, a business intelligence dashboard is a system of information management. It analyzes your data from various sources and then creates data visualization solutions that you can monitor using interactive elements like filters, charts, graphs, or reports. This makes a quality BI dashboard incredibly valuable to your team because it is the active manipulation of data to help inform your operations.
This is different from a business intelligence report. While one can inform the other, a business intelligence dashboard offers real-time information instead of a captured moment in your operations. It also leverages cloud-based technology so you can access that critical data at any point and usually from any location you wish.
Most BI dashboards will be accessible from browsers and have a clean and well-laid user interface. This is not only so your expert analytical team members can develop fantastic insights, but also so those joining your team can immediately be onboarded with as little difficulty as possible.
What does a BI dashboard track?
The beauty of a modern business intelligence dashboard is that you can set the metrics you wish to follow. Everything you want to be aggregated and displayed can be introduced into the dashboard, from customer habits to key performance indicators. Often this is on a single screen that presents a wide-angle view of your company's health and critical functions. Some BI tools give you the option to zoom in or pick out critical points to research more in-depth at your leisure.
When all of your data is in one easy-to-read location, your whole team gets a better understanding of where you are going and how you are getting there. This improves the group's morale and focuses attention on the most critical aspects of your company's operations.
How does a business intelligence dashboard help my company?
Real-time analysis of business health
BI platforms crunch vast amounts of data in real-time, allowing you and your team to pull information from queries, reports, and success factors as quickly as possible. This means you can begin to see the results of a test or new idea within moments of it hitting the market. That kind of insight allows you to respond to market fluctuations and competitive threats with an almost agile capability that will improve your overall company health.
Discover valuable insights
Having a broader view of how your company is operating allows you to uncover assets and insights that may not have been visible before. This includes the benchmarks of every department or team within your organization in reference to the overall success of the company. In addition, this holistic view means you can direct assets to places in your business that may need extra support or capabilities to make improvements while still maintaining a proper balance for the rest of your organization.
Data-driven decision making
The most beneficial part of using a business intelligence dashboard is being able to make data-driven decisions that affect your overall business. Instead of relying on gut instinct alone, you can temper emotions and first look at what the data is saying. That way, if you still wish to move forward with your initial decision, you can at least take measures to protect your company in case a measured risk turns out negatively.
Happier customers
Being able to respond to your customer's desires and improve every touchpoint is key to raising potential revenue. Every business should want to transform customers into loyal brand ambassadors, which means meeting their needs whenever possible. A quality business intelligence dashboard can generate data from reviews to customer insights so you can adapt to market trends before they overwhelm your company.
Happier team members
BI dashboards also measure internal factors like how your employees and team are functioning in their positions. This technology saves you time and improves the efficiency of processes within your company. That means your team can spend more time focusing on new product development or customer relations instead of mundane back-office tasks that may lower employee satisfaction.
Bringing all data together
A BI dashboard has the capability to bring together all of your different sources of information. The point of the technology is to offer a simplified, wide-angled view of your company, including information from a variety of data sources onto a single page with adjustable metrics in real time.
Predicting trends
When all of your KPIs are in a single location, and you have instantaneous data flowing into your company, you can start to predict the trends that affect your operations. This enables you to respond to changes much faster, even if you are a large organization. You will be able to take advantage of things that companies without this technology could never forecast on their own. This will help your company stand out from the rest of the competition in your niche market and help you become an industry leader.
How to integrate business intelligence dashboards into your business
There are numerous companies that can help you create and build a comprehensive business intelligence dashboard. It does not matter the size of your company or the scope of your data sources. There is most likely already a solution out there requiring only a few minor tweaks to be used for your specific business.
Once you have established that you could benefit from the use of a business intelligence dashboard, you should consider what metrics you want to study and track. This can include customer relationships, internal sales numbers, KPIs, operational costs, and more.
After you have made those determinations, look at what is available on the market that is within your budget. Be sure to keep an eye on how the data is displayed and if you can access it with the devices most common to your team. You also want to ensure security is integrated into the dashboard, so your competitors or others are not privy to your information.
Finally, determine the types of charts and visualizations that would best suit the metrics you want to display on your BI dashboard. Give yourself the freedom to pick and choose, so when you eventually hire an expert to help build your dashboard, you already know what you want. This will save you time and money as well as make the work of your consultant much easier.
A word of caution
While integrating a business intelligence dashboard is a great way to track your inventory, improve customer relations, and streamline your business, it can also be overwhelming. Some people love data more than others and may want to inundate the dashboard with too much information.
The point of a BI dashboard is to give you insight with only a quick review of the data. You should not feel overwhelmed by what you are looking at. Avoid the flash or clutter designed or anything that makes it overly challenging to attach supporting data.
Keep everything as smooth and straightforward as possible, so the ability to make decisions based on the dashboard is easier for you and your team. There are plenty of consultants out there that can personalize one view of the dashboard for a department or individual compared to another view for others. As long as the data is accurate and easy to understand, you should be well on your way to drawing actionable insights from the data.
Conclusion
Business intelligence dashboards are essential to today's fast-paced market. Even a single individual starting a side hustle with an online ecommerce store would want access to a simple display of their sales figures and visitation numbers. Using that same technology on a bigger scale that incorporates all of your data sources only makes sense.
Take your time to develop a BI dashboard that fits your particular niche and team needs, and you will start to see significant changes in success measures. This is a powerful tool to meet your KPIs and ensure a strong future for your business.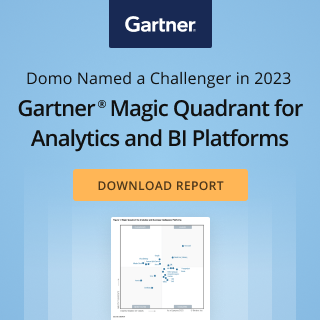 Check out some related resources:
Fight the 'Sleepworking' epidemic with better data and tech access
Domo recognized by Forrester in new Generative AI report
Domo Named a Leader in Nucleus Research's 2023 Analytics Technology Value Matrix
Try Domo for yourself. Completely free.
Domo transforms the way these companies manage business.