/ They're Called Assets for a Reason: Tapping into the Value of OT and IoT Devices
Article
They're Called Assets for a Reason: Tapping into the Value of OT and IoT Devices
Operational Technology (OT), the software and hardware that monitors and controls industrial processes, is evolving with the rise in connectivity offered by the Internet of Things (IoT). But many businesses are not getting as much value from these assets, either for existing customers or as new revenue opportunities.
These intelligent but previously isolated assets are now capable of sending valuable data into centralized databases. To gain a competitive advantage, it's essential that companies use this valuable data effectively to monitor operational, performance, and condition data and utilize it to help support real-time decision making, predictive maintenance, and quality control for business critical equipment.
Beyond that, there are bigger opportunities to create new services from the data and add new value on top of existing products or services.
Domo's products have helped many companies achieve these results, that would not have been possible with existing technology. In this article, we explore how Domo has helped OT and IT leaders, enabled by IoT principles, to both differentiate their services and also create new revenue streams from data which was previously only used for OT purposes.
Technology and market trends
The principles of IoT and edge computing have been understood for a while. The increase in computing power on small scale devices, combined with improvements in connectivity, have enabled almost any device to be connected to centralized services. This has led to an exponential amount of data being sent to enterprise databases, often without a plan or resources to apply the data to business challenges.
As with many digital transformations, this has accelerated this year, as Gartner comments:

"[Both] COVID-19 and market shifts happening pre-pandemic exposed risks, revealed opportunities to reduce costs, increased resilience and illuminated new revenue opportunities."
Gartner goes on to highlight "new business models for competitive advantage and differentiation" as one of its five strategic recommendations for investment in Operational Technology, alongside other factors such as security and advanced asset management.
Differentiator in an existing market
Global logistics company DHL uses Domo to improve its process of taking ambient temperature data to provide a dependable service to pharmaceutical cargo customers.
Part of the company's global business model involves temperature control pharmaceutical logistics. Temperature matters to pharmaceutical shipping because certain biological goods can lose their potency if they don't stay within the required temperature range. If they lose their potency it could be devastating to someone relying on that medicine.
DHL collects ambient temperature data throughout the supply chain which is stored in its database. While the data used to take weeks to collate and download, with Domo it can be accessed at the touch of a button. The team at DHL are able to analyze, visualize and manipulate the data as they need to.
Dina Bunn, global head of operations and IT at DHL, said it was "almost inconceivable how much more we can do with Domo than what we could do before."
Growth opportunities
Konica Minolta (KM), a multinational medical device manufacturer, utilized Domo in AeroRemote Insights, a cloud-based analytics solution for the medical devices it manufactures. This delivers data to customers in visualizations and easily-digestible dashboards surrounding the usage and performance of their medical imaging devices.
KM realized that to stand out from the competition it needed to focus on optimizing the customer experience. It saw service contracts as an opportunity to add value to deals beyond traditional equipment maintenance and upkeep. AeroRemote Insights began in 2016 with KM offering customers device analytics along with the equipment, first by delivering a PDF file to customers monthly that showed device usage and performance data.
In the first two years following the program's debut, KM saw an almost 10% increase in units under service contract, generating significant new profits, and a 472% annual return on investment.
The Domo platform enabled KM to analyze data and deliver insights to customers who are less well-equipped to uncover those insights for themselves. By successfully leveraging these insights to guide their operations, customers can achieve cost and time savings that are characteristic to traditional analytics deployments.
The Domo view
These two focus areas – data as a customer experience differentiator and new revenue opportunity – are becoming more widely recognized. Nucleus Research suggests that "as edge computing becomes increasingly adopted, facilitated by improvements to internet connectivity and edge device computing power, companies which deal in physical assets would be savvy to consider opportunities to collect and deliver connected intelligence and asset usage data as a differentiator."
Domo is working to help businesses achieve these two goals with its products and services, including real-time reporting, so IT leaders never have to worry about what happens when they implement a new source system.
Domo also provides bi-directional connectors that allow you to send cleansed and enriched data from Domo back to source systems—so your teams can take quick action.
Through Domo Integration Cloud, IT vision leaders get full granular control over access rights, making sure analysts and business users access the data they need, both self-service and IT-defined, in a performant way. Integration Cloud exposes and harmonizes all your data, so you can automate and access your data fabric at cloud-scale—to create more seamless and superior data products.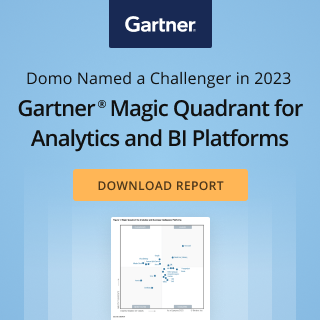 Check out some related resources:
Variables use case and feature walkthrough
How to ignite insight-driven decision-making across your business
Intro to Domo Workflows: Intelligently Automate Business Processes 
Try Domo for yourself. Completely free.
Domo transforms the way these companies manage business.