/ Modernizing BI with augmented intelligence
Article
Modernizing BI with augmented intelligence
Sometimes the best results come from a combination of machine learning and human intelligence. Augmented intelligence takes the two and uses them in harmony. Unlike artificial intelligence, augmented intelligence depends on human interaction to narrow down data set analyses or focus on specific trends.
How can BI be modernized with augmented intelligence?
Augmented intelligence gives businesses from fresh startups to global corporations the ability to extract meaningful information from a range of data sources. When companies adopt a data-driven approach, they often see higher ROI and less wasted resources. 
One of the most labor-intensive business intelligence (BI) steps is efficiently and accurately cleaning up data sets and choosing the right sets to be analyzed for decision-making. When this is handled by data scientists and analysts, it often causes workflow delays and can lead to human error. Augmented analytics, however, can ease the workload and erase errors completely. 
What to look for in a modern BI platforms
Business intelligence combines business analytics, data visualization, data tools, data mining, and automation to make more proof actions and empower businesses with their information at their fingertips. The goal of modernized BI tools is to improve transparency, respond to evolving supply needs, and avoid inefficiencies. Organizations weighed down by outdated BI systems that require tons of technical skill to operate and manipulate are on the way out, being replaced with easily accessible self-serving platforms without IT.
Flexibility
The best BI software offers analyses beyond the identified use cases — including cases that haven't been fully formulated yet! Solutions need to be able to grow to include increasingly complex analysis that hasn't been considered yet but can be because of the data presented. Does your platform allow multiple application programming interfaces (APIs) and software development kits (SDKs) to build in additional functionality as the business grows?
Tools
Accurately measuring performance is key with a modernized BI platform. Find out how solutions will integrate into an existing source code and repository. Ideally, modernized BI tools should integrate with many best-in-class tools. 
Data
When data is your core asset, it should be top priority. When shopping for modern BI tools, ask yourself: How is the logic disseminated in the legacy solution compared to possible new solutions? Will teams be able to manage the new solution at scale? 
Migration
Migrating data often means a disruption to day-to-day business operations during the transfer. It's important to understand not only how to migrate to a modern BI platform, but also what is worth migrating from the existing system without wasting hours. 
How are different industries modernizing BI?
More businesses are using augmented intelligence to improve BI, adapt more effectively, and improve data learning over time. Some examples of using augmented intelligence to modernize BI include:
Hospitals and healthcare industries can focus on the quality of patient care while reducing medical errors and expediting billing and claims procedures system-wide. 
Across the oil and gas industry, IA can optimize drilling precision in a dangerous oil field.
Employees can also more easily understand their environment on land or at sea, which can lead to less wear and tear on expensive machinery. 
Financial planners can offer personalized services based on a consumer's capacity, potential risks, and goals across financial services.
Retailers can increase engagement using machine cognition to identify observed, inferred, and declared behaviors of online shoppers. 
What should I look for in BI tools?
The vast majority of work for any process involving or related to machine learning is in the preparation of data. The best BI tools offer expertise in data preparation and advanced support for both ends of the process lifecycle. Most traditional BI platforms and tools were built with a technology-first mindset instead of focusing on usability for data analysts and employees. A major roadblock to some of these legacy BI tools is many of them require technical support and skills to keep them in operation.
With Domo, you can easily unlock the value of an array of data sets by putting them in the hands of everyone. We have enhanced its business intelligence platform with new augmented capabilities in the Domo Business Cloud. Combining these machine learning capabilities with your industry-leading employee intelligence can quickly leverage data to innovate and drive business forward. Domo offers expertise in both data ingestion and model creation as well as the tools that connect back to real-world systems, to "close the loop" on the entire process.
How will augmented intelligence affect the future of BI?
In the future, augmented intelligence is expected to change how we view household and workplace security, combat fraud, and increase productivity across businesses. With the combination of human intelligence, employee productivity can only increase with the help of machine learning. Providing the proper set of tools to analyze and act on large structured data sets can diminish information overload and lead to fast, data-driven decisions.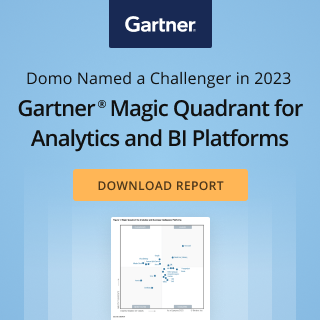 Check out some related resources:
Josh James on how to modernize and mobilize your business
Overview Video: Domo Data Science & Machine Learning
Catch up on the newest features now available in Domo
Try Domo for yourself. Completely free.
Domo transforms the way these companies manage business.