/ Leveraging BI to create embedded apps
Article
Leveraging BI to create embedded apps
There's no doubt that embedded apps are becoming increasingly popular across all industries. By embedding an app directly into your business processes, you can improve efficiency and communication while reducing the need for manual input.
But what if you could take this one step further and create custom embedded apps using business intelligence (BI) tools? BI tools offer a level of customization and flexibility that is unmatched in the embedded app market. In this article, we'll explore how BI can help you create embedded apps that meet the specific needs of your organization.
What is BI and what are its benefits for businesses?
Business intelligence (BI) is a new field to describe how businesses can leverage their data in unique ways in order to create new insights into the business. Companies of all sizes rely on their data in order to make effective business decisions. BI tools make it easy to access the data by creating data connections, data transformations, and dashboards for end-users to consume. BI can even take it one step further by creating custom embedded apps that can easily be distributed across or even outside the organization.
How can BI be used to create embedded apps?
BI tools can create a data platform for your business. By leveraging this platform, your company can create custom embedded apps that are unique to your business use cases. The great part about BI is how much of the heavy lifting it performs in the background. BI tools can be hosted in the cloud and are a managed service when it comes to infrastructure and storage—which are usually some of the most complicated aspects of creating a custom app.
BI also can speed up the development process by providing teams the tools they need to build fast and efficiently. Using iframe technology and HTML, custom dashboards and reports can be embedded into systems your teams already use, such as a website or a web application.
The advantages of using BI to create embedded apps
BI platforms are a perfect vehicle to distribute embedded apps across your organization. They differ from traditional app development in many ways. We will now highlight some of the key benefits of using a BI platform to create embedded apps.
Customize the user experience
One of the benefits of using BI tools to create embedded apps is the ability to customize the user experience. With embedded apps, you have complete control over how users interact with your data. This can be especially useful if you want to create an app that is specific to your industry or organization. BI tools offer a wide range of customization options, making it easy to create an app that looks and feels like a part of your business.
Streamline communication
Another advantage of using BI for embedded apps is the ability to improve communication across your organization. By embedding an app directly into your business processes, you can eliminate the need for manual input and reduce the risk of error. This not only improves efficiency but also helps ensure that everyone in your organization has access to the data they need.
Scalability and adoption
A final and important advantage to embedded apps is that they are very easy to scale and adopt across an entire organization. Employees already use so many systems to do their jobs, and adding another one on top of those can be a disaster. BI tools make it easy to embed apps into pre-existing tools your business users are already familiar with. Sales reps can have access to their apps directly from Salesforce, call center reps on their phone systems, and executives on websites they frequently visit.
Tips for creating effective BI embedded apps
Embedded apps can be incredibly powerful in the digital transformation of your business. With any BI initiative, it's important to carefully plan out the implementation of the tool. Here are a few recommendations on how to get started:
Remember who your end-user is
The power of embedded apps comes as employees start to use them. Adoption is absolutely essential to a successful implementation of a BI tool. When creating an embedded app, consider including a pilot group of end-users who will be using the app when it is finished. As they begin to test the functionality, they will provide you with constructive feedback. They will also begin to see the power an embedded app can have in transforming their daily work.
Make changes as necessary
The great thing about a BI platform is how easy it is to iterate and make changes to your embedded apps. BI is a continual process, and no app will be perfect when it is initially launched. Consider creating a team that can monitor the progress and performance of the custom app you have built. You can document change requests through the use of a project management tool and a backlog.
Share embedded apps with a wide audience
Embedded apps can transform the way you do business, and every business user should have access to the app. BI tools are excellent at providing easy access to embedded apps because they are already in the systems your users currently use. In order to increase adoption of the app, consider performing training sessions or creating documentation on how best to use the tool. As business users begin to use the embedded app, they will naturally be excited to show their coworkers and teammates.
Perform quarterly assessments and establish an app steering committee
Assessing performance and highlighting accomplishments can provide great benefits for your embedded app implementation. In order for any BI implementation to be successful, it's important to identify a champion within the organization who can be held accountable for the success of the project. You can also consider creating an app steering committee that meets regularly to discuss the current progress of the embedded app.
Conclusion
Embedded apps can take your business processes to the next level. By using BI tools, you can create custom apps that are tailored specifically to your needs. This can reduce the need for manual input and improve communication and efficiency within your organization.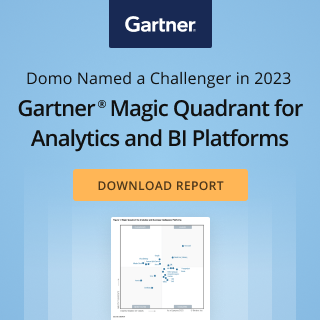 Check out some related resources:
Elevate Your Organization's Data-Driven Culture with Strong Governance Practices
Variables use case and feature walkthrough
Domo Named a Leader in Nucleus Research's 2023 Analytics Technology Value Matrix
Try Domo for yourself. Completely free.
Domo transforms the way these companies manage business.