/ It's time for a dashboard maker: How do you choose?
Article
It's time for a dashboard maker: How do you choose?
As a business owner, you must maintain records of how your company is doing on a regular basis, monitor the different processes and activities of your company, and determine which areas are functioning well and which are functioning poorly. However, how can you keep track of all of these aspects of your business? How can you view emerging business possibilities and act quickly? Logging in to several systems and extracting the appropriate data may be acceptable on occasion. However, doing so on a daily or weekly basis is inconvenient and wastes time.
This is where business dashboards are useful. Dashboards can be easily built by using a dashboard maker. The dashboard maker software falls under the category of BI software, and you may use it to visualize data from a variety of sources on a single display. The dashboard maker gives you the opportunity to consolidate your data and present it to company coworkers, executives, or other stakeholders without having to write a single line of code.
There are various types of dashboards within an organization. A company dashboard is a collection of graphs and figures that depict the current state of your company. It gives you a quick snapshot of your company's state so you can detect development prospects and threats immediately. Creating this type of dashboard for your business can dramatically impact success, and using dashboard software to do this makes the process relatively easy.
Before we discuss the top dashboard maker software, let's have a look at the elements you need to consider before selecting the right dashboard maker software for your organization.
Factors to consider while selecting the best dashboard maker software
Consider the following data dashboard elements when selecting the business dashboard software that best suits your company's needs:
Analytics expertise and level of business intelligence skills needed
Some dashboard software is made to be simple to use, no matter your technical background. Other dashboard tools, however, may require the skills of an experienced data analyst. Neither type is fundamentally superior, but you should choose the one that best suits your team.
User experience
When selecting analytics dashboard software, the design and quality of the data dashboard interface are extremely significant. Is it easy to use and understand? Furthermore, some dashboard maker software has extravagant visual features, while others are more simple. Again, the style you choose depends on your company's culture and needs.
Collaboration features
Data dashboards are intended to be shared with team members, colleagues in other departments, and executives. Does the dashboard tool you are going to purchase include numerous cross-company sharing options? Could the dashboards become easily published and disseminated, including to a public URL if necessary?
Embedded analytics
Certain dashboard software allows customers to integrate reports into their own applications, portals, and sites. Perhaps the sales team uses an app to track performance, and they want to include a real-time graphic that displays sales numbers by rep. Is the dashboard maker up to the task? Is it able to be seamlessly integrated into the application?
Data sourcing
For commercial dashboard software, built-in "connectors" to a variety of sources of data are a crucial feature. Data source connectors such as Dropbox, AWS, Facebook, or other data sources are available from particular dashboard software vendors. Before you choose a dashboard tool, be sure it can connect to the many data sources you use in your company. Additionally, consider if the data can be constantly pulled in to ensure the most up-to-date information.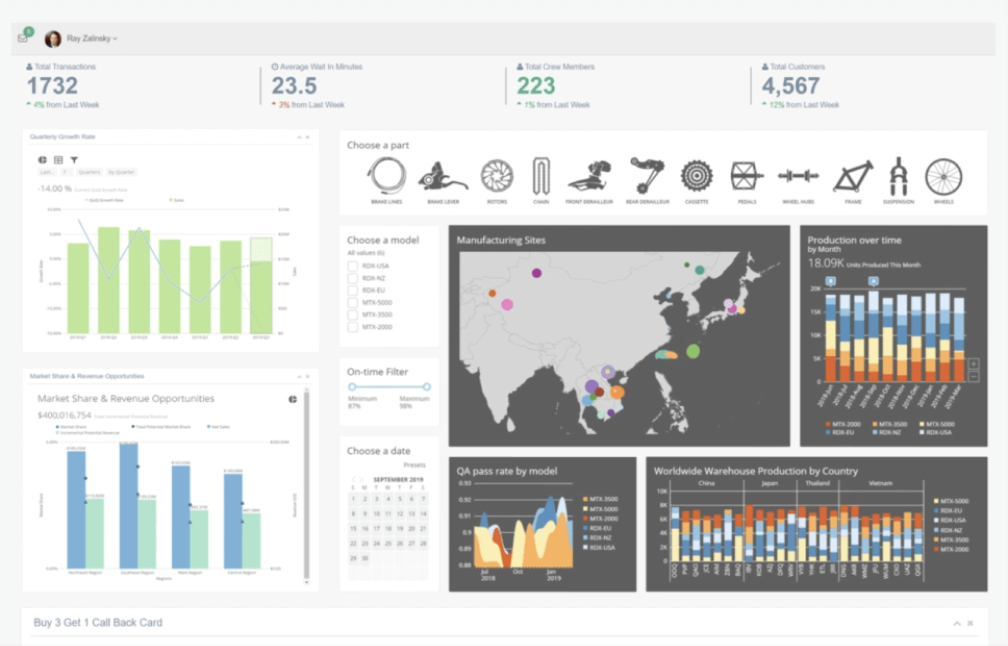 5 dashboard maker software tools
Looker
In February 2020, Google purchased Looker. Since then, Looker has developed rapidly because of its dashboards. These dashboards aim to provide in-depth statistics in an easily-comprehensible format. The system is built on a flexible core that is meant to work well with a wide range of cloud-based datasets. AWS, Snowflake, and Google BigQuery are all part of this cloud-native compatibility.
Domo
Domo is a full-stack business intelligence tool, meaning it is a dashboard maker and more. It gives users the ability to create effective visualizations using data from numerous disparate sources. Included in Domo's product is a wide array of data connectors that can pull in data from cloud providers in real time. Domo also provides a robust data warehouse where all that data can be centrally stored for use in visualizations.
Domo caters to all types of users. Domo's drag-and-drop interface enables non-technical users to easily build dashboards that convey crucial insights. For more technical users, Domo offers the ability to customize visualizations by transforming the underlying data using code.
Dundas
Dundas, a provider of business data dashboards based in Toronto, was established in 1992. It allows users to integrate custom-designed data analytics dashboards. The open API connection is a key component of this. In recent years, the firm has added new features such as Linux and natural language processing (NLP) compatibility.
Microsoft Power BI
Microsoft's dashboard solution is widely used and competitively priced. It can analyze picture & text data as well as build visual scenes from it. The breadth of the Azure cloud offering, which Power BI connects with and substantially benefits from, completes the picture.
Yellowfin
The Yellowfin dashboard is a component of a browser-based business intelligence tool for visualizing data analytics. To convey the results of a specific query to a larger perspective, the dashboard can mix text and data into one coherent and consistent visual.
The bottom line
If you are looking for a dashboard maker solution, consider the top-rated dashboard tools. Having the ability to monitor all your company's critical data on demand in your dashboard provides you with a significant competitive advantage. You know exactly how the business is doing and what needs to be fixed, so you can spend time on what will really make an impact.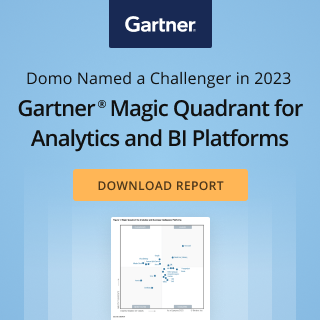 Check out some related resources:
Variables use case and feature walkthrough
Intro to Domo Workflows: Intelligently Automate Business Processes 
Climate Impact Analysis for Flood Mitigation Planning & Action
Try Domo for yourself. Completely free.
Domo transforms the way these companies manage business.