/ Integrating business intelligence effectively via data warehouses
Article
Integrating business intelligence effectively via data warehouses
When it comes to business intelligence, it's not enough to connect a single source of data. You need to be able to view all of your data across the business regardless of the original source or storage method.
Integrating data from disparate systems allows teams to be more productive within any organization. A common way of doing this is creating a data warehouse that stores information from multiple platforms and data sources.
Once all of your data is in a central location, you're then able to create reports that offer insights across use cases and business functions in a single environment.
There are many ways business intelligence tools can integrate with a data warehouse. One common way is by using a data warehouse that stores all the information and serves it up to your BI platform, while another option is selecting a business intelligence platform that includes data warehousing capabilities.
In this article, we will take a look at a handful of common business intelligence use cases and discuss why a data warehouse plays a key role in making a BI tool a key pillar of your business operations.
What is a data warehouse and how does it work?
A data warehouse is a centralized collection of data that various departments within an organization can access. It's designed to manage and organize data from multiple sources and in multiple formats. Rather than each department storing their data in different places, a central warehouse provides consistency and security.
While data warehouses have historically been located on on-premise servers, it is more and more common in today's environment to leverage cloud-based warehouse architecture. Cloud solutions exist at a variety of price points, storage capacities, and physical locations. These cloud solutions offer an attractive option for businesses that require flexibility in scale or don't possess the technical talent to manage and host their data on a local system.
Cloud data warehouses also allow for easy integrations both up and down stream. When connecting to source systems or pulling reports, it's much easier for everyone throughout an organization to access a cloud-based repository. They don't need to be located at your physical office and can get the information they need while on the go.
Business intelligence and data warehousing
The power of data warehouses comes from how much data is aggregated in one place. A data warehouse can not only store, but also aggregate all of your sales, marketing, accounting, and finance data to make it much easier to consume and report on.
While good business intelligence systems can support data from a data warehouse, the best solutions provide options you can choose from:
Connect to data in your data warehouse without having to move the data to your BI tool
Use native data warehouse integrations built into some BI tools
Use the storage included in your BI tool
Use any combination of the three options above
Typical data warehousing and reporting use cases
To illustrate the value of combining your BI tool with your data warehouse, let's walk through a common use case. Most companies want to be able to track how their current sales figures are trending in relation to monthly, quarterly, and annual goals. In order to produce that analysis you'll need to integrate the following systems:
Customer relationship management software (CRM)
Budget/forecasting software
Business intelligence software
Let's take a closer look at each of these systems and how we'd combine the capabilities of each to produce decision-driving analysis.
Customer relationship management (CRM)
Customer relationship management has become an integral part of most companies' marketing and sales strategies.
When you have a good grasp of the customers in your pipeline, the projected close date of your opportunities, and the projected revenue each opportunity will generate you have the ability to actively manage your sales efforts. However, in order for your CRM data to be truly informative, you need a benchmark.
In order to compare your current pipeline to budgets and forecasts we'll have to integrate with a BI tool capable of storing and comparing data from different systems and formats.
Budget/forecasting software
At the beginning of the most recent fiscal period your finance team set goals and forecasts for the year, quarter, and even current month. In order to effectively manage your organization's sales team you'll need to make sure you're on pace to meet those goals.
While you could login to your CRM and check the current period's pipeline and then also login to your financial software to see how it compares to your goals, it would be much easier to get all that data in a single environment.
Data warehousing and business intelligence software
We've established the fact that we want to look at our pipeline and goal data side-by-side. Thankfully, a data warehouse specializes in connecting to and storing this kind of data. You'll have a myriad of options for integration, but the headline here is that the data warehouse is where these disparate systems come together.
Dynamic and comprehensive reporting
Even though there are many different ways companies can integrate business systems, a data warehouse is the best way to make sure everyone on your team has updated access to all the reports and information relevant to their role.
While copy and pasting between spreadsheets can feel quick and easy in the beginning, this temporary solution will quickly crumble as an organization scales. The key is to automate the connection to each of your systems so they don't require manual efforts when insight is needed.
Once you've gone through the integration process outlined above, simply set your BI platform to refresh the data at an appropriate cadence. While reporting on last month's sales data used to feel like an undertaking, you'll soon realize that making decisions on sales information from today is within reach.
Regardless of whether or not the use case above applies to your organization, it's important to integrate and operationalize your data in a single system. This will ensure your team can get the most benefit from all of the investment you've made in your current business applications.
Conclusion
When business intelligence applications are implemented effectively across an organization, each person on the team can understand where they should focus their efforts and how they can add the most value to the company as a whole. This new method of operation is all made possible by a data warehousing solution behind the scenes stitching the different views of your business together.
Creating a data warehouse is always the first step when implementing business intelligence solutions across source systems and business functions. In that light, it's important to make an intentional decision as to what kind of business intelligence solution you select. If you already have a data warehouse in place, then no need to reinvent the wheel, but if this endeavor is net-new for your organization, you may want to consider a BI tool that offers data storage.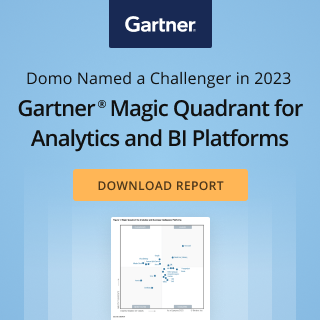 Check out some related resources:
How CIOs Can Turn Their Dark Data Light with Data Integration
Building Data Integrations on a Modern BI Platform
Why is no one visiting my lakehouse? Unlock the power of your lakehouse for low-code and no-code users
Try Domo for yourself. Completely free.
Domo transforms the way these companies manage business.