/ Important characteristics of an effective data integration solution
Article
Important characteristics of an effective data integration solution
A highly effective and collaborative organization must have a solid data integration solution. It can help businesses achieve objectives such as finding new revenue streams, increasing operational efficiency, or improving employee customer service skills.
To determine whether a certain data integration solution is right for your business, you must consider its features and how they align with your business needs. Unfortunately, a lot of companies don't. They struggle as a result of deficient functionality, poor scalability, or a challenging user interface, among other inadequacies.
When making the decision of choosing a tool to support your organization's data integration efforts, two important factors must be taken into account: the effectiveness of the selected integration approach, and the cost of continued effective use of the solution in the future.
Here are some of the critical components of a data integration solution that can assist your firm in streamlining operational procedures. By enabling the company to obtain the appropriate data at the proper time and location, these qualities can aid in the smooth operation of the corporation.
1. Support for security and audits
Until it guarantees data protection and safe user access, an enterprise-level integration solution cannot be regarded as reliable. Therefore, the information used in the integration solution should be encrypted, and measures for ensuring secure user access should be in place. The administrator should be able to audit all changes, manage user access, and give users varied privileges.
2. Maintaining the data's integrity and quality
If the company wants to derive correct insights from the data it receives from various sources, it must maintain the integrity and quality of the data.
For the data to be used for analysis, mistakes and inconsistencies must be removed from the source systems' data. These mistakes could involve duplicate entries, inconsistent formatting, excessive spacing, and other problems that could compromise the accuracy of the data. When data is obtained from diverse sources, a built-in feature of a data integration tool can clean, normalize, and verify the information so that you have high-quality data for successful analysis.
3. Easy-to-use interface
Organizations are quickly moving toward no-code software solutions to give business users more control over information flow. The most recent data integration software has drag-and-drop capabilities and accessible interfaces that let business people access data and system functionality without being intimidated by the complicated technical underpinnings.
The data integration solution tool you choose should have a user-friendly design to enable employees who only possess basic knowledge of computers to understand how it works. This enables businesses to no longer depend on IT specialists or groups of developers anytime they need to do data integration or analysis.
4. Limitless scalability
The scalability of data integration solutions is a common issue with data management. The present or potential volume of data that a company can store is unrestricted when using a scalable data integration solution. The employment of a dependable, efficient, and scalable system that can manage the processing requirements of enormous amounts of data and information is a necessity for any growing business.
5. Sync support for history
To guarantee that the history of the destination device accurately reflects the whole history of all the modifications, it is essential to apply the individual change sets (and not simply the current state). Therefore, a successful integration solution should be able to replicate the changes from the source system to the destination system using the same grouping and ordering. Otherwise, any inconsistency could result in inaccurate reports, wrong reaction times, and cycle times that would be reflected in the final systems.
6. Using data from unusual data sources
The capacity to integrate, modify, and utilize data from many sources is one of the essential components of an effective data integration system. However, many organizations lack the resources for nontraditional source systems, resulting in analysis gaps due to the influx of data from various channels.
To improve the effectiveness of the data integration process, businesses must invest in a system that supports a wide range of uncommon data sources, including email formats, EDI, and COBOL file formats. The ability to link to SAP, Oracle, and other well-known platforms would be an added benefit.
7. Reliability and a recovery method
A good integration solution must guarantee that if a modification cannot be completed because of a lost connection, it will be finished automatically when the connection is re-established. To prevent data loss, any issues with the interface should always be immediately resolved. The integration server should be intelligent enough to avoid overwriting the changes if someone modifies the same entity in the target system while the integration server is offline while syncing an event.
8. Data reconciliation skills
Any issues with data processing or resolving conflicts in a dynamic environment where numerous concurrent changes are occurring could result in inconsistencies amongst the systems involved. The information system should have a defined approach to identify out-of-sync items and apply appropriate rules to them. When moving data from a traditional integration platform to an automated integration platform, the conciliation rules should be strong so that there is no chance of data loss or duplication.
9. Automation
An organization's data flow is constant because of the numerous internal and external sources of information that it receives. Automation makes sure that all company operations can access information without interruption.
The data integration system has an integrated job scheduler that enables business users to plan and automate anything from simple data translation to carrying out intricate procedures. Organizations can lower IT and development costs while increasing operational effectiveness by automating time-consuming and repetitive tasks like updating inventories, executing routine backups, updating personnel information, preserving customer invoice data, and more.
10. Failure and managing conflict
The integration solution should make it simple for the administrator to take corrective action in the event of any failure. It should be simple for the administrator to identify issues and address them from within the system itself. Additionally, a configuration option for automated retries of integration tasks must be provided. A suitable integration solution must provide a simple, intuitive way for users to manage discrepancies in versions of the data as it's being pulled into the system.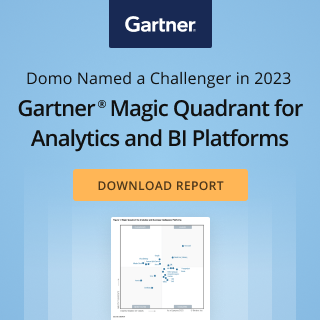 Check out some related resources:
Building Data Integrations on a Modern BI Platform
Bridge the Gap: How Domo Cloud Amplifier Harmonizes IT and Business Data Needs
Accelerating the Data Lifecycle with Domo Cloud Amplifier
Try Domo for yourself. Completely free.
Domo transforms the way these companies manage business.