/ How to effectively use business intelligence to better understand your marketing spend
Article
How to effectively use business intelligence to better understand your marketing spend
With so many options on the table nowadays, the market has become consumer-centric. You need to get people's attention to your service or product by offering a customized approach. Competitiveness is increasing all the time, and that's where data can help you remain ahead.
From picking the correct online service for marketing strategies to targeting online clients with customized or tailored discounts, data continues to affect marketing and sales strategy decision-making. To optimize campaigns and create the maximum conversions, marketers can use actionable data to track consumer purchases and view sales figures for various sorts of items utilizing business intelligence for marketing operations.
What is business intelligence?
Through reporting and data visualization, business intelligence (BI) is a collection of technology-driven processes that extract meaningful and critical information from a significant amount of external and internal data. These insights can aid various organizational functions such as marketing and sales in making more informed decisions and taking more strategic actions.
Data management, analytics, and reporting technologies, as well as diverse approaches for analyzing and presenting data on dashboards, are all part of BI.
Business intelligence for marketing aids in the following areas:
Examine audience interaction patterns, pain points, and purchase habits in order to reach the right individual at the right time with the appropriate offer.
Monitor the performance of marketing efforts in real-time and maximize data usage to get the best results.
Data reporting and processing automation allow marketers to view the big picture rather than spending their time on mundane tasks, giving them a great tool for useful insight discovery.
Let's look more closely at the marketing benefits of business information.
Benefits of business intelligence for marketing
Digital marketers can use business intelligence to gain in-depth insights into their customers' needs, preferences, and attitudes. This information can be used by businesses to design more efficient marketing strategies that target specific target audiences and produce remarkable outcomes. Let's take a closer look at the marketing benefits of BI.
Increased effectiveness and improved customer experience
Marketing managers all over the world are competing on the basis of customer experience, therefore it's critical to understand customers' behavior, needs, and desires. BI for digital marketing provides firms with customer knowledge, allowing them to segment customers and attract the right prospects to fulfill their goals.
BI solutions aid in the removal of bottlenecks, the automation of jobs, the improvement of processes, the prioritization of workflows, and increased productivity. Business intelligence for marketing improves sales, customer experience, day-to-day performance, and efficiency in this way.
Marketing decisions and goals based on data
Companies can use BI technologies to improve their marketing function and visibility of sales data, allowing them to fine-tune marketing efforts. Business intelligence can assist in asking the correct questions of a large dataset and defining the most relevant KPIs for a given business goal.
Furthermore, BI allows for better decision-making. Every decision you make as a business owner can have a significant influence on your bottom line. That's why having data to back up your decisions is so critical. Business intelligence can make the information needed to make informed decisions readily available to important stakeholders.
Targeted demographics
Many businesses market to customers through different channels, and BI allows firms to analyze all the data from these separate channels, allowing them to draw actionable conclusions that can inform their marketing plan. Marketers should send advertisements to the appropriate individuals at the right time through the right channels to get results but doing so necessitates a detailed analysis of demographic data.
Marketers can make mistakes about who their target audience is, which is why some marketing strategies fail. Additionally, if marketers are unaware of relevant KPIs, their marketing campaigns may not align with the strategic direction of the company as a whole. As a result, money can be wasted by conducting similar campaigns after campaigns that aren't making an impact.
Consumer data can be gathered from a variety of sources and presented in a dashboard view that includes demographics, audience pain points, preferred product lines, interaction models, purchasing habits, and more.
Marketing campaigns that work
Marketing business intelligence solutions may track and analyze campaign results in real-time as well as compare them to historical patterns.
This comparison research can help optimize marketing costs and, if necessary, filter promotional activities that produce the best outcomes. Businesses can efficiently implement their cross-sell and best-sell efforts when they are backed up by marketing data while decelerating projects that aren't generating as much revenue as expected.
Following a thorough review, procedures can be improved or eliminated, allowing business owners to reduce resource waste and improve performance. Simultaneously, forecasting future opportunities can assist businesses in fine-tuning their manufacturing and marketing operations, resulting in improved revenue and profit.
Quality insights and a quick reporting process
Many firms nowadays rely on current data to produce actionable insights and derive value from it. Large data volumes may also slow down reporting and decision-making, which is important in an ever-changing market. This may result in business being lost to more efficient competitors.
Automated business intelligence dashboards, on the other hand, allow for faster data processing and the extraction of useful insights. Companies can minimize the time it takes to generate reports from days to hours. Marketing teams can analyze data visualizations on their dashboard in the blink of an eye and offer corrective or reactive measures to optimize advertising and strengthen their market position.
Furthermore, business intelligence (BI) and analytics software enable management to receive notifications when patterns begin to deteriorate or when crucial data needs to be examined, allowing issues to be solved before they become disastrous.
Put yourself ahead of the pack
Businesses can also utilize BI reporting to learn more about their competitors and the industry as a whole. Companies may be able to measure and compare their competitors' performance using third-party data. They can then alter their efforts to outperform the competition by changing pricing, increasing marketing expenditure in a neglected channel, or focusing on other demographics, for example.
In a variety of ways, businesses can use BI to achieve a competitive advantage. They can examine competitors' marketing tactics for certain channels, like email, to determine if their own marketing could be enhanced, or compare specific data, like website traffic or even social media engagement.
Conclusion
Digital marketing organizations can use business data to adapt to consumer needs, increase sales indicators, and optimize focused campaigns. Many firms are investing extensively in training end users on BI technologies to support data-driven decision-making.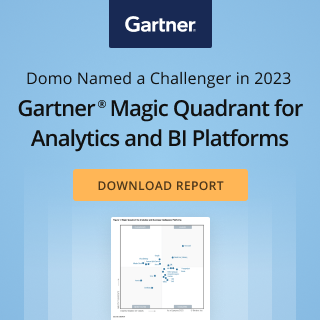 Check out some related resources:
Data Never Sleeps 10.0
There's an App for that—Tips for Crafting Apps, Dashboards, and other Engaging Data Experiences
Domo Ranked #1 Vendor in Dresner Advisory Services' 2023 Cloud Computing and Business Intelligence Market Study
Try Domo for yourself. Completely free.
Domo transforms the way these companies manage business.