/ How is cloud BI changing the way we use data?
Article
How is cloud BI changing the way we use data?
Cloud-based business intelligence, or cloud BI, is changing the entire landscape of modern business, data governance, and how we gain insights for future decision-making. More than 54% of enterprises say cloud BI is either critical or very important to their current and future strategies. That is because there are many advantages to working within a dashboard or suite of tools entirely online through cloud-based communication.
This desire to move apps and data management to a more cloud-based system was only accelerated during the recent global pandemic. Educational institutions led the charge that now many private and small businesses are embracing because they are seeing the financial and operational benefits of using such a system.
What is cloud BI?
Cloud business intelligence is a way of using data to improve business. It involves analyzing and working with data that's stored in the cloud rather than on the company's internal servers. It's a new way of doing business intelligence, and it comes with some advantages.
The point is to gather and analyze data through a system of cloud-based tools that free up internal resources. As many businesses have migrated to hybrid or remote work models, it only makes sense to move the tools used for actionable insights to cloud servers as well. This way, team members in different locations or time zones can stay up to date with the same relevant information.
Does cloud BI really matter?
As a report creator or business manager, it's essential to understand the ways in which cloud BI helps you do your job better, not just what you're doing with it. In addition to eliminating the need for software and hardware, moving your business intelligence analysis to the cloud allows your teams to more easily scale their use of data.
The self-service nature of cloud BI enables anyone who needs it to get access to analysis and insights that can help them do their jobs better and more efficiently. It also reduces the need for IT support since cloud products are more accessible for non-tech users to learn and use on their own.
All of this makes a significant difference in streamlining business operations and lowering operational costs. It gives your business more freedom to respond to market demands or the ever-changing whims of the current consumer market. Such agility is a competitive advantage in the often over-saturated niche industries of today's world.
How does cloud BI work?
Cloud BI tools work by connecting to your data sources and building a data warehouse in the cloud. The tool then processes and makes that data available to users in various ways, such as through dashboards, reports, and ad hoc queries. Users can also interact with that data directly by modifying or enriching it before sharing with others or using it to build reports.
That is probably the most important aspect of cloud BI—the access factor. You want all the decision-makers on your team to be equally informed. This consolidates your decision-making and offers valuable insights to people who may not usually have such access in a traditional BI environment.
What kind of benefits does cloud BI provide?
The benefits of cloud BI are numerous, and it's likely that we'll see a steady shift towards the cloud in the years to come.
Cost
Cloud BI is cheaper than on-premises systems because of the way that you pay for it. Instead of having to pay high upfront costs for a system, you will be paying as you go. This means that your business isn't tying up capital in software that might not grow with you.
Ease of use
Cloud BI is easier to use than traditional on-site systems because of its intuitive nature. The companies that make these products have done so with ease of use in mind, which means that even small businesses can get started quickly without expert help. This places a much less weight of responsibility on your internal IT department because cloud-based tools tend to be simpler and designed for a broader audience.
Security
Cloud security is actually more secure than traditional methods because they are in control of data storage and backup procedures. Additionally, they always have the most updated software versions protecting their system against the latest threats. Instead of everything being located on single servers, information is distributed among other locations, equally distributing your risk. This is also a benefit in case there is a natural disaster. One location going down will not cripple your operations.
Scalability and flexibility
Because your data is stored remotely and accessed through an application on any device with an internet connection, you can scale up or down as needed. There is no need for additional hardware purchases or updates from an IT department, which also makes scaling more cost-effective.
Mobile access
A critical benefit is the mobile nature of cloud BI. A lot of modern workforces rely on personal or business-issued mobile devices to communicate and perform essential job functions. Having a native application that works with this ecosystem is a significant plus. Additionally, there's no risk involved since most providers offer free trials so users can test out their product before committing to anything long term.
What kind of cloud BI tool will work for my organization?
There are a lot of cloud BI tools on the market today, and differentiating between them can be difficult. Here are some questions to ask as you evaluate each platform:
How easy is it to use? A key benefit of cloud BI is that business users (not just data analysts) can access and modify their own dashboards. If a tool requires extensive training or coding skills, that might not be true.
What is the user interface like? Ideally, you want a product that has been designed with ease of use in mind. Look for something with simple colors, a few dropdown menus, and a clear layout.
What are the costs associated with the product? Some tools have monthly subscription fees, while others charge per unique user every month. Make sure you understand exactly how each platform will affect your budget (both now and in the future).
What level of security does it offer? Keep in mind that many businesses store sensitive information in their data warehouses, and if they're using a public cloud, they need to make sure that data stays safe. Verify that any product you purchase offers adequate protection against cyber attacks and accidental leaks (including internal ones).
How responsive is its support team? Make sure there are people ready to help when things go wrong, which inevitably happens with software at some point. The best cloud BI platforms offer 24/7 support so users can get help as soon as an issue arises.
It may be beneficial to know the different types of cloud BI services. These include public, private, and hybrid systems. As the titles suggest, each one has its own type of privacy and security expectations. You always want to select a cloud BI that is aligned with your security needs, especially if you are going to handle private data with legal implications.
What does the future of cloud BI look like?
Cloud BI is still in its infancy, but don't let that fool you. The technology has proven itself to be reliable and secure in a variety of situations, including in healthcare and consumer goods settings.
As we move forward into the future, cloud BI will only become more flexible and accessible for companies of all sizes. Moreover, it will continue to grow more advanced and secure as new players enter the market. If your company hasn't already considered cloud BI as a business option, now is the time to do so.
Dashboard accessibility and personalization will also play a factor. Instead of there being one specific dashboard for the entire organization, different stakeholders and managers will be able to adapt their personal dashboards so they can run data analysis and management KPIs of their own instead of relying on only those represented by the company as a whole.
Cloud BI also supports unlimited data volume. That frees up resources and assets from companies of all sizes and moves them to the care of specialists. That means organizations will benefit from redirecting human asset attention to customer service, problem-solving, and new product/service development.
Where to get started with cloud BI
You can always build a new system designed specifically for your needs and use case, but there are plenty of vendors online that offer excellent service, from data warehousing to analytics and beyond.
Start by outlining your needs, budget, and goals for your data, and then shop around to find the deal that will work best for your team. Pay close attention to the vendor's data lifecycle management and security features to be sure it will work for your specific information. You will be amazed at how much time and money you can save moving to a cloud BI system.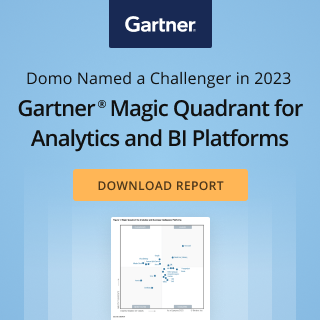 Check out some related resources:
Domo Ranked #1 Vendor in Dresner Advisory Services' 2023 Cloud Computing and Business Intelligence Market Study
Nucleus Research: Domo's ROI as a Data Platform
Creating modern data experiences that help your customers succeed
Try Domo for yourself. Completely free.
Domo transforms the way these companies manage business.