/ How business intelligence tools can help automate your business
Article
How business intelligence tools can help automate your business
As a business owner, you know that automation can be a key factor to success. Automating common business processes can help your employees work more effectively and efficiently. But what about automation of your data? That's where business intelligence (BI) tools come in. BI tools can help you automate the gathering and analysis of data, so you can make better decisions for your business. In this article, we will discuss how BI tools can help automate your business and make it more efficient.
What business intelligence (BI) tools are and how they can help your business
Business intelligence (BI) refers to the tools and processes a business uses to create intelligent insights from its business data. It involves the collection, storage, transformation, and visualization of that data to end-users.
Automation is a critical aspect of any BI tool, as it helps minimize the amount of manual work your team performs. With the right BI tool, you are able to put your data to work faster than ever before. Processes that used to take days or even weeks can be streamlined down to hours or even minutes, thanks to the power of automation with BI.
The benefits of automating your business with BI tools
BI tools take data from multiple sources and automate the collection of that data on a daily basis. Automated data collection also ensures accuracy and consistency in your data. Identify trends and patterns in your business, so you can make better decisions for the future. Having accurate and up-to-date information at the precise moment you need it is critical to the success of your business.
Another great benefit of BI tools is the automation of data analysis. With the help of algorithms and formulas, BI tools can automatically analyze your data and present it in an easy-to-understand format. This can help you quickly understand important trends in your data to help you make better business decisions.
One of the biggest benefits of using BI tools is the automation of data visualization through dashboards. Data dashboards are the final presentation of data through the use of charts, graphs, summary numbers, and key performance indicators (KPIs). BI tools can automatically update reports and dashboards with new data as soon as it enters the system. This can be extremely useful when making critical business decisions. Up-to-date data can be at your fingertips with just a few short clicks.
How to choose the right BI tool to automate your business
When looking at different BI tools, it's important to find a vendor that focuses on data automation. BI can be quite a complex and often manual process with the wrong tool.
Modern BI tools can automate almost every aspect of the data process for your business. Make sure to choose a vendor that is capable of automating data collection, processing, storage, and visualization. Emphasizing the importance of automation for your company is essential when talking with a BI vendor.
The challenges you may face when using BI tools and how to overcome them
Automation can be quite complex when implemented the wrong way. With BI, it doesn't have to be. One of the great aspects of BI tools is that they are built for the everyday business user in mind, meaning they are incredibly intuitive and easy to use.
An important consideration when using a BI tool to automate your business is to make sure you have the right tools and credentials to access the data. Data can be stored in a variety of formats and systems: spreadsheets, databases, or software tools. Data integration is the most technical aspect of BI and will require the support of IT teams. Making sure IT is on board and able to assist with these introductory processes is critical. As you start using the BI tool, IT will realize just how helpful it is in the automating routine processes for which they used to be responsible.
Automation will also require the full buy-in of your team—from executives down to individual contributors. Help employees understand that automation is not going to take away their jobs, but rather allow them to be more efficient and productive at work. Too much time is spent on mundane tasks such as data entry. By using a BI tool, your business users will have more time in the day to do what they're best at.
Case studies of businesses automating processes with BI
Automation can benefit many aspects of your business, no matter how big or small it is. We'll now explore a few different use cases where automation can streamline business processes.
Automating data entry between systems
Routine data entry between business systems is a common process used by businesses of all sizes. Many companies even have data entry positions where workers are dedicated full-time to the task.
BI tools can help automate this data entry by integrating data sources together through a write-back connection. Data write-back is the process in which data is transferred automatically from one system to another. BI tools can connect hundreds of different systems together, automating data entry so that your employees can focus on more critical tasks.
Automating financial reporting
BI tools can also automate critical financial reporting processes. Companies of all sizes need to report on their financial health, whether that's on a monthly, quarterly, or yearly basis. By using a BI tool, data from financial reports can be generated automatically each month. Finance and accounting teams who traditionally were buried in spreadsheets can use a BI tool to create automated processes for reconciliation, financial statements such as balance sheets and income statements, and other routine bookkeeping tasks.
Automating alerts and notifications
BI tools can also be used to create custom notifications or alerts to notify your team when business exceptions occur. Instead of relying on employees manually sending emails anytime an error occurs, your BI tool can automate all types of communications. Managers and leaders can receive text messages, phone calls, or push notifications to their mobile devices anytime something changes within the business.
Conclusion
BI tools are a great way to automate the gathering and analysis of data. If you're not currently using a BI tool in your business, now is the time to consider implementing one. By automating this process, you'll free up valuable time for your employees to focus on other important tasks.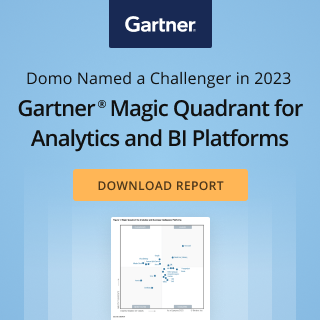 Check out some related resources:
Intro to Domo Workflows: Intelligently Automate Business Processes 
Domo Named a Leader in Nucleus Research's 2023 Analytics Technology Value Matrix
Domo Ranked #1 Vendor in Dresner Advisory Services' 2022 Analytical Platforms Market Study
Try Domo for yourself. Completely free.
Domo transforms the way these companies manage business.