/ How BI dashboards can level up your data strategy
Article
How BI dashboards can level up your data strategy
Are you looking for an effective method to track data about your business or yourself?
Creating a dashboard will give you a clear view of all the information that matters.
A dashboard is essentially a visual representation of your data, so it is meant to be concise and easy to understand at first glance.
Dashboards are often used by businesses to track their progress so they can quickly see if there are issues affecting the outcome.
For example, a marketing company may create a dashboard to track the number of website visitors and email subscribers over time. With this information at hand, they can easily see if there are any trends or problems occurring that need immediate attention.
If you're just getting started with creating a dashboard, you might have a hard time knowing where to begin. In this article, we'll show you how you can create a basic dashboard in a few easy steps. With these principles in mind, you will be able to replace spreadsheet analytics with BI success.
&nbsp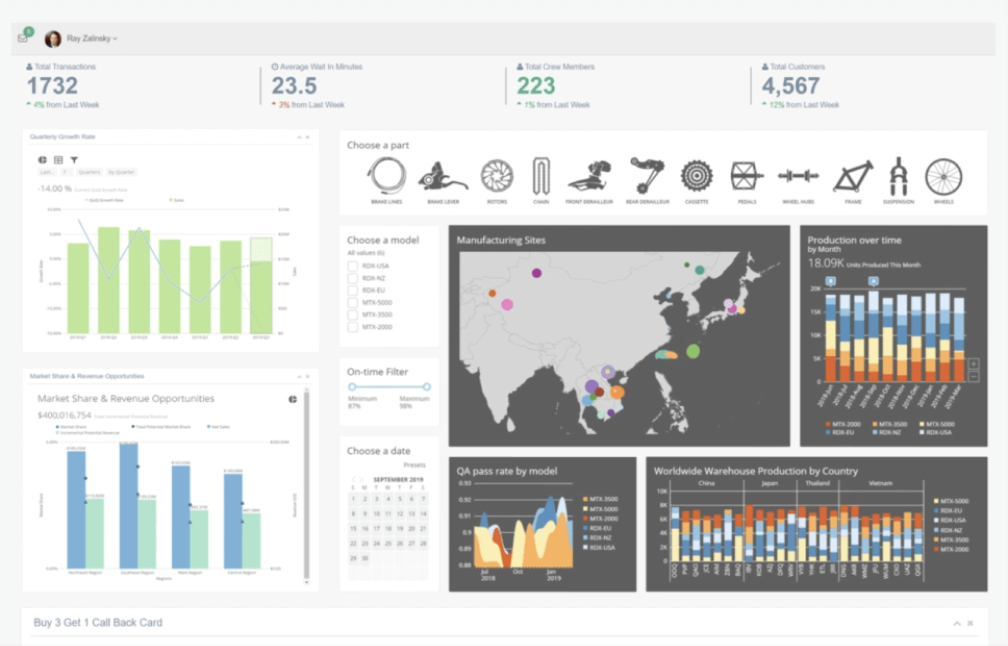 What is a dashboard and what are its uses?
A dashboard is a visual representation of your data that quickly shows you if there are any issues or problems occurring.
Dashboards can help businesses track their progress so they know if there is a need for immediate attention. They also enable employees to monitor certain aspects of running a business, such as key performance indicators, which helps them make more informed decisions.
For example, employee commission can be tracked on a dashboard to help salespeople know if they are hitting their targets. This information is especially helpful in remote or mobile workplaces where employees don't have access to detailed analytics data.
Types of dashboards
Dashboards vary in complexity, but there are essentially two types of dashboards:
Operational dashboards
Operational dashboards include key information to monitor the day-to-day operations or projects, such as stock prices or budget allocation.
This type of dashboard is often used by employees who need access to data to make quick decisions. Operational dashboards can also be used by managers to monitor the progress of their team members.
Analytical dashboards
Analytical dashboards provide in-depth information about various projects or your company's performance, such as product sales over time or website traffic over the past year. This type of dashboard is often used for business intelligence, which involves gaining valuable insights to help companies grow.
Analytical dashboards are often created by data analysts or managers who need access to historical information for analysis purposes.
How to create a dashboard in 6 steps
To get you started on your way to creating an effective dashboard, we'll walk you through the six simple steps of building an analytical dashboard. Your analytical dashboard can help you monitor anything that's important to your business, such as:
Increasing or decreasing sales
Number of customer support issues
Number of website visitors and email subscribers over time.
Step 1: Gather all the necessary data before creating your dashboard.
Your dashboard is absolutely dependent on the data you choose to represent.
For example, if you want to track product sales over time, you'll need data about previous sales amounts and the number of products sold every month.
Gathering data from different sources can help you determine the best data to use for your dashboard. A business intelligence tool can help you connect to your data sources. From there, it can turn your data directly into analytics.
Step 2: Decide what type of data structure you want to create.
There are two options when creating a dashboard: starting from scratch or using ready-made "dashboard" templates.
The advantage of using a pre-built template is that it's quick and easy to create a professional-looking dashboard. However, if you already know how to use your BI tool and want your data to be fully customizable, then it's best to go without a template.
Templates are often limited in terms of design freedom, so some people prefer creating their own dashboards every time, even when they're making dashboards over the same few topics.
Step 3: Determine the purpose and audience of your dashboard.
Before you start creating your dashboard, decide what you want the dashboard to communicate. Do you need it for personal use or do you plan to share it with colleagues? This will help determine what sort of analytics should be included.
For example, consider these dashboard purposes and the potential stakeholders who may be using it:
KPI Dashboard: Managers and department heads who want to monitor company performance and project progress over time.
Growth Dashboard: Company owners/managers who want to see how well the business is doing. They will also need access to data such as monthly sales figures, website traffic, and product sales.
Operational Dashboard: Department heads who need to use the spreadsheet on a day-to-day basis in order to make quick decisions. The data used in this type of dashboard is usually more specific and actionable than that in a KPI or growth dashboard.

The purpose and audience of your dashboard will impact the data you include, how your dashboard looks, and who will use it.





Step 4: Calculate metrics.

Your dashboard can communicate key metrics about your business operations. Using SQL queries and data transformation, you can even add calculated fields that provide new data.

For example, you could calculate the percentage change in revenue from month to month and add this as a column to a visualization. This will make it easy for your audience to see how well your business is performing.

A key consideration when creating formulas for dashboards is performance speed. You need them to be fast because you want to update your data regularly. If you use too many calculated fields in one data set or visualization, it can slow down the dashboard and make it harder for your stakeholders to update.

Step 5: Create sub-dashboards to organize data by category.

If you are tracking different categories of data (such as sales figures, marketing efforts, etc.), it's helpful to break your dashboard up into different sub-dashboards. Each sub-dashboard can be dedicated to a specific category, helping you to outline the data you need and make it easier for others to navigate.

For example, you could create a separate dashboard for each sales region or marketing campaign.

From there, you can connect the dashboards with static links or interactive drill paths. With techniques like drill paths, users can access sub-dashboards as they browse, without even looking for that specific sub-dashboard.

Step 6: Step back and gauge dashboard success.

Your final dashboard should accurately reflect the data analytics that you're trying to express through it. At the end of the process, it's very important to make sure your dashboard actually meets the needs of the people who will view it.

For example, if it's an operational dashboard tracking metrics for a specific department, make sure the dashboard has the most important and valuable metrics for gauging success. Otherwise, users won't be able to view the dashboard and get insight out of it.

Applying Excel dashboards to BI

With a good understanding of how dashboards operate, you can effectively create a modern BI strategy for your business. BI tools are built with the business user in mind, which means you can easily create a dashboard featuring all the critical metrics for your business. A BI tool can power your organization to help you gain a better understanding of your business.
Check out some related resources:
Guidance for delivering and measuring BI, analytics and data value
Domo Named a Leader in Nucleus Research's 2022 Analytics Technology Value Matrix
What you need to consider when evaluating & selecting BI and analytics software
Try Domo for yourself. Completely free.
Domo transforms the way these companies manage business.