/ How an embedded analytics platform can enhance your business
Article
How an embedded analytics platform can enhance your business
The capabilities of embedded analytics platforms are extensive. Businesses require analytics that can provide more actionable data in real-time.
Static dashboards and reporting worked well with traditional BI. However, a more interactive approach was necessary to meet modern business objectives, which led to the emergence of self-service BI. As time went on, analytics significantly advanced from being a simple reporting component, a stand-alone reporting and dashboard attribute, to being infused (embedded) into the app workflow itself.


Types of embedded analytics
By incorporating analytics into corporate applications and workflows, embedded analytics aims to unite insight and action. Different forms of architecture can be used for analytics that are embedded into apps.
Detached analytics
The host and analytics run independently but are closely coupled via URLs in this version of embedding. The use of the same analytics environment, site, or service by numerous apps makes this strategy effective. The only things the host application and the analytics tool have in common are a shared URL and some shared data. A shared authentication method between the two applications may also be possible to enable single sign-on (SSO).
Inline analytics
Inline analytics involves integrating the analytics tool within the host application. Although it operates as a different part or module inside the host, it appears, feels, and behaves as the host. Customers may be able to examine analytics related to their behavior within the application on a different tab. Embedded elements often reside inside an HTML container, usually an iFrame, that is incorporated in a webpage.
Fused analytics
The highest degree of application integration with a host is provided by fused analytics. In this case, the host application components and the analytics (such as a chart, table, or other graphical component) interact bilaterally while sitting side by side. The management of front-end displays by JavaScript libraries and the activation of server functions by REST API calls are made possible by combined analytics.

Embedded analytics platforms' common capabilities
Almost every platform has some features that are universal, despite the differences between them. The top platforms, though, will provide more robust capabilities. Here is a list of typical capabilities found in embedded analytics applications:
Data preparation
Organizations need their data to be prepared for analysis in order for any analytical endeavor to be effective. In order to integrate and extract data from many data sources and to make data outputs easily accessible for end-users to consume, data preparation capabilities are necessary. This functionality is typically employed in embedded analytics settings by the software supplier to guarantee that their clients get the most precise, clean data at their disposal.
Dashboards and data visualization
The easiest way to consolidate many data reports and visualize them to encourage action is through a dashboard. In order to give end-users a comprehensive picture of the success of the company, dashboards combine visualizations of the same business issue. To ensure that customers never have to exit the dashboard interface in order to complete their workflow, modern dashboards are now even allowing developers to build actions, like order buttons, within dashboards. Additionally, embedded analytics platforms must let end-users create their own dashboards and alter the dashboard's appearance to fit their brand. It is simple to monitor performance and obtain essential insights because all the graphs and charts can be placed on a single dashboard.
Data discovery
Your customers should investigate their data, look for trends and outliers, and share their findings with others to gain a better understanding of their business. Your clients can find insights in the data held by the application and share those insights in a controlled manner with the help of embedded analytics' data discovery capabilities. Automation has been introduced to data discovery with the development of augmented analytics. Machine learning algorithms can continue to search for patterns in data and automatically notify the appropriate users when a statistically significant change occurs.
Interactive reports
Interactive reports offer a customized experience to users examining data for important insights. End-users may want to drill down further, see the data in tables as well as charts, do queries on the data, and make a comparison with other data points. Powerful interactive features of embedded analytics platforms make this possible.


Mobile reporting
In some businesses, it's crucial to be able to deliver your customers' dashboards and data on mobile devices. For instance, using a tablet to access information about downtime, machine performance, and production rates can be extremely helpful in the manufacturing industry. Furthermore, being able to obtain automated data discovery notifications to a mobile device can mean the difference between winning and losing in highly reactive, quick-paced sectors.
Collaboration and data safety
The embedded analytics platform's collaboration features save your employees time by enabling them to share data insights instantly–instead of pasting static images of visualizations into instant messages and or emails. Consequently, information is kept secure and only available to those that need it. This will encourage them to stay on the platform longer, provide them with real-time visibility of their data, and enable them to act immediately.
Self-service
In addition to visualization tools, some embedded analytics platforms also provide ad-hoc reporting and full self-service features. Users feel more independent and are given the ability to easily build personalized reports because of this functionality.
Visual workflows
Business analysts can easily use many embedded analytics products since they feature simple user interfaces with drag-and-drop capabilities. By generating the embedding code, some products, such as MongoDB Charts, let you integrate analytics into applications that use iframes or JavaScript SDK. Therefore, rather than having to worry about integrating analytics, the developers may concentrate more on the app logic.

Embedded analytics benefits
Everybody, including stakeholders, developers, business analysts, and end-users, can benefit from embedded analytics. Embedded analytics can help you achieve the goals your organization has, from improving user experience to increasing earnings. Here we mention just a few of the many benefits of embedded analytics.
An edge in competition
These days, embedded analytics is present in a wide range of industries. The addition of plug-ins and tools to websites, for instance, enables businesses to comprehend the usage tendencies of their clients and recommend related material. More personalized service and more potential clients are also benefits of this.
A rise in profits and sales
Product suggestions, as well as specialized deals and discounts, are the most prevalent examples of this. Real-time monitoring made possible by embedded analytics also allows customer support teams to better understand the challenges consumers have when placing their orders, for example.
Make better use of the data
Users can access in-context data findings within existing applications rather than learning a new analytics platform. Furthermore, the majority of embedded analytics products offer self-service intelligence capabilities, which makes life simpler for developers and analysts.

Conclusion
The ability to provide actionable real-time insights through embedded analytics is crucial for organizations since it increases productivity and speeds up the time it takes to market goods and services. Because of its user-friendly interface, capacity to combine data sources, and ability to offer insightful suggestions, embedded analytics also preserves a significant amount of time, money, and resources.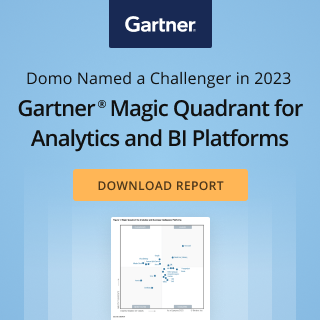 Check out some related resources:
Domo Recognized as an Overall Leader in the 2023 Dresner Wisdom of Crowds® Business Intelligence Market Study
POV: Next-Generation Banking
Data Never Sleeps 10.0
Try Domo for yourself. Completely free.
Domo transforms the way these companies manage business.