/ Risk Management: One Size Does Not Fit All
Article
Risk Management: One Size Does Not Fit All
If you're a business owner or went to business school, there's a very good chance you've heard a variation of the "crawl, walk, run" method as it applies to your approach to protecting your business. As states and local municipalities across the U.S. begin to reopen their economies, there may be no better methodology to keep front of mind when making business decisions that will impact employee safety, enterprise resiliency, and risk mitigation going forward.
The core of our offerings here at Domo center around providing business intelligence tools and data visualizations to help manage workflows through data and insights — essentially, we help you see a picture of your business you've never been able to see before. Seems pretty straightforward, especially if you're in the SaaS industry. But if you go below the surface, you'll realize that by breaking down data silos and making your business information easily digestible and accessible in real-time, Domo is in fact, in the business of keeping you in business. Especially in crisis management scenarios, there's no greater need than the ability for leadership to make rapid, data-backed decisions. COVID-19 has impacted all of our clients in one capacity or another, and we immediately re-prioritized our product roadmap to address the pandemic and get our existing and future clients back to work.
When implementing a "crawl, walk, run" methodology to getting your employees back to work, 'approach' must precede 'product' closely in order to ensure that any new processes, protocols and product deployments in play are thoughtful and most importantly, purpose-led. There's no time to waste when it comes to addressing a delicate and rapidly-changing situation.
Approach
Educating leadership on how to introduce new products that will need to be implemented to employees to ensure safety.
There have been thousands upon thousands of news articles, research reports, thought pieces, and interviews about the approach organizations of all sizes and geographies are taking to reopening. Some companies have decided to take the crawl approach (e.g Google, Facebook, and AMEX allowing their employees to work from home for the remainder of the year). These companies did so in part to ease the anxiety of their employees and allow them to slowly transition to what will become new routines. The 'crawl' approach also gives companies the opportunity to fully scale (retrofit) or invest in a new, COVID-adapted safe office environment.
On the other side of the coin, several U.S. states are encouraging a full return to "business as usual", speeding up protocols for businesses to keep their employees safe, so they can recharge sales ASAP before facing irreversible damage.
Of course, there is no universal "right" way for businesses to approach the return back to work in the context of the new normal, but there are some important lessons we've learned as we've helped our clients who are in each of the crawl, walk, run stages.
First let's discuss 'approach,' and how it applies anywhere you find yourself in the getting back to work process. Adam Landefeld, Domo SVP of Product shared a few thoughts on best practices to engage with your workforce.
It doesn't matter if your business has 200 employees or over 10,000 — each and every employee has different fears that you will need to address before any process, protocol, or product implementation begins.
Understand that everyone's fears and anxieties regarding the return to work are pre-wired, especially in the digital age, when we have a constantly flowing stream of information and news available to us 24/7. Assume that all employees have heard the best and worst-case scenarios — from qualified experts to less than qualified everyday Joes with an opinion being amplified through social media. And this is why it's important to stress that there is no "one size fits all" approach to communicating with your workforce.
De-escalate these fears by educating yourself first (leadership/C-suite) and then communicate your understanding of what these fears are. Each company will have its own set of unique fears to overcome in their workforce, but here are some that seem applicable to all business sizes:
Privacy (infringement)
Equipment (costs)
Protocols (new processes)
Hybrid working environments
If you take these 3 points stepwise, you allow yourself to think of the low hanging fruit first (everyone has a fear) and work up to the more challenging aspects (when it's time for people to walk back into the office).
Products
Introducing products that will guide companies to get back to business safely, efficient and wisely.
Once you have addressed, or perhaps even eased workforce fears, the next step is introducing procedures the company will take to ensure that the concerns of employees are top of mind and that the integration of new tools is specifically aimed at protecting  their wellbeing.
These procedures are the products that will allow your business to get back to work while mitigating health risks in the workplace. To empower your organization to be future-ready, products should have a set of prioritized features — ones that have been purpose-built here at Domo as we've found ourselves facing the same get back to work planning equation as every other organization. This is not an exhaustive list, but a few of the product features and top of mind considerations we have been working on include:
Stay on top of key metrics as your team gets back to work, with a real-time summary of risk to business continuity, productivity, and insights to employee wellness.
Provide daily check-in procedures, send important updates to employees, and notify them of any potential exposures with an app right on an employee's phone.
Prevent the spread of the disease with technology to monitor your employees' contact with others and any potential exposures, then proactively notify people of exposures that might affect them.
Track employee health with data-enabled, quick-scan thermometers at each entrance to your building and real-time information on any high temperatures that should be addressed
Train employees on new safety protocols and behaviors, and get employees certified on new procedures so you know who is ready to come back.
*An exhaustive list of our Get Back to Work product offerings can be found here.
At the end of the day, it's worth reiterating that there is not a "one size fits all" solution. We all are facing the same reality (pandemic), but our way back to our previous normalcy is client/business specific and unique. The "crawl, walk, run" methodology is an example of how to approach your re-opening, but there's additional thoughts and ideas to getting back to work you may discover that resonate better with your situation. Most importantly — if you are malleable to the approach and the process (product integrations), your employees will thank you and your business will be stronger for it.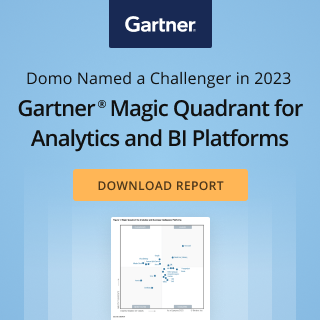 Check out some related resources:
'Future of Work' E-book: How to Safely Reopen the Workplace
2020 Lockdown Economics Report
Privacy Considerations for Safely Getting Back to Work
Try Domo for yourself. Completely free.
Domo transforms the way these companies manage business.