/ Five things you might see when you return to work
Article
Five things you might see when you return to work
Companies are turning on the "OPEN" sign. We're beginning to see the re-opening of on-premise businesses small and large, the ending of furloughs, and the optional return to the workplace. For many employees, the work from home revolution never materialized because their jobs required them to be in a specific location. This article highlights down some of the changes we're seeing and are likely to see around the workplace.
Controlling the flow of workers
Some businesses have started using a traffic light system for different facilities within buildings and warehouses to prevent the spread of the coronavirus. For factories in particular, the environment plays host to a variety of different third party elements, both human and mechanical. Traffic light systems may become common to control the flow of workers and visitors within a contained space.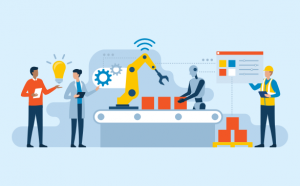 Automation and robotics
The phrase "Cobots" simply translates to 'collaborative robots'. Their integration into the production line was prevalent before COVID-19, however with reductions in workers on site and social distancing in place, it is likely this technology will see more investment within the manufacturing industry.

"Some of the automation barriers faced by manufacturing include an abundance of unskilled labor, a lack of space on the shop floor, or the lack of technical expertise to operate the complex new technology."
The introduction of the 'virtual shift'
It's estimated that manufacturers may lose up to 50% of their on-site personnel. This means they will need to find new ways to increase yield in time, staffing, and resources. Expect split-shift scheduling to maximize the number of workable hours in a day for physical shifts, coupled with appropriate onsite protection, illustrated by Renault factories. The "virtual shift," will emerge as teams of remote staff provide uninterrupted virtual support to on-site employees. A process also likely for many industries outside of manufacturing.
Retail, a contactless environment
Section five of Mckinsey's article still remains relevant and vital to all physical shop managers. It addresses changes that can be made in store, supply chain, merchandizing and head office. Asking questions such as Can you make your store model cashless or virtually cashless? Can you replace the cashier-based model with a seamless no-checkout model? Are you using data to measure on-shelf availability in real time? Are you automating replenishment?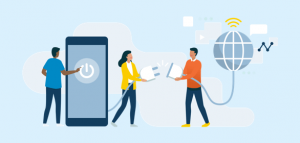 Office layout
Regardless of its output, nearly all industries have an office on site. Processes are now in place to completely restructure and design office space to ensure close contact is minimized. The example within the office below marks out the specific zones owned by one person. Coupled with digitizing employee flow and staggering shifts, this new hybrid model could be a long term solution for many organizations.
Business leaders around the world have been faced with keeping their employees safe, while still operating "business-as-usual" to not disrupt their position in the market. The examples outlined above address the importance of innovation in tandem with adaptability. Despite the many setbacks posed to most industries in returning to work, it will be those that have safely embraced the change that will find themselves further up the road to recovery.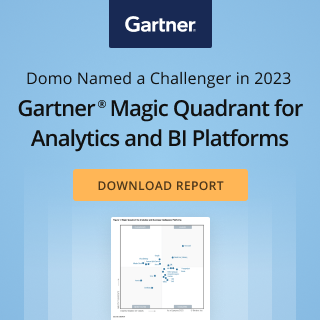 Check out some related resources:
'Future of Work' E-book: How to Safely Reopen the Workplace
Office Etiquette: Future Forward 
Get Back to Work: 9 Success Factors in Returning to a Physical Facility
Try Domo for yourself. Completely free.
Domo transforms the way these companies manage business.